Downton Abbey's Most Heartbreaking Moments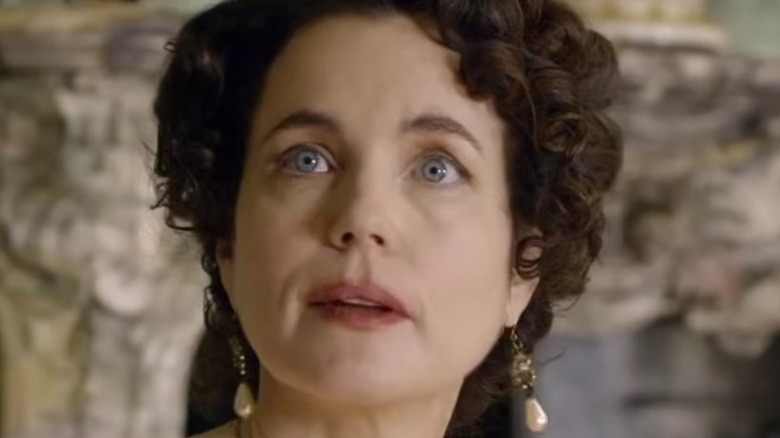 PBS
Running for six seasons, "Downton Abbey" has become one of the most beloved shows of all time. With 15 Primetime Emmy wins and more than double that in nominations, "Downton Abbey" has amassed a dedicated fanbase across the world, even achieving a Guinness World Records title for "highest critical review ratings for a TV show" (via The Hollywood Reporter).
"Downton Abbey" details the ups and downs in the lives of the wealthy Crawley family and their servants, and while some of the drama is often very quaint, they have their share of tragedy. It may occasionally veer into soapy or melodramatic territory, but as David Kamp writes in Vanity Fair, "that's precisely why Downton Abbey is so pleasurable." In its careful balance of highs and lows, the show "is welcome counter-programming to the slow-burning despair and moral ambiguity of most quality drama on television."
Over the course of the series run, writer and creator Julian Fellowes delivers genuinely emotional moments that help us to empathize with the characters – even if some of their situations and circumstances are very different from ours. These are the most heartbreaking moments of "Downton Abbey."
The following article includes mentions of domestic abuse and sexual assault.
Cora loses her baby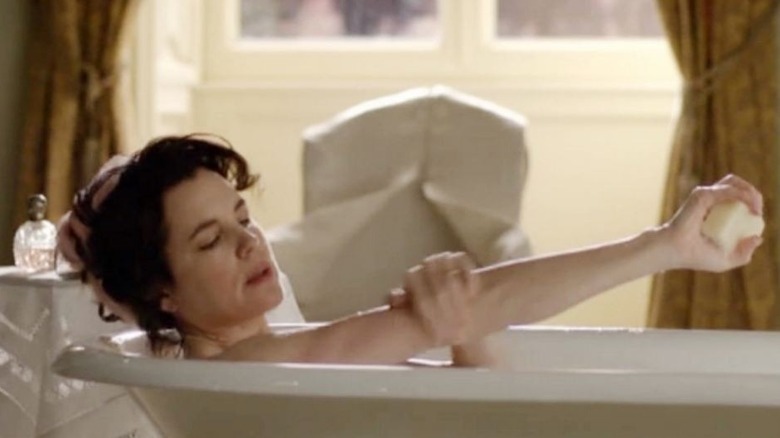 PBS
When we discover that Cora is pregnant in the finale of Season 1, it's almost as surprising to the audience as it is to Lord Grantham. He describes it as "biblical," since Cora hasn't been pregnant for 18 years. Should the baby turn out to be a boy, however, it would introduce a new problem. The social hierarchy of the period dictates that the estate must be inherited by a male heir, with Matthew Crawley poised to marry the eldest daughter Mary and succeed to the title — something that could all change with a new heir in the picture.
In "Downton Abbey," the lives of those upstairs and down frequently overlap, and through the first season, we see the vindictive lady's maid O'Brien scheming against everyone who crosses her path. When she suspects that Cora might fire her, she impulsively decides to get revenge and leaves a carefully placed bar of soap by her bathtub.
When O'Brien walks away she realizes what she has done is monstrous, but the damage has already been done and Cora slips, causing a miscarriage. Not only is the event a tragedy, but O'Brien's impulsive actions turn out to be completely unnecessary, as she later learns that Cora never intended to fire her. One of the saddest moments is seeing Lord Grantham break down when he finds out it was a boy — a rare display of emotion from the usually stoic patriarch.
William marries Daisy on his deathbed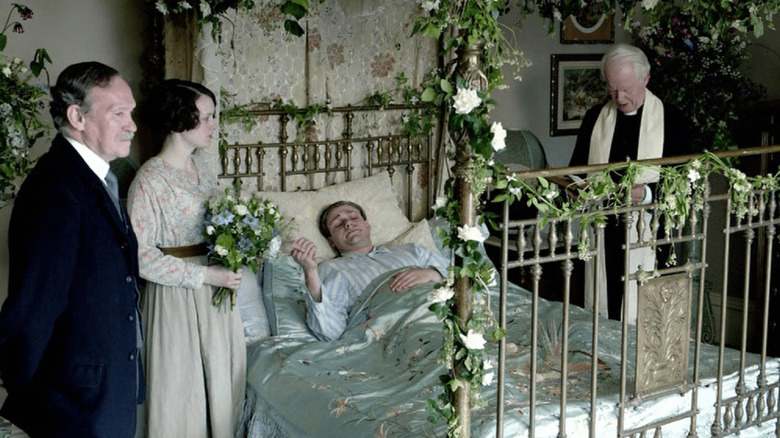 PBS
The Crawley family may be fictional, but the series nonetheless covers a number of real historical events, including World War I in the second season. Several of the men, including Matthew Crawley and footman William Mason, have gone off to fight, and the house itself becomes a convalescent home for the wounded.
Before he leaves for the front, William professes his love for kitchen maid Daisy, and while the feelings are not necessarily mutual, she agrees to marry him, but not until after the war. She doesn't want to send him off to battle with a broken heart, but she also wants to avoid marrying him if she can help it.
In the dramatic opening scene of episode 5, we see Matthew and William on the battlefield, having sustained traumatic injuries. After the family manages to pull some strings, both of them are brought to Downton to recover, but William's injuries prove to be fatal. Knowing he is going to die, he wishes to marry Daisy, and the emotional ceremony is performed at his bedside. Despite Daisy's lack of romantic feelings for him, she does care about William, and his selfless actions ensure that not only will she be looked after, but that his father won't be alone, with Daisy as his daughter-in-law.
Bates is sentenced to death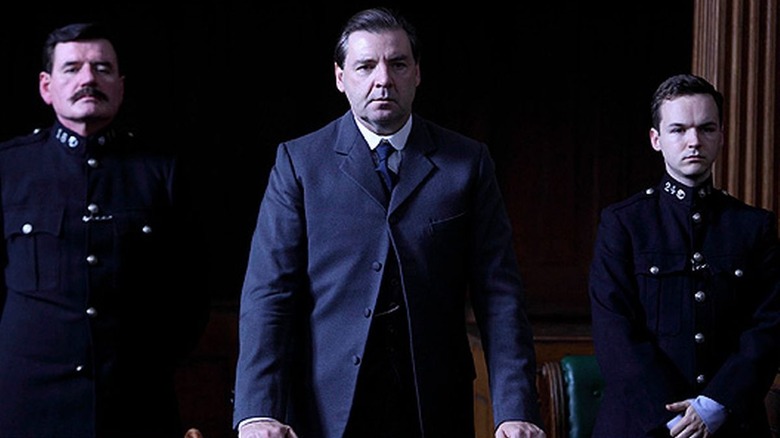 PBS
As valet to Lord Grantham, Mr. Bates is a consummate professional, but throughout the series, he experiences a number of personal trials. A subplot in Season 2 sees Bates' estranged wife, Vera, arriving at the house with threats to expose the family's secrets if Bates refuses to reconcile with her.
Bates repeatedly tries to reason with Vera so that they can divorce and he can marry Anna, even going so far as to offer her money in exchange for her agreeing to their separation. Following a last-ditch attempt to reason with Vera, Bates travels to London to meet with her, but upon his return, he learns that Vera has killed herself. Now free to marry Anna, the two wed in secret in episode 8. However, the happiness is extremely short-lived when Bates is arrested for the murder of his late wife.
The Christmas special and finale of the season see Bates on trial, and with some of the family forced to give testimony, he is found guilty and sentenced to death. This moment is particularly devastating for Anna, who screams when the verdict is given, knowing her husband is innocent.
Lady Edith is jilted at the altar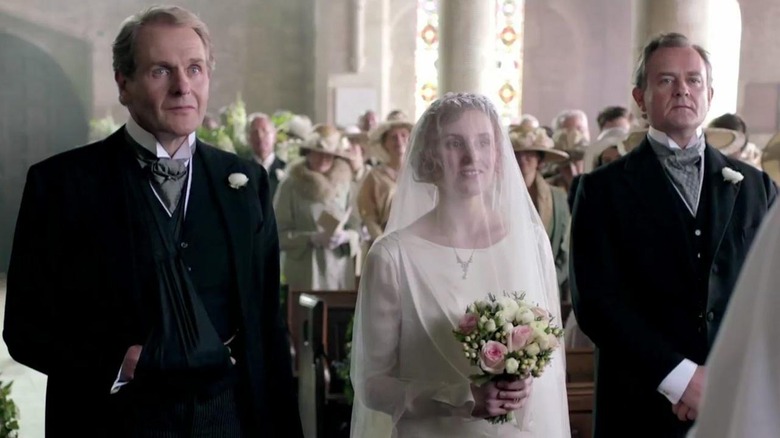 PBS
The third season is undoubtedly the most dramatic for the Crawley family, and even the happy occasion of Lady Edith's marriage isn't without heartbreak. Throughout the series, Edith has lived in Mary's shadow and bickered relentlessly with her older sister. Sometimes struggling to be noticed even in her own family, Edith desires for things to be about her just once, and to find a husband who will love her as she deserves.
Sir Anthony Strallan is first brought to Downton as a potential suitor for Mary, only to find a more willing partner in Edith. When it seems Strallan is finally going to propose to Edith, Mary intervenes and dissuades him, leaving Edith heartbroken and devastated. The pair reconnect following the war and, despite the family's concerns about his age and debilitating combat injuries, he proposes.
Just when Edith might finally get the happy ending she deserves, Strallan dramatically calls off the wedding at the altar. Edith's heartbreak is even more upsetting given how publicly it happens, and being surrounded by her sisters' happiness only makes matters worse.
Lady Sybil's death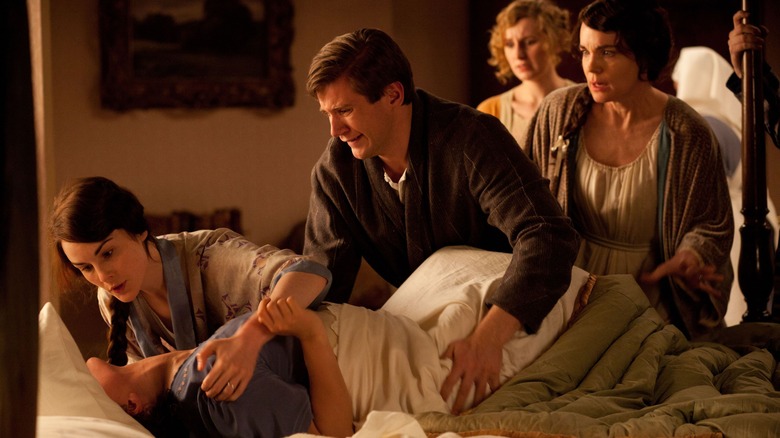 PBS
Youngest daughter Sybil is never one to follow her family's strict rules and traditions, causing an uproar when she marries their chauffeur, Tom Branson. The family grows to accept Tom, and are pleased when they find out Sybil is pregnant, heralding the arrival of the first Crawley grandchild. Sybil and Tom's relationship feels like a fairytale romance, with huge significance in terms of dismantling the family's old-fashioned views.
In the fifth episode of Season 3, Sybil and Tom's baby is about to be born. Lord Grantham, concerned about their current doctor after a few recent misdiagnoses, hires a well-known obstetrician — Sir Philip Tapsel — to deliver the baby instead. Conflict arises when Dr. Clarkson notices signs of preeclampsia in Sybil, but Sir Philip disagrees.
Lord Grantham feels assured that Sir Philip knows what he is doing, and there is relief when Sybil gives birth to a healthy baby girl. But as we have come to expect with this program, happiness can often be short-lived, and during the night Sybil suffers from convulsions and tragically can't be saved. This episode is undoubtedly one of the most upsetting, not just because of how traumatic her death is to witness, but because there is a sense that her death could've been avoided if the right course of action had been taken.
Barrow's unrequited love for Jimmy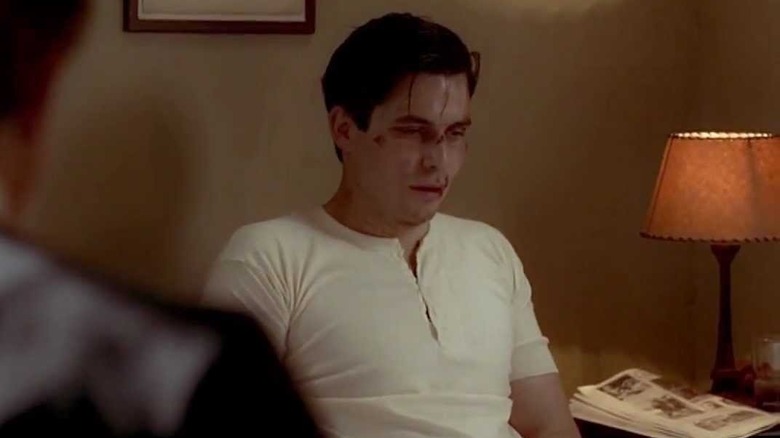 PBS
Thomas Barrow (Rob James-Collier), a footman at Downton, has been a polarizing figure from the very beginning. Frequently scheming and making life difficult for his fellow servants, Barrow's sardonic nature means that he is not particularly well-liked by his colleagues. Barrow's sexuality is apparent from early on, although not publicly expressed, since homosexuality was only (partially) decriminalized in the U.K. in 1967. We frequently see the conflict in Barrow as he has to repress his true feelings, and his complicated nature would make him a fan favorite.
When a handsome new footman, Jimmy (Ed Speleers), joins the staff, Barrow takes a particular liking to him. When O'Brien sees Barrow's friendliness towards Jimmy — and the discomfort of the new footman — she assures Jimmy that Barrow's behavior is a good thing, as it could get him a promotion. With Jimmy no longer spurning Barrow's advances, Barrow starts to believe that perhaps Jimmy feels the same way about him.
Persuaded by O'Brien, Barrow goes to Jimmy's room in the middle of the night and kisses him — only Jimmy is disgusted. Things are tense between them for a while, but when Barrow intervenes when Jimmy is robbed — and is beaten up in his place — they agree to be friends. Perhaps the saddest moment is when Jimmy tells Barrow that he can't give him what he wants, and Barrow once again has to deal with the rejection.
Matthew's death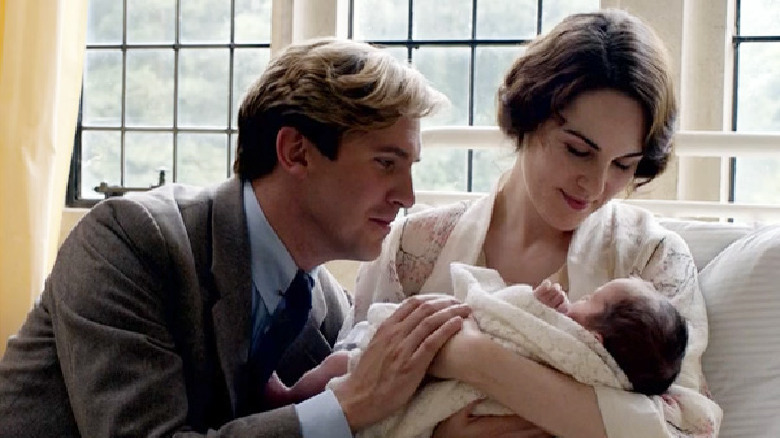 PBS
The will-they-won't-they relationship between Matthew and Mary plays a huge part in the first two seasons of "Downton Abbey," and they face their fair share of hardships and family tragedies together. When they finally marry at the beginning of Season 3, it seems as if they have their happily-ever-after: Downton has its heir and Mary has found happiness.
In the Christmas special, "A Journey to the Highlands," Mary is heavily pregnant and the majority of the family makes the trip to Scotland to visit relatives. Much of the episode is light-hearted, with the servants enjoying a trip to the village fair and Lady Edith reconnecting with an old flame. All of this is luring us into a false sense of security, as the episode ends tragically — so tragically, in fact, that many viewers complained that it had ruined Christmas (via Evening Standard).
Mary leaves Scotland and rushes to the hospital, where she gives birth to a healthy baby boy. Matthew arrives shortly after to see his wife and son. Elated, Matthew drives back to Downton, but he is killed in a car accident on the way. Just as hope seems renewed, with the promise of a new heir in the family, they once again must deal with an immense tragedy.
Anna assaulted by Mr. Green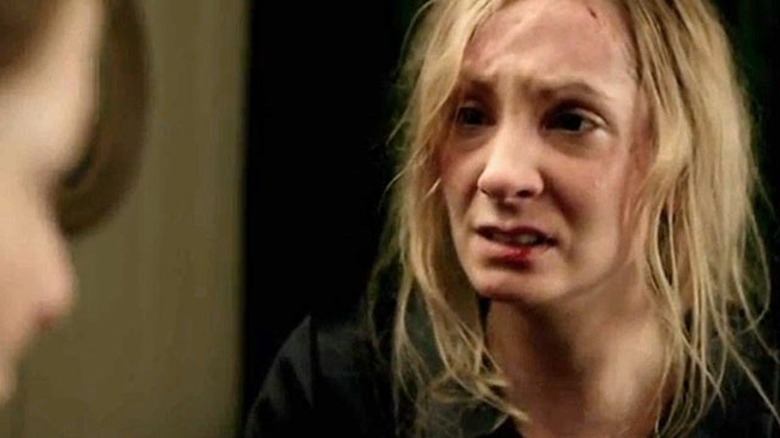 PBS
Few characters deserve happiness in "Downton Abbey" as much as Anna. Sticking by her husband through his trial and prison sentence, tirelessly fighting until he gains his freedom, it finally feels like all of that is behind them and the two can live together in peace.
In the third episode of Season 4, a new potential love interest for Mary, Lord Gillingham, arrives at Downton Abbey with his valet Mr. Green. The newcomer makes a positive impression on the servants and they all seem charmed by him, apart from Bates, who is suspicious of his flirtatious behavior towards Anna.
Bates' suspicions prove to be correct, as we see later in a devastating moment that was incredibly upsetting for viewers of the show, generating complaints when it was broadcast in the U.K. With the party in full swing upstairs, the entire household — including the servants — are invited to hear a famous singer. Anna is alone in the kitchen trying to find a remedy for her headache when Green makes a pass at her. When she rejects him, Green violently assaults her. Even though it happens off-screen, it's a very distressing scene, made worse by the fact that Anna is forced to act normal around Mr. Green afterward, as though nothing has happened.
If you or anyone you know has been a victim of sexual assault, help is available. Visit the Rape, Abuse & Incest National Network website or contact RAINN's National Helpline at 1-800-656-HOPE (4673).
Barrow trying to cure himself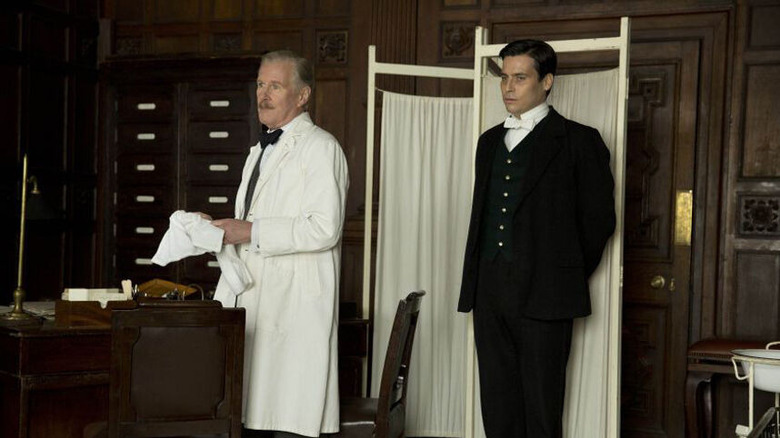 PBS
After Jimmy rebuffs his sexual advances, Barrow starts to hint about his desire to be like other (read: straight) men and seeks a cure. When he sees an ad in a magazine about a service called "Choose your own path," Barrow makes an excuse to go to London, saying that his father is ill. However, this is a cover-up, and it is later discovered that Barrow has undergone electroconvulsive therapy to try and "cure" his homosexuality.
Continuing the treatment by injection back at Downton, the household soon starts to notice that he is looking unwell. Baxter — Cora's new lady's maid — takes pity on him, and encourages him to see a doctor when one of his injection sites becomes infected. With audiences now much warmer to Barrow than they had been when the show began, it is particularly devastating to see him go through something like this..
Mr. Carson steps down as head butler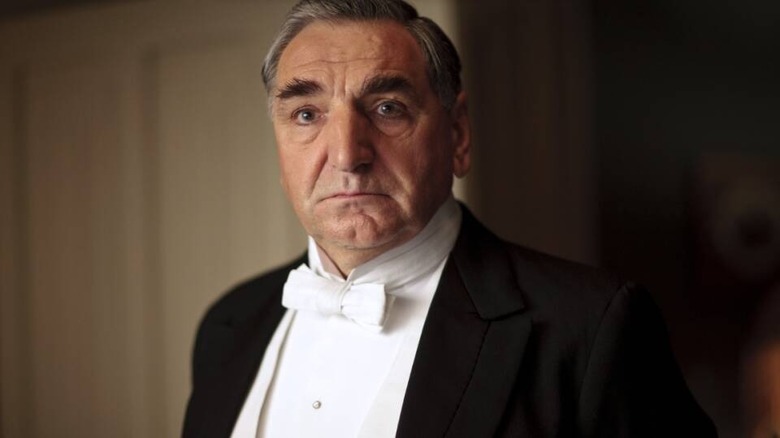 While the other staff may have come and gone, the butler, Mr. Carson, has always been the most stalwart of employees, keeping everything running as it should in the household. Loved and respected by the Crawley family, as well as the other servants, it is almost impossible to imagine Downton without him.
Despite dedicating his life to his work, in the final season of the show Carson becomes aware of a hereditary palsy, leaving him with shaking hands. Initially, he tries to keep this a secret. But it soon becomes apparent that something is wrong when he spills some of Lord Grantham's wine at dinner.
Finally admitting defeat, Carson hands in his notice and suggests Barrow as the best replacement for the head butler role. While the tone of this final episode is very optimistic — with many of the staff moving on to new roles, and Edith finally getting married — there is the very heartbreaking sense that this is the end of an era, perfectly encapsulated by Carson stepping down.