The Real-Life Tragedy That Was Mirrored In Downton Abbey
Throughout its award-winning six-season run, the residents and staff of ITV's "Downton Abbey" faced an endless cycle of challenges and scandal. From the outbreak of World War I and Mr. Bates' (Brendan Coyle) wrongful imprisonment to Anna's (Joanne Froggatt) brutal rape and Lady Grantham's (Elizabeth McGovern) miscarriage, the plight of the Crawley family – and those in their orbit – became must-watch television. One heartbreaking storyline, however, involving Michelle Dockery's Lady Mary, had unfortunate parallels to the actress' personal life.
In the series, Lady Mary is the eldest child of Lord (Hugh Bonneville) and Lady Grantham. Unable to inherit the estate directly due to an "entail," which stipulates only males can inherit title and estate, Mary bears the heavy burden of having to marry the male heir in order to keep Downton within her immediate family. After a few misfires, Mary finds love with distant cousin and Downton heir Matthew Crawley (Dan Stevens); the two marry in the third season's premiere. During that same season's finale, Mary gives birth to their son, though Matthew is killed in a car accident shortly after.
A Downton star's tragic loss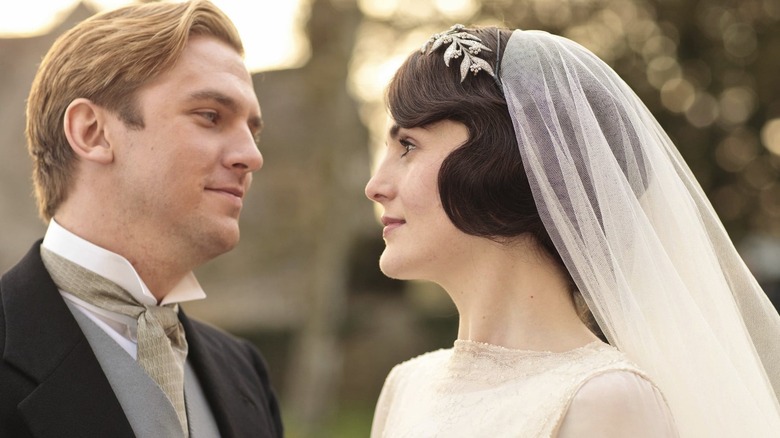 ITV
When the curtains rose on the series' fourth season in 2013, audiences found Mary dealing with the loss of her husband. But unlike the character she played, Michelle Dockery was actually embarking on a new relationship with John Dineen, a public relations director from Ireland. The two were introduced by Dockery's "Downton" costar Allen Leech, who played Lady Mary's brother-in-law Tom Branson (via The Guardian). In 2015, media outlets reported that an unnamed source revealed Dockery and Dineen had become engaged after two years of dating (via The Daily Mirror). Dockery, known for keeping her personal life closely guarded, made no official announcement of the engagement.
Before the couple could make their marriage vows, Dineen, unfortunately, succumbed to a rare form of cancer and died in mid-December 2015 at the age of 34. Just as she kept her relationship private, Dockery mourned the loss of her fiancé in private, refusing to speak about his passing in interviews. Speaking with The Telegraph in 2016, she did, however, offer thanks to the friends and family who were helping her cope with Dineen's death. The parallel losses Dockery and her character Lady Mary faced are truly life imitating art in the most tragic sense.