Ant-Man And Doctor Strange Are In Peril In Avengers: Infinity War Set Photos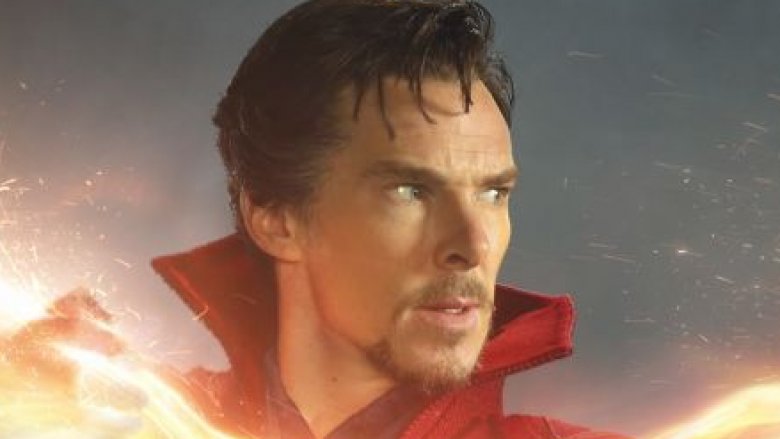 Things aren't going well for Ant-Man and Doctor Strange in these new Avengers: Infinity War set photos. The set photos, released to Just Jared and viewable at the bottom of this article, show Paul Rudd's Ant-Man out of suit and on the run, while Benedict Cumberbatch's Doctor Strange contends with a CGI attacker who appears to have gotten the best of the sorcerer.
The Avengers will have to team up in Infinity War to face off against Thanos, and a small detail in the Doctor Strange set photos helps to support recent rumors that the villain will be joined by his lieutenants the Black Order in the upcoming film. If you look closely, you can see that the CGI attacker's suit reads "EB MAW" on the back, which could be a reference to Ebony Maw, one of the Black Order's members.
Not much is known about the specific plot of Infinity War just yet, but it will bring together a whole lot of Marvel superheroes, including Captain America, Iron Man, Spider-Man, the Guardians of the Galaxy and more. The cast have been hyping up the film throughout the past year as they promote their other projects, with Scarlett Johansson teasing that she is in one scene with over 30 characters at once and Tom Holland promising that "no one is ready" for the epic film. 
However, the movie won't be all fun, as it and the untitled fourth Avengers film will likely mark the end for quite a few MCU favorites, with Chris Evans, Robert Downey Jr., and more unlikely to return after the two films wrap. (Although Downey Jr. recently hinted that he could stick around longer, saying he'll stay as long as interesting projects keep coming up.) Evans has said that the two movies will "wrap everything up," and, if we're betting on it, that wrapping will include some devastating deaths.
Avengers: Infinity War isn't due out until May 4, 2018, but the set photos and the seeming confirmation of the Black Order are definitely continuing to keep fans excited as they wait for the movie to hit theaters. For now, marvel at every character who has been confirmed for the film thus far.
Check out the new #AvengersInfinityWar set photos featuring Paul Rudd! https://t.co/OvzIWFwTo2

— JustJared.com (@JustJared) July 6, 2017
Benedict Cumberbatch filmed an #AvengersInfinityWar fight scene with a man in a CGI suit today in Atlanta! https://t.co/ovnmQ2GWEr

— JustJared.com (@JustJared) July 6, 2017