Why Zook From 22 Jump Street Looks So Familiar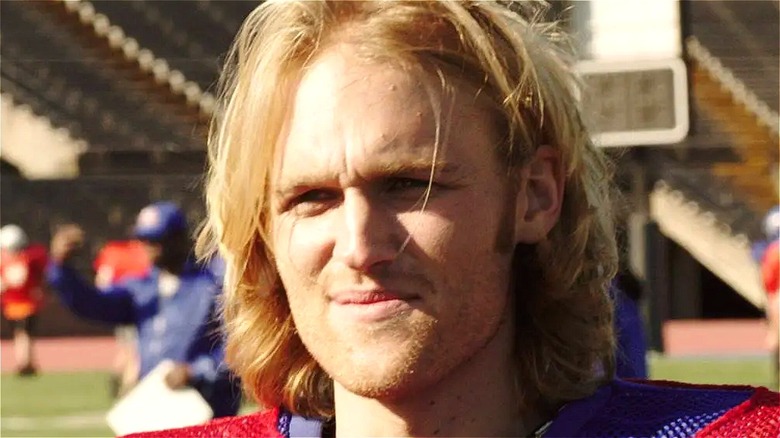 Sony Pictures
It's safe to say that 2014's "22 Jump Street" is one of the best comedy sequels of all time. Granted, the competition isn't that tough, but even so, credit is due to Phil Lord and Chris Miller for managing to make a film every bit as fresh, self-aware, and relentlessly gag-filled as the 2012 original. Somehow, even after all the fun "21 Jump Street" managed to have with its high school milieu, the college setting of "22" opens it up to hitherto untapped comedic avenues, and to new characters who immediately feel as though they've always belonged to the films' universe.
One of those characters is Zook Haythe, the jock who receives the attention of officers Morton Schmidt (Jonah Hill) and Greg Jenko (Channing Tatum) as a prime suspect in their synthetic drug distribution case, only to strike up a sincere friendship with Jenko that causes him to reconsider his future plans. The actor who played Zook is a well-known quantity in Hollywood, and has appeared in many movies and shows over the years. Here are a few of them.
Wyatt Russell was the hapless protagonist of Black Mirror: Playtest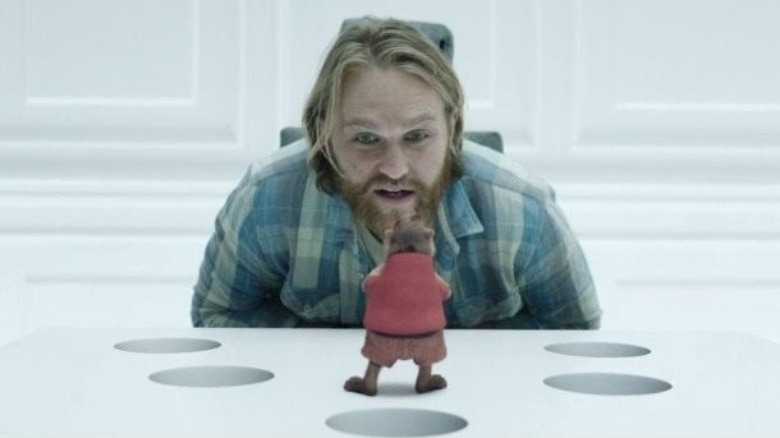 Netflix
Wyatt Russell is what you might call Hollywood royalty. Born in Los Angeles as the son of legendary actors Kurt Russell and Goldie Hawn, he's been hanging out in movie sets literally since the beginning of his life: his first steps as a baby were taken on the set of the 1987 romantic comedy "Overboard," which starred his parents (via Zimbio). In spite of that, he actually started out as a hockey player, until his career was cut short by injuries, prompting him to follow the family trade (via NHL).
Following a series of small roles in films like "Cowboys & Aliens" and "This Is 40," he arguably had his first chance to really shine in "22 Jump Street," but it wasn't until 2016 that he nabbed a proper starring role. Russell played Cooper Redfield, the hapless American tourist who finds himself stuck in London and agrees to playtest an augmented reality horror game, on the "Black Mirror" Season 3 episode "Playtest." If you've seen the episode, you know what a strong showcase it was for Russell as an actor, considering the depths of agony and despair poor Cooper is put through in it.
Wyatt Russell got a bright showcase in Everybody Wants Some!!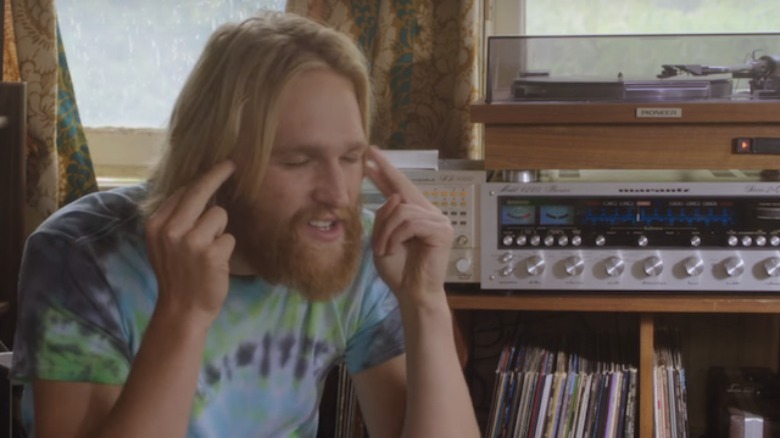 Paramount Pictures
2016 was also the year that Wyatt Russell got his first high-profile role in the prestige filmmaking circuit, courtesy of Richard Linklater. The celebrated American director cast Russell as one of the myriad supporting players in his college comedy "Everybody Wants Some!!"
A loose, plot-free, vibe-centric hangout movie like many of Linklater's previous hits, "Everybody Wants Some!!" follows a few days in the life of Texas college freshman Jake Bradford (Blake Jenner) as he becomes acquainted with the other young men in the baseball team he is joining, and moves into their off-campus house. One of those young men is pitcher Charlie Willoughby, played by Russell, a transfer student who shares his stash of marijuana with his housemates and waxes philosophical on life, music, and youth for their listening pleasure. Russell's performance in the role, with all his impressive stoner monologues betraying a certain sense of underlying aimlessness, is one of the film's bittersweet highlights.
Wyatt Russell was one of the leads of the action horror flick Overlord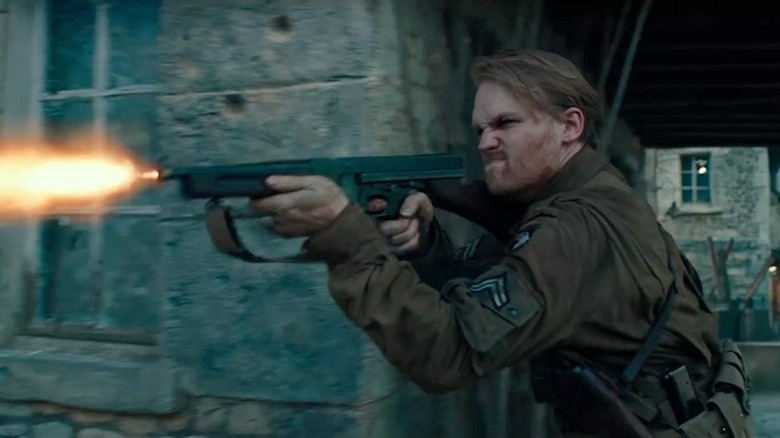 Paramount Pictures
By 2018, Wyatt Russell was a well-established presence in Hollywood, having added appearances in films like "Folk Hero & Funny Guy," "Ingrid Goes West," and "Table 19" to his "Black Mirror" and "Everybody Wants Some!!" showcases. So it's no surprise that he was chosen to co-headline a big-budget studio genre film.
Alongside fellow star on the rise Jovan Adepo (who would later score an Emmy nomination for his work on HBO's "Watchmen"), Russell was cast as the lead in the Paramount action-horror effort "Overlord." This unusual flick follows a group of American World War II soldiers tasked with crossing enemy lines in Normandy and destroying a radio tower used by the Nazis; Russell plays the group's leader, Corporal Lewis Ford. As the soldiers inch closer to completing their dangerous mission, they learn about secret experiments the Nazis are conducting on human beings, and find themselves forced to fight not only for their own lives, but for the fate of all civilization.
Wyatt Russell starred on cult favorite series Lodge 49
Wyatt Russell's biggest role so far is one that might not have had as many eyeballs on it as some of his blockbuster work, but still managed to leave a lasting impression on everyone who did see it. Between 2018 and 2019, he played the protagonist of AMC's low-rated but critically acclaimed dramedy "Lodge 49."
The show follows Sean "Dud" Dudley, a happy-go-lucky former surfer and current slacker in Long Beach, California who, in the throes of grief and professional aimlessness following the death of his father, finds himself drawn to the rundown, oddly inviting local lodge of a mysterious fraternal order known as the Order of the Lynx.
Although AMC canceled the series after a mere two seasons due to disappointing ratings (via Variety), "Lodge 49" broke through with critics and managed to find a small but devoted audience. In the process, it earned Wyatt Russell the best reviews of his career. The Washington Post, for one, called his performance "instinctively laid-back and exquisitely wounded."
Wyatt Russell donned the vibranium shield on The Falcon and the Winter Soldier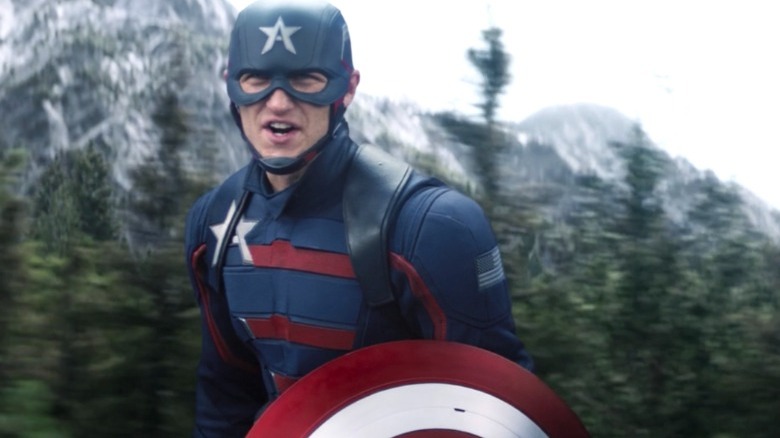 Disney+/Marvel Studios
The role Wyatt Russell is best known for at this point, inevitably, is his role in a Marvel Cinematic Universe property. As a result, you probably remember him on the Disney+ original series "The Falcon and the Winter Soldier," where he played John Walker, the Army Rangers captain who is chosen by the U.S. government to carry on the title of Captain America after Sam Wilson (Anthony Mackie) attempts to retire the shield. 
Selected for the post due to his efficiency and spotless record as a soldier, Walker is met with suspicion by both Sam and Bucky Barnes (Sebastian Stan), both of whom have trouble seeing how he could possibly be a worthy fit for the shoes of the late Steve Rogers (Chris Evans). Walker's awkward intrusions into their superhero field work don't help matters, and the character is eventually revealed to have a dark side.
The character was, by design, immediately hated by fans, but that didn't faze Russell: "People were going to hate it. I knew it," the actor told Esquire. "That's the reason you do it. That's the point. You elicit that response and it's like, Great, it's working."