Is Eagly A Real Eagle In Peacemaker?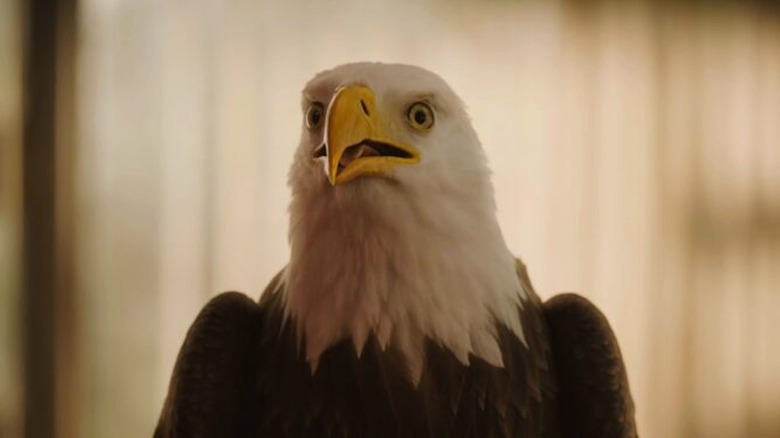 Warner Bros./HBO Max
When DC fans first saw "The Suicide Squad," they probably had no idea how James Gunn would expand the universe further with the "Peacemaker" TV series, with John Cena reprising his role as the titular chrome-domed antihero.
The show follows Peacemaker (aka Christopher Smith) as he's recruited into Project Butterfly, which is headed up by Clemson Murn (Chukwudi Iwuji) — although he reports directly to Amanda Waller (Viola Davis). Also on the team is Emilia Harcourt (Jennifer Holland), John Economos (Steve Agee), and Leota Adebayo (Danielle Brooks). The aim of the new black-ops unit is to take out mysterious targets who apparently threaten the safety of the United States. Interesting.
But one of the best new additions to the DCEU is Peacemaker's pet eagle, Eagly, just in case there was any question over whether Smith is a devoted patriot. It seems like the winning formula for successful genre shows is giving the protagonist an adorable pet of some kind. "The Mandalorian" has Baby Yoda aka Grogu, "Hawkeye" has Lucky the Pizza Dog, and now "Peacemaker" has Eagly.
Surprisingly, the gunslinger's feathered friend is basically Smith's emotional support animal, since he has an incredibly troubled relationship with his racist father August Smith (Robert Patrick). Eagly gets some brilliantly comedic moments in the first few episodes of the HBO Max series, and fans are starting to look a little closer at Peacemaker's majestic sidekick.
So let's ask a very important question in the name of hard-hitting journalism... Is Eagly a real eagle?
Sorry, Eagly is not a real eagle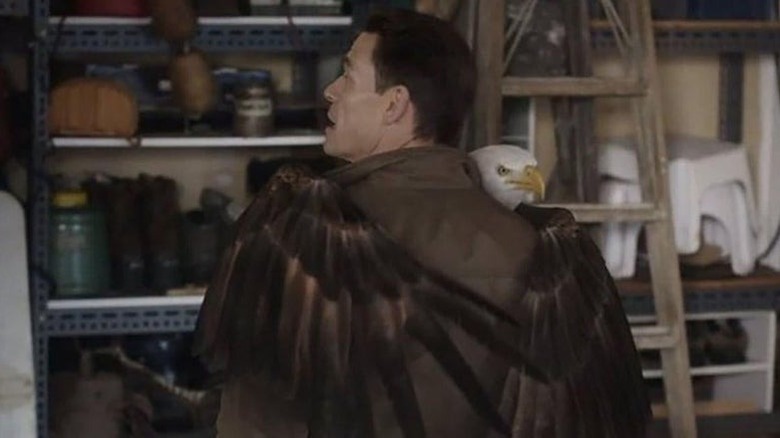 Warner Bros./HBO Max
Although Eagly looks photorealistic in "Peacemaker," he's a CGI character. This is largely because Christopher Smith interacts with Eagly on a regular basis, and it would be quite difficult to teach a real eagle to perform on camera.
Just look at the moment in Episode 1, "A Whole New Whirled," where Eagly hugs Smith when he gets out of the hospital following the ending of "The Suicide Squad." That would be incredibly difficult for James Gunn and the crew to film with a real bird. However, the director revealed he was inspired by author Jeff Guirdy — who wrote the memoir "An Eagle Named Freedom: My True Story of a Remarkable Friendship."
So yes, Eagly is based on a real eagle, but for the purposes of filming "Peacemaker," the character is completely CGI. Surprisingly he's voiced by Dee Bradley Baker of "Star Wars: The Clone Wars" fame. For those that haven't seen the series, no, Eagly doesn't talk — but he responds to Peacemaker in very specific chirps and squawks.
This isn't the first time James Gunn has included lovable CGI characters in his movies, as he introduced Rocket Racoon (Bradley Cooper and Sean Gunn) to the Marvel Cinematic Universe in "Guardians of the Galaxy," and he also put King Shark (Sylvester Stallone and Steve Agee) in "The Suicide Squad."
Hopefully, Eagly continues to shine in future episodes.