The Blue Bloods Dinner Scenes Aren't Filmed When You Think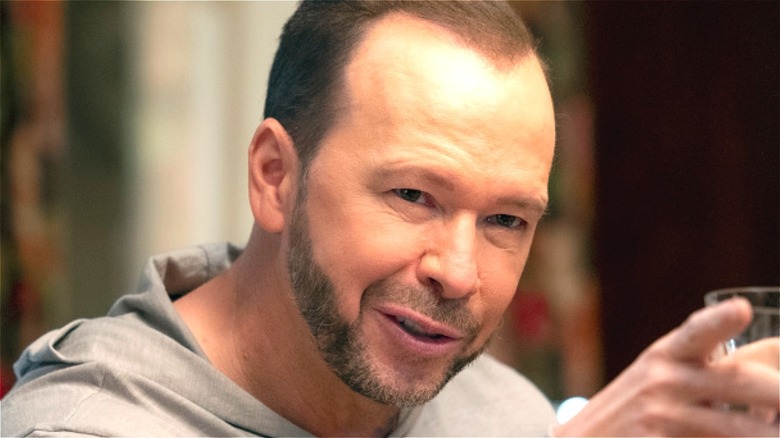 John Paul Filo/CBS
"Blue Bloods," now in its 12th season, is one of the most-beloved police procedurals on television. For over a decade now, fans have loved keeping up with the Reagan family as they navigate the difficult world of crime enforcement in New York. The CBS series is centered around former NYPD commissioner and family patriarch Frank Reagan (Tom Selleck), whose position of power often puts him at odds with his children, including Detective Danny Reagan (Donnie Wahlberg) and Assistant District Attorney Erin Reagan (Bridget Moynahan), who struggle to carry out their jobs in the shadow of their influential dad. 
The police work on "Blue Bloods" is certainly entertaining, but it's the Reagan family that really stands out at the heart of the show. For anyone who's been forced to navigate the stress of family life alongside the stress of a high-stakes job, the series is a welcome reminder that at the end of the day, with a loving and supportive family, you can get through anything. The strength of the Reagan family is no clearer than at the family's special Sunday dinners, as they sit around and reflecting on their weeks, sharing laughter and tears. 
These family dinners are among the most special moments of the show, largely because they feel so human and relatable. However, "Blue Bloods," as grounded as it may be, isn't immune from some Hollywood manipulation. 
The Reagan family dinners are filmed early in the day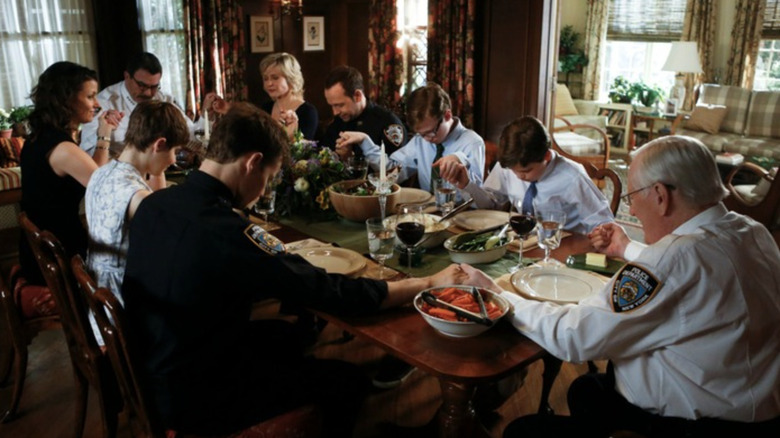 CBS
"Blue Bloods" prop master Jim Lillis spoke with The Virginian Pilot in 2015 to reveal some behind-the-scenes secrets of those famous Reagan family dinners. Surprisingly, he revealed that the food is all real, but the cast isn't chowing down on that heavy meal for hours on end. "All the actors eat to varying degrees," Lillis said. "Some are good at faking it. They are very good at making it look like they're really enjoying a hearty dinner."  (It isn't real wine the cast is drinking, though — it's just grape juice!)
Though some of the cast members may be really eating, it's definitely not their dinner– instead, it's much more of a breakfast. Lillis shares that the dinner scene is "usually first up on the shooting schedule," often shot around 9 a.m., with food arriving from the caterer around 7 a.m. to prep the set for the all-important scene. 
The Reagan family dinners may come together with the help of some Hollywood magic, but they remain authentic — and it's just another reason why audiences keep tuning into "Blue Bloods" week after week.