The Most Rewatchable Doctor Shows Of All Time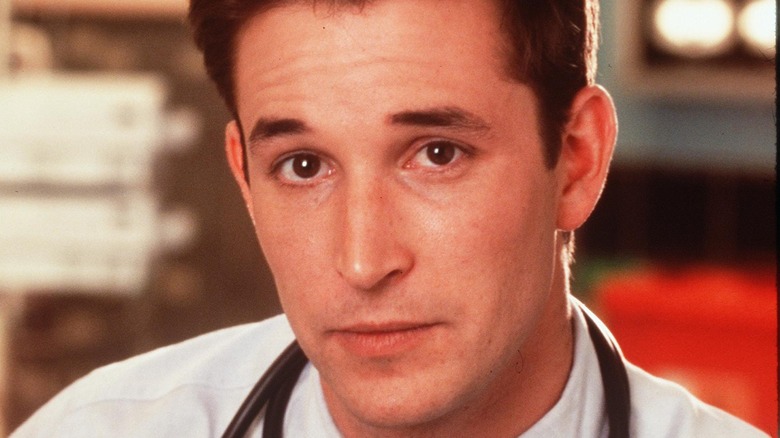 Getty Images/Getty Images
The television landscape may look different than it did in its 1950s heyday, but certain types of shows have never gone out of style, from the domestic sitcom to the tough-guy detective show. One particularly endearing subgenre of TV drama is the "medical drama," which follows the hardworking medical professionals who work tirelessly to save the lives of sick or injured people. It makes sense from a storytelling standpoint: there's no shortage of disease and illness in this world, and discovering how to fix what ails us has always made for compelling storytelling in any medium, and television is no different.
There have been countless doctor shows following hospital workers to specialists to general practitioners alike, and there will continue to be more and more until the end of time. Here are some of our favorite shows that follow the doctors, nurses, and surgeons who save countless lives every day.
House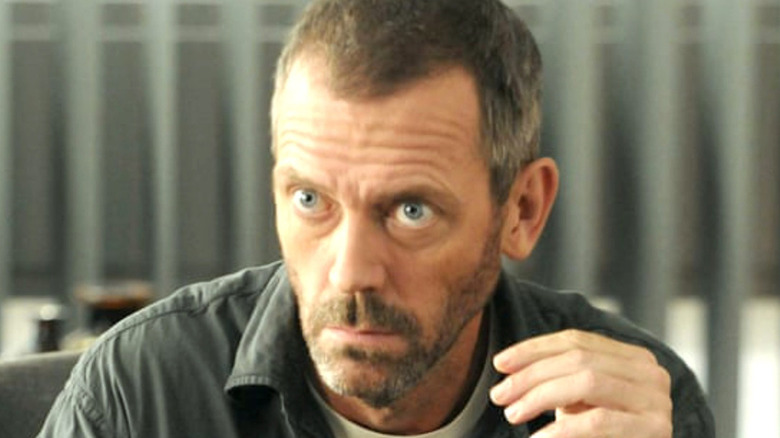 FOX
Sherlock Holmes solved criminal mysteries; Dr. Gregory House, played by Hugh Laurie, solves medical mysteries. The Vicodin-addicted character, inspired by Arthur Conan Doyle's famous detective, similarly sleuths his way through seemingly unsolvable mysteries — though he takes Holmes' antisocial misanthropic tendencies to their logical extreme, much to the chagrin of his coworkers.
Debuting on Fox in 2004, "House" ran for eight seasons and 177 episodes. The show's enduring success can be attributed to Laurie's stellar performance, but also how it executed its formula: Each week's medical mystery would be unsuccessfully treated multiple times before in innocuous sentence from a supporting character would trigger something in Dr. House's brain, leading him to the correct solution. Fortunately, the acting and characterization of the series regulars is always enough to keep this formula from becoming boring. As a result, "House" is cozy, entertaining, and one of the 21st century's standout medical dramas.
Royal Pains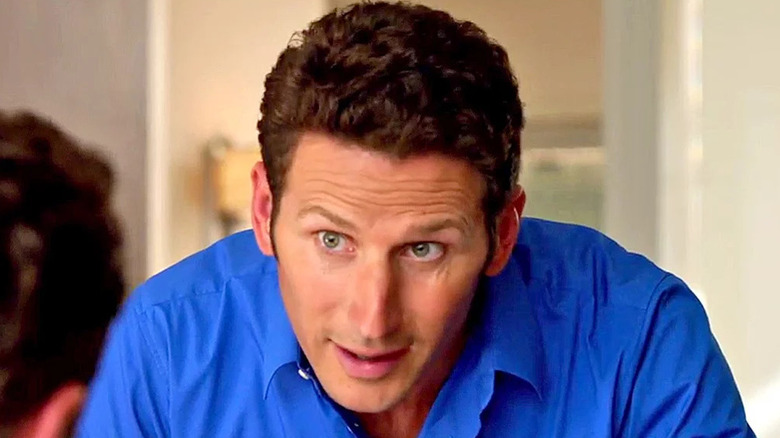 USA
By 2009, the USA Network was known for its lineup of TV shows that featured offbeat characters in whimsical situations. Rather than the gritty and violent worlds presented by networks like FX and HBO, shows like "Burn Notice," "White Collar," and "Psych" embraced more family-friendly content without compromising their storytelling integrity. One of the longest-running series from this period of USA's history is "Royal Pains."
"Royal Pains" aired for eight seasons, from 2009 to 2016. The series follows Dr. Hank Lawson (Mark Feuerstein), who becomes the Hamptons' most famous concierge doctor. His scheming brother turns his services into a business, "HankMed." The show revolves around Dr. Lawson's upper-crust clientele and employees, as he tries to keep his unexpected new career afloat. "Royal Pains" aired during the summer months, and its low-stakes drama mixed with jolly comedy made it a popular destination for fans looking for the television equivalent to a summer fling. Today, thanks to streaming, newcomers and old fans can enjoy "Royal Pains" at any time of the year.
Grey's Anatomy
"Grey's Anatomy" debuted back in 2005, and is the only series on this list that is still ongoing. The series is one of the longest-running primetime dramas of all time and continues to draw strong ratings for the ABC Network. Over the years, the show two spin-offs: "Private Practice," starring Kate Walsh, which lasted for six seasons, and "Station 19," which debuted in 2018.
The anchor of the show is Meredith Grey, played by Ellen Pompeo. The show revolves around her and her co-workers at Seattle Grace Hospital. When the show began, she was a resident intern at the hospital. She's now one of the hospital's most experienced medical experts, and even moved to Minnesota part time to help find a cure to Parkinson's Disease. Over the years, the series has featured an incredible roster of actors, including Patrick Dempsey, Scott Speedman, Katherine Heigl, Sandra Oh, Jesse Williams, and Kim Raver. It's impossible to say how much gas is left in the tank, so to speak, but when "Grey's" finally ends, it will a monumental event in television history.
The Knick
Sometimes, a small change can have huge consequences on storytelling. On paper, "The Knick" can be succinctly summarized as "doctors in the early 1900s," but that doesn't encapsulate just how different this is from something like "ER" or "Grey's Anatomy." For one thing, "The Knick" is a Cinemax show, which means it has enough blood and guts in a single episode to fill out an entire season of any other show on this list. In addition, every episode of "The Knick" is directed by Steven Soderbergh, who uses his passion for cinema to imbue the series with a unified vision.
Clive Owen and André Holland star as doctors at Knickerbocker Hospital in upper Manhattan, also known as The Knick. Over the course of two seasons and twenty episodes, they try to take care of the city's sick and wounded while balancing their own demons and trying to cope with the rapidly growing landscape of New York City. That latter point only leads to more and more disease spreading among its hardworking people, to say nothing of the horrific racism of the time — dying patients were too often refused treatment just because they were Black. Watching "The Knick" can be a gory and grueling experience, but it's also a fascinating look into a forgotten era of NYC and archaic medical science of days long past.
A Gifted Man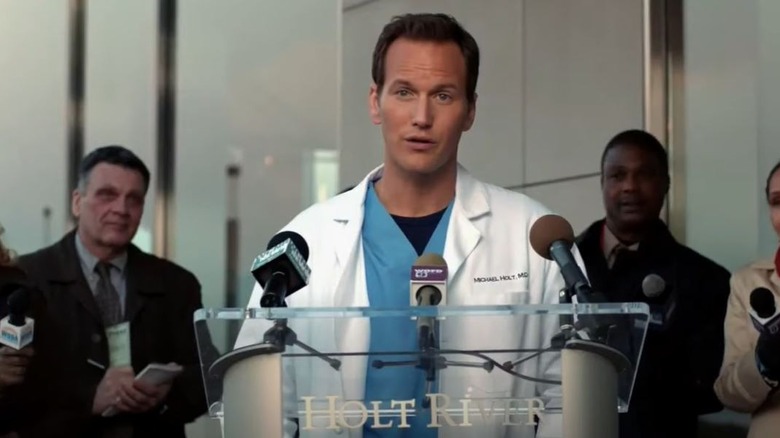 CBS/YouTube
"A Gifted Man" only lasted one season on CBS before being unceremoniously cancelled, but those 16 episodes add up to a particularly special medical drama. The pilot, directed by Jonathan Demme, sees Dr. Michael Holt (Patrick Wilson), a successful neurosurgeon, visited by the ghost of his dead ex-wife (Jennifer Ehle), who convinces him to assist at the low income clinic that made up her life's work. The series was all about his struggle to balance the needs of his wealthy patients with his duty to heal the sick at the low income clinic, no matter their income.
In addition to the supernatural twist in its premise, the basic setup of a doctor struggling to save both the rich and the poor shows off one of "A Gifted Man's" most relevant themes: The flawed American healthcare industry that services the rich and neglects the poor. The series was filmed in New York City and showcases the disparity of wealth in the city, and this real-world connection goes a long way towards making the series feel relevant to today.
Dr. Kildare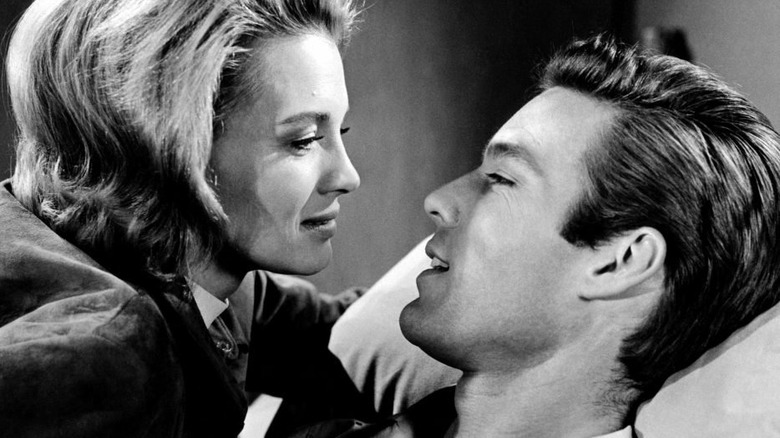 NBC
Before television was a ubiquitous part of every American household, the "Dr. Kildare" movies starring Lew Ayres and Lionel Barrymore were big hits for MGM. Between 1938 and 1942, nine films were produced, with Ayres as the young and optimistic Dr. Kildare and Barrymore as the older and wiser Dr. Gillespie.
In the early 1950s, Ayres nearly reprised his iconic role for a television series, but objected to the idea of a medical series sponsored by cigarette companies, so the project fell apart. A decade later, the idea of a Dr. Kildare series was revived, with Raymond Massey as Dr. Gillespie and the outrageously handsome Richard Chamberlain as Dr. Kildare. The series lasted for five seasons and 191 episodes, making Chamberlain a star in the process. In addition to its week-to-week procedural elements, the series contained serialized elements that were ahead of its time, showing Kildare grow from an intern to a resident at the fictional Blair General Hospital.
Widely recognized as one of the most influential medical dramas of all time, the impact of "Dr. Kildare" can be seen in virtually every hospital show that came after. Even the basic premise, of a young, idealistic doctor starting out as an intern before becoming a proper figure of authority himself, can be seen echoed in "Grey's Anatomy" and "Scrubs."
Nip/Tuck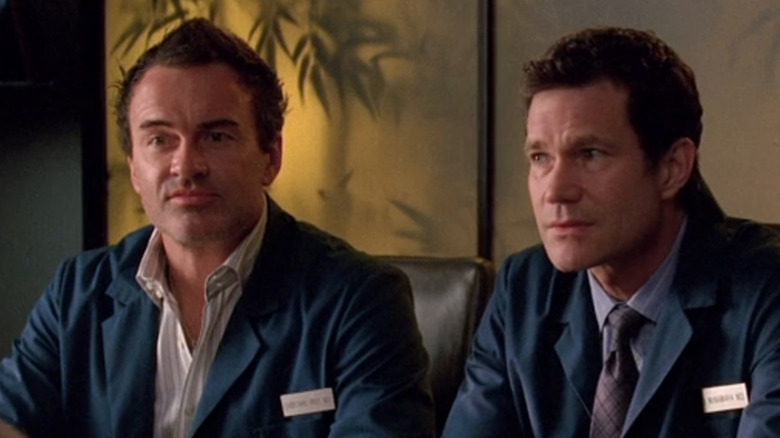 FX
Generally speaking, people don't want to go to the doctor; they only go when they have to, due to medical needs. However, there exists a class of people who use medical science to transform into their ideal vision of themselves. These people rely on the services of special doctors who practice cosmetic surgery. "Nip/Tuck" follows two such professionals and their myriad adventures within the world of high society plastic surgery.
"Nip/Tuck" ran for six seasons and 100 episodes. Alongside "The Shield" and "Rescue Me," it was one of the FX Network's first big drama hits, shocking audiences with its graphic depictions of bloody cosmetic surgery, to say nothing of the explicit sex scenes. The show does hail from Executive Producer Ryan Murphy, after all, whose interest in sex and gore were prevalent long before shows like "American Horror Story" and "Scream Queens."
If you have the stomach for it, "Nip/Tuck" is a doctor show unlike any other, and well worth watching. It was nominated for 18 Emmys, winning for — of all things — Outstanding Prosthetic Makeup.
Scrubs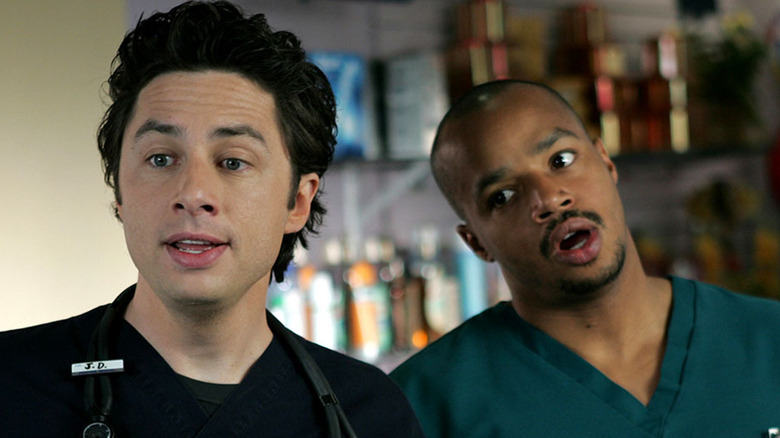 NBC
For those looking for something with a lighter touch, "Scrubs" follows a cast of medical interns who, over the course of the series, grow to become full-fledged doctors and big bosses at the fictional Sacred Heart Hospital. The show is anchored by the adorable and charming Zach Braff as JD, whose wandering imagination gives the show a level of whimsy that elevates it beyond the core premise of "doctor sitcom." In particular, Season 4's "My Life in Four Cameras" sees JD imagine his life as a more traditional sitcom, with delightfully wacky results.
Notably, "Scrubs" featured the same core cast of characters (JD, Turk, Carla, Elliot, Dr. Cox, Kelso, and the Janitor) until the ninth and final season, colloquially called "Scrubs: Med School." This swan song season features a predominantly new cast of characters, with the old veterans stepping in to make frequent guest appearances. It was an attempt to reboot the series for a new generation with a (mostly) new cast, but it just didn't catch on.
Despite its status as a sitcom, "Scrubs" took great pride in being accurate to the real-life medical science and hospital politics that feature in the series, thus earning respect from the real-life medical community that inspired it. The series is essential viewing for real-life hospital workers, as well as anyone with even a passive interest in comedy. 
Nurse Jackie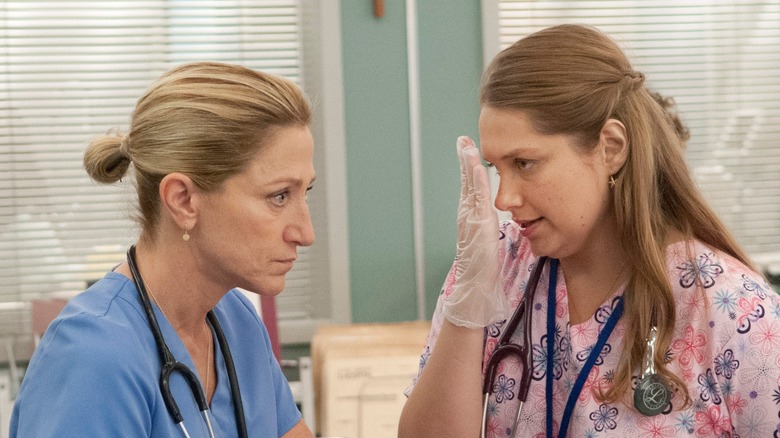 Showtime
After six years on HBO, "Sopranos" star Edie Falco switched networks to Showtime for her own show, "Nurse Jackie." The series debuted in 2009 and ran for seven seasons. In the world of medical dramas, a common archetype is the loose cannon professional — someone whose personal life is a mess but they still get the job done, saving lives and emerging the hero. By contrast, "Nurse Jackie" is a major screw-up, addicted to drugs and in a completely broken marriage, and the show is all about how she manages to keep her job even though her personal problems slowly encroach on her work performance.
Thanks in part to its half-hour format, "Nurse Jackie" was controversially nominated as a "Comedy" in the Emmy Awards, something Edie Falco herself protested – Not that she rejected her Emmy win, of course! But watching the series and how Jackie effectively ruins the lives of those around her while descending into a haze of nerve-dulling addiction, it's hard to call it a "comedy." It's consistently entertaining and certainly funny at times, but calling "Nurse Jackie" a comedy is reductive at best, and completely misrepresentative at worst.
Doogie Howser, MD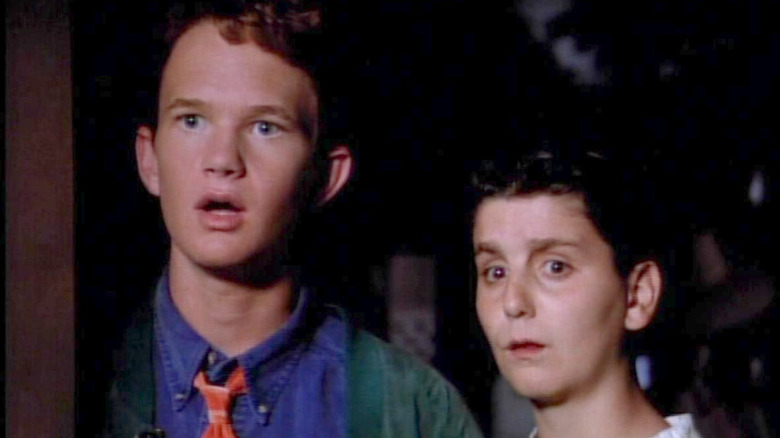 ABC
First things first, just to get it out of the way: No, a fourteen-year-old cannot be a certified as a medical doctor. Regardless, the premise of "Doogie Howser, M.D." is too charming too resist due to its simplicity: He's a teenager and a second-year resident surgeon. Neil Patrick Harris stars as the title character, who has to deal with all the conflicts of a typical medical drama, as well as all the coming of age shenanigans of a teen drama.
"Doogie Howser" has a unique energy, since it mixes drama and comedy in a half-hour format. It's not as grim as "Nurse Jackie," but it's not as overtly comedic as "Scrubs," either. It's somewhere in the middle, and for those willing to accept its admittedly ridiculous premise, there's a lot of heart and joy to be found in the series. The show was recently revived on Disney+ as "Doogie Kameāloha, M.D.," which adopts the same half-hour format and core premise of a teenager in the medical field trying to balance out both sides of her life.
M*A*S*H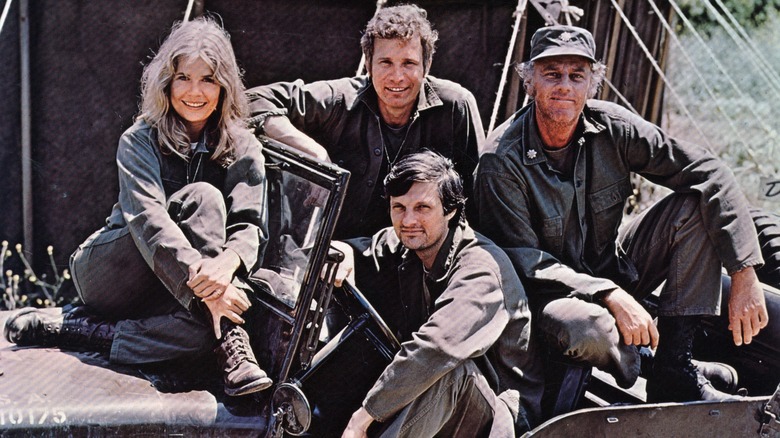 Keystone/Getty Images
One of the greatest sitcoms of all time, "M*A*S*H" ran for eleven years significantly longer than the Korean War it depicts. Based on the 1970 film (which was based on the 1968 novel), "M*A*S*H" follows the doctors of the 4077th Mobile Army Surgical Hospital in Korea as they use humor to cope with the war going on around them. The series was groundbreaking in how it combined comedy and drama into a truly unique and oddly believable look at life during wartime.
 M*A*S*H was must-see television for the duration of its run, and its final episode, a two-hour grand finale, remains the most-watched scripted television event in history, with over 105 million viewers. Alan Alda's Hawkeye Pierce remains one of the most beloved characters in sitcom history, and Alda won a whopping five Emmy awards for his work on the show, as an actor, writer, and director. All told, "M*A*S*H" was nominated for 109 Emmys over the years, ultimately winning 14 of the coveted prizes.
ER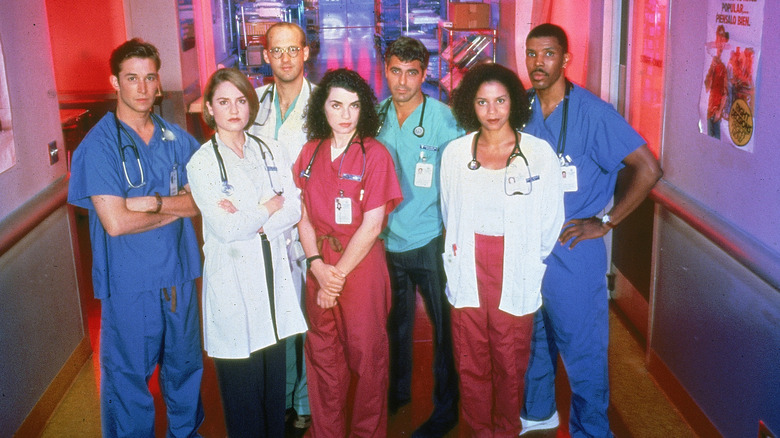 Hulton Archive/Getty Images
"ER" started out as a feature film script written by author Michael Crichton, but wound up becoming one of the longest-running TV dramas of all time. By the end of its run, it reached 15 seasons and a staggering 331 episodes, always airing at 10:00 on Thursday nights. As the title suggests, the show follows the Emergency Room doctors at Chicago's County General Hospital. Their work isn't glamorous; they treat people who come in off the street and do their best to keep them alive, and they don't always succeed, but that's the job.
Many actors became stars due to their time on "ER," the most notable example being George Clooney, who starred in the first five seasons before becoming one of the biggest movie stars of all time. It came as a surprise, then, when he returned to make a special guest appearance in the final season, reprising his character one last time to bid farewell to the show that catapulted him into superstardom.
"ER" isn't always an easy watch, and it has its peaks and valleys in terms of believability (remember when a helicopter fell on Romano?), but it's a ride worth taking — especially since it serves as a timeline of the evolution of television between 1994 and 2009.
St. Elsewhere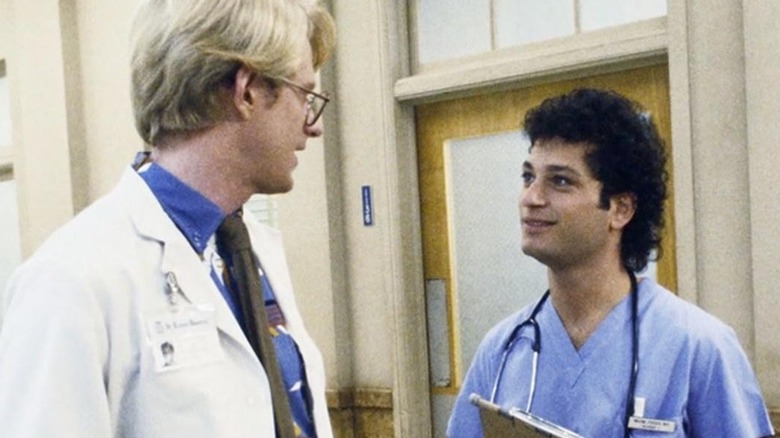 NBC
These days, people mostly know "St. Elsewhere" for its mind-bending series finale, which suggests the events of the entire series all take place in the mind of a child with autism, though other interpretations of the ending exist. Regardless, the series lasted for six seasons, and there's a lot more to it than the final minute of the last episode.
"St. Elsewhere," set at the fictional St. Eligius hospital in Boston, was more than a straight medical procedural, dealing with subversive comedy, experimental one-off episodes, and transgressive breaking of the fourth wall. Scenes like the bizarre puppet sequence from "A Coupla White Dummies Sitting Around Talking," and the inexplicable ZZ Top dream sequence in the aptly titled "Sweet Dreams" prove one thing: "St. Elsewhere" is not afraid to get weird. Best of all, "St. Elsewhere" isn't defined by its quirkiness; its idiosyncrasies simply exist alongside its deadly serious plotlines.