The Trailer For Raised By Wolves Season 2 Has Fans Buzzing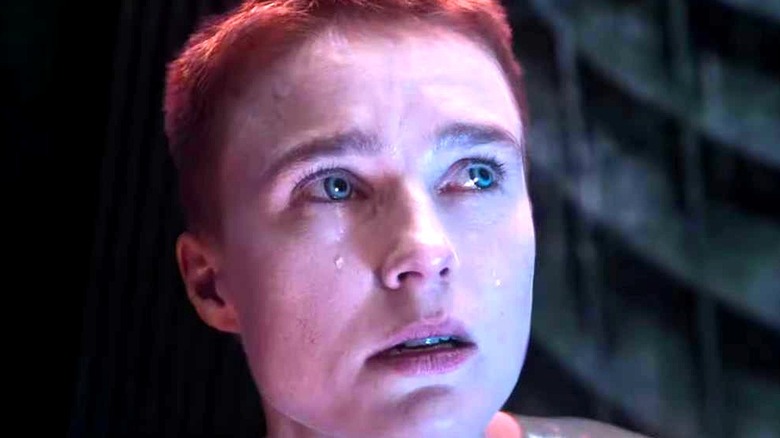 HBO Max/YouTube
Science fiction is a billion-dollar business. And few people are more responsible for the success of that billion-dollar business than Ridley Scott. While his success came after "Star Wars" and "Star Trek," Scott is largely credited with the expansion of the sci-fi world with his masterpieces "Alien" and "Blade Runner." With that kind of status and resume, it is not hard to figure out why HBO Max tapped Scott to pen the first two episodes of their new show "Raised by Wolves."
The series centers around two androids called Father (Abubakar Salim) and Mother (Amanda Collin), who are tasked with creating a new civilization on the planet Kepler-22B. The storyline takes place in the 22nd century following the Earth's devastation after a war between militant atheists and the Mithraic, a religious order devout to Sol.
Throughout the first season, two themes are present. While on the surface, it focuses on the relationship between man and machine — common in the sci-fi genre — it also delves deeply into the conflict of religion vs. atheism and the philosophy of parenting. These themes garnered a 77% score on Rotten Tomatoes. While the season took some time to get going and capture audiences (per Roger Ebert), the finale promised bigger and better things on the horizon. With the trailer's release for Season 2, fans are buzzing about the possibilities.
The new trailer promises more danger and more action
The new trailer dropped for Season 2 (posted on YouTube) promises to one-up everything Season 1 began. With Mother and Father taking their pack of six human children to join an established colony of atheists, Father comments that "this side of the planet seems less intent on killing our children." However, the war between the atheists and the faithful rages on, with Marcus (Travis Fimmel) dedicated to purifying every being on the planet for Sol. All the while, another threat appears to danger the few remaining humans, Mother's "natural child," a serpent-like creature appearing briefly at the end of the trailer. Will Season 2 see humans and androids, atheists, and believers come together to survive?
Fans of the series reacted to the trailer with excitement and zeal in the comments on YouTube. u/Gestalt0 commented, "Ohhh Yes! Cannot wait for this. Season 1 was as intriguing and captivating as season 1 of 'Westworld.' Easily my favourite new shows of the past few years, and one of my all-time favourites for a first season. Looking like it's going to continue!" u/Capital Flash echoed their excitement: "The first season was as visionary & terrifying as 'Blade Runner' was in 1982. 'Raised By Wolves' is the best thing Ridley Scott's been involved with in decades."
While fans have been waiting over a year for the story of "Raised by Wolves" to continue, their patience is set to be rewarded on February 3, 2022.