David Arquette Opens Up About Working With Ex-Wife Courteney Cox On Scream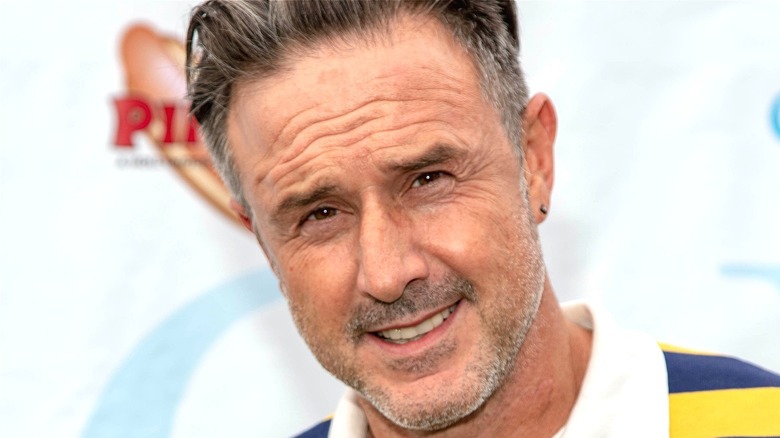 Eugene Powers/Shutterstock
This week a familiar Ghostface will be returning to cinemas in the all-new chapter of the "Scream" franchise, titled "Scream." But besides the familiar body count and the large amount of blood spilled, the latest installment born from Wes Craven's groundbreaking slasher movie sees the return of the last few survivors of the original Woodsboro murders. Sidney Prescott (Neve Campbell), Gale Weathers (Courtney Cox), and Dewey Riley (David Arquette) are all back in action to take on the latest psychopath who fancies a stab at this killer career move.
Of course, this isn't the first time the core cast will be taking on a deadly new foe, but that's not to say a lot has changed since their last encounters. The most notable shift behind the scenes is that Courtney Cox and David Arquette, who married in 1999, divorced in 2013, after the release of the last installment, "Scream 4." Regardless of what led to their separation, the two remained on civil enough terms to be reunited in the new film, which Arquette recently revealed was a far more comfortable working experience than some would expect.
David Arquette had a 'great' time working with ex-wife Courtney Cox, but did miss one important person on set
Spyglass Entertainment
Speaking on "The Injustice of Our Youth" podcast (via Daily Mail), Arquette was clear that there was no awkwardness working alongside his ex-wife in the all-new chapter to the horror franchise that made him a star. "It was really great to work with Courtney and Neve again, there's so much history," Arquette explained. "We have a 16-year-old daughter because we met on the first one." However, the one thing that Arquette couldn't avoid on-set was the absence of horror icon Wes Craven, the director who started it all with the very first film.
Arquette explained that Craven, who passed away in 2015 at 71 years old, was sorely missed. Nevertheless, his presence on the "Scream" set was somehow felt, thanks in large part to the new directors — Matt Bettinelli-Olpin and Tyler Gillett — who handled that iconic mask with great care. "Matt and Tyler, the new directors, are incredible artists and they were really inspired by Wes," Arquette explained. "We felt his energy on the set and we missed him a lot. So it was kind of sad that way."
You can see how the new blood handles this old killing game when "Scream" cuts back onto cinemas screens on January 14.