What The Final Girl From Scream Looks Like Today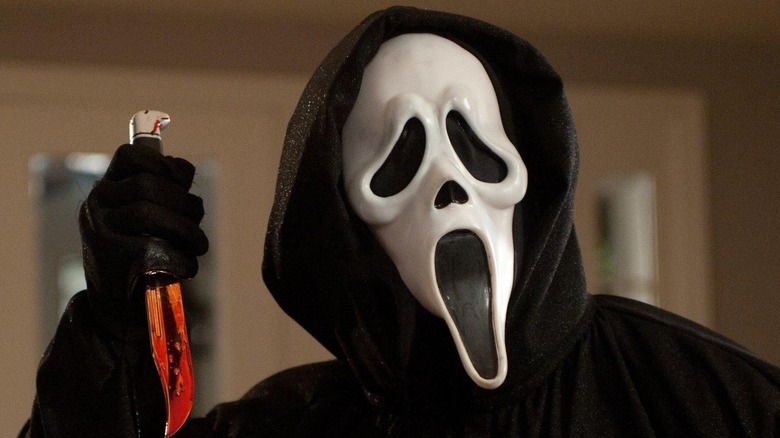 Dimension Films
Few slasher movies have had the impact on the horror genre the way 1996's "Scream" did. Prior to the film's box office and critical success, horror movies seemed to have gone out of style. The film about a masked killer who used horror films to play a deadly game with his victims revived the genre for a new generation, inspiring numerous ripoffs, spoofs and remakes of horror classics such as "The Texas Chainsaw Massacre." 
It also provided audiences with a modern final girl in the form of high school student Sidney Prescott, played by Neve Campbell. As the character who defeated Ghostface, Sidney returned in three sequels and is set to appear in the reboot planned for release in 2022. Along with a sharp script penned by Kevin Williamson and under the guidance of director Wes Craven, Campbell helped turn Sidney into a horror icon as the self-aware and intelligent teenager who refused to become a victim. If you haven't followed Campbell's career since "Scream 4" released in 2011, here's a peek at what the 47-year-old actress looks like today.
Neve Campbell has acted steadily since Scream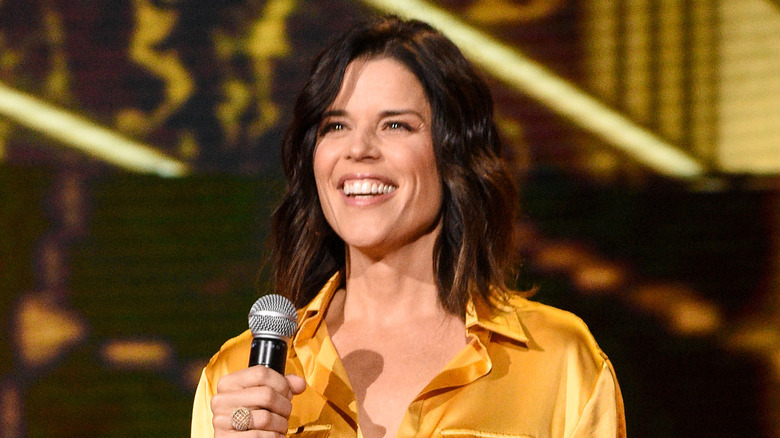 Kevin Mazur/2020 MTV Movie & TV Awards/Getty Images
Actress Neve Campbell has appeared in more than 60 TV series and movies since she first began acting in 1991 after first training as a ballerina, according to The Famous People. Her biggest role prior to "Scream" was as Julia Salinger in the TV series "Party of Five," which lasted six seasons on Fox. She starred in both "The Craft" and "Scream" in 1996, cementing her status as a horror icon. She also gained notoriety for playing a sexy teen who accuses a teacher of rape in "Wild Things." With dark hair, Campbell often played goth girls or females who didn't fit the mold of a typical '90s teen.
While Campbell has appeared in movies such as "Skyscraper" with Dwayne Johnson and had a recurring role on "House of Cards," she is still best known for the character she played in the "Scream" franchise. She paid tribute to her famous role in 2020 when she presented an award for Best Scream Queen at the MTV Movie & TV Awards to Jamie Lee Curtis. While she's often sported shorter hair throughout the years, Campbell still maintains her dark good looks.
She's set to appear in the Scream reboot in 2022
While not much is known about the secretive "Scream" reboot, fans were thrilled to learn that Neve Campbell, Courtney Cox, and David Arquette would each be reprising their iconic roles. She spoke about the newest chapter in the franchise in October 2020 while appearing on "The Kelly Clarkson Show," saying filming for the reboot was temporarily put on hold due to COVID-19. She also reflected on the original movie: "I remember us having a conversation and saying, 'If this movie does well, do you think there might be a costume, like a Halloween costume? Now, every year, I see Ghostface, which is always fun for me because when I open the door to give out candy, they're always very pleased. It's great."
Stars of the new film have confirmed filming is complete and the release is scheduled for 2022, including actress Melissa Barrera. She told MovieWeb that its directors Matt Bettinelli-Olpin and Tyler Gillett were careful to keep the spirit of the original film alive when making the newest entry. On her Instagram account, Campbell posted a photo of herself posing with Cox and screenwriter Kevin Williamson with the caption, "Excited for you all to see Scream, which is the official title of the new movie, in theatres January 2022."