Is This The Key To Better Call Saul's Success As A Prequel?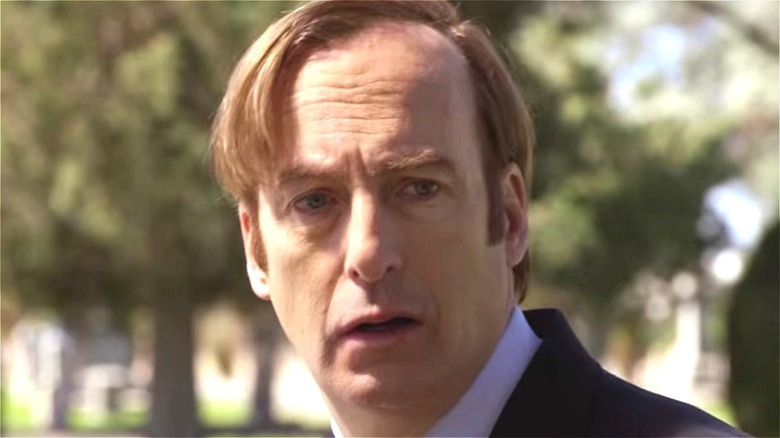 AMC/Netflix
One of the biggest hits for AMC was the series "Breaking Bad," which followed the story of a high school chemistry teacher Walter White (Bryan Cranston), who rose to be a key player in the local drug ring over the course of the show's run. One of the story's strengths lay in the rich tapestry of supporting characters, which included a lawyer by the name of Saul Goodman, played by Bob Odenkirk (above).
The end of "Breaking Bad" soon came with the announcement that series creator Vince Gilligan was working on a spinoff series alongside Peter Gould, who worked on "Breaking Bad" as well. The show, titled "Better Call Saul," would revolve around the character of Goodman, with Odenkirk reprising the role, and would be a prequel series.
Despite initial skepticism, "Better Call Saul" has received acclaim of its own, with fans especially invested in the fates of characters unique to the series. The secret of the success of "Better Call Saul" may now have been revealed, thanks to an interview given by the show's creators.
Exploring Saul Goodman is the secret to the show's success
In an interview with Rolling Stone, "Better Call Saul" creators Peter Gould and Vince Gilligan spoke about their process in creating the show, saying that the initial idea had looked very different. "When we first started concocting the idea of doing a spinoff, we literally thought it'd be a half-hour show." Gilligan said in the interview, "It's basically Saul Goodman in his crazy office with the styrofoam columns and he's visited every week by a different stand-up comic."
The duo finally abandoned that idea, however, when they realized they didn't know much about the half-hour format. So the duo instead decided to invert the "Breaking Bad" formula of 25% humor and 75% comedy, which led to a different roadblock.
"And it dawned on us that this character seemed so comfortable in his own skin. Peter and I do not possess those kinds of personalities," Gilligan continued. "We thought, 'Regardless how much comedy is in it, how do you find drama in a guy who's basically okay with himself?' So then we thought, 'Well, who was he before he was Saul Goodman?'"
This exploration of what made Saul Goodman who he is turned out to be the secret of the show's success, much to the surprise of Gilligan himself, who realized that exploring Saul's life before "Breaking Bad" was the show's real draw. Fans of the series seem to be in agreement with this as well.