Bob Saget's Funniest On-Screen Moments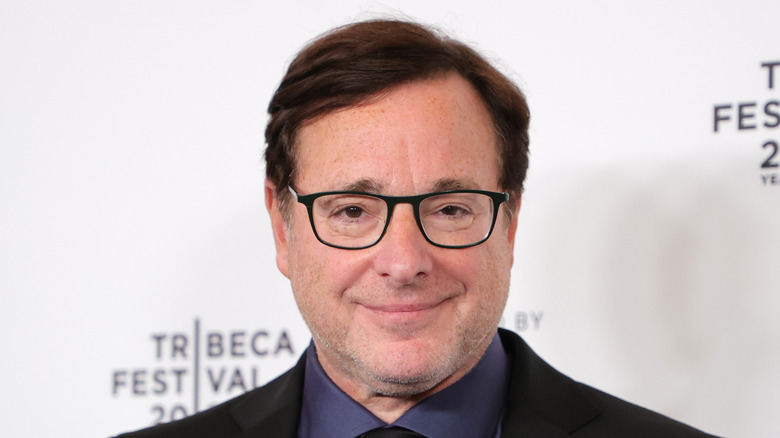 Mike Coppola/Getty Images
Bob Saget's long, laugh-filled career included many rib-tickling highlights. Though he did have a couple of dramatic credits to his name — he was one of many actors who took had a guest-starring role on "Law and Order: Special Victims Unit" — Saget was mainly known for making audiences laugh. Whether it was as a stand-up comic, using a vacuum to clean another vacuum as Danny Tanner on "Full House," wittily introducing bits and pieces of other people's home videos in "America's Funniest Home Videos," or delivering bits of very blue jokes during roasts, stand-up routines, talk show appearances or cameos in motion pictures, audiences loved his wry, forthright delivery. He often pushed boundaries when it came to his stand-up material, which isn't something one would expect from the man who raised a generation of Gen X'ers and elder millennials as a wise, patient father figure.
In the wake of the actor's death at the age of 65 on Sunday, January 9 passing, presented here in no particular order are some of Saget's funniest onscreen moments. 
Saget was a real roast master
A stand-up comic before he gained worldwide fame on "Full House" and "America's Funniest Home Videos," Bob Saget's earliest sitcom roles put him in nightclub settings and let him riff away. On shows like "Bosom Buddies," he was literally cast as "Bob The Comic" and delivered his routines on national TV, albeit in a much cleaner way than he might in a live appearance. It's therefore not surprising that the actor was in his element when sending up his colleagues, Friar's Club style.
At his own roast — broadcast by Comedy Central in 2008 and overseen by "Full House" colleague John Stamos (via YouTube) — it's not shocking that Saget's the one who burnt the house down with his own closing comments. His very blue, very unrestrained roasting of everyone from friends Norm Macdonald to actress Cloris Leachman took no prisoners and doubled the audience over in laughter. One quasi-clean example: "They say," Saget says, "the measure of a man is judged by the company he keeps. I'm f*****."
Cleanliness was next to godliness for Danny Tanner
When Danny Tanner — the talk show host single father whom Bob Saget embodied for eight seasons of "Full House" on ABC — wasn't making audiences sigh and cry in sympathy as he tried to support his kids and friends through the lumps and bumps of life's many changes with wise speeches, he was making them cackle. One of Danny's signature traits was his obsession with neatness and orderliness, which came out in bouts of cleaning and reorganization. (The man had a Dust Buster to dust his Dust Buster with.) Even Saget had a laugh at Danny's expense on his Twitter account, realizing he'd "become" his alter ego after a day of organizing his own house during the COVID-19 pandemic.
For Danny, spring cleaning was often an Olympic-sized event and required him to marshal the energy of everyone else in the house. In the clip above, he organizes the rest of the Tanner clan into an efficient super-cleaning machine. But, unfortunately for Danny, his family doesn't share his excitement about the task at hand.
Saget kept the chuckles coming with his AFV commentary
While "Full House" is still fondly beloved by thousands, there was another major gig Bob Saget held down while starring on the ABC sitcom. From 1989 to 1997, Saget served as the host of the uber-popular "America's Funniest Home Videos," the clip show that predates YouTube in its efforts to bring the most must-see videos to audiences everywhere in hopes of lifting their mood.
Saget served as host of "AFV" for nearly a decade, and in that time, he became the voice — and heart — of the show. Each episode of "AFV" would involve the late actor and stand-up comedian presenting video clips submitted to producers. Clips would often be bundled together by common themes or jokes, like toddlers tumbling over or pets getting the best of their owners. It was Saget's job to not only introduce these clip packages to the "AFV" studio audience but provide voiceover commentary, too. As you can see from the above clip that is pulled from the first "AFV" episode, Saget's comedic sensibilities and his squeaky clean sitcom persona blended perfectly to deliver light, cheeky one-liners to keep the show moving at a lighthearted, amusing pace.
His Half-Baked cameo stunned
The 1998 stoner comedy "Half-Baked" marked one of Bob Saget's first post-"America's Funniest Home Video" roles, and it defiantly swaggered forth, announcing a new era for the actor's career. While Saget is uncredited for his cameo role in the film and his character doesn't even have a name (the part is credited on IMDb as simply "Cocaine Addict"), the tour de force he puts on screen is incredibly memorable.
The scene takes place at a rehabilitation meeting where marijuana enthusiast and part-time dealer Thurgood Jenkins (Dave Chappelle) is speaking. Saget's character stands and delivers a brief and yet highly memorable description of what he's done to get access to illegal substances. It's too scatological to be repeated here, but it's achingly funny and one of Saget's best movie moments.
The late actor went on to speak about the cameo during a 2005 appearance on the TBS talk show "Conan" (via YouTube). He explained that he'd been in the middle of directing the film "Dirty Work" (via IMDb) when the part was offered to him by Chappelle. "Sure, I'll say that in a movie – that'll be good for me," Saget joked about his "Half-Baked" appearance. Unfortunately, fans subsequently took to shouting the explicit line to him in public when he was in the presence of his family.
His Saturday Night Live hosting appearance brought the funny
Bob Saget is one of many actors who has hosted "Saturday Night Live" during the variety show's long run. Given the show's late-night time slot, he was allowed to play a little faster and looser than his family-friendly TV roles allowed when he showed up on the NBC series in 1995 (via IMDb). The episode parodied his "Full House" fame in an arch opening monologue and included a sketch called "America's Funniest Hate Videos," which features accidents occurring to members of the Klu Klux Klan. Saget took on the acting challenges presented to him with talent and grace, an assignment hard to ace in a season that was critically reviled at the time of its release (per New York Magazine).
You can watch the whole episode on Peacock with a premium subscription. However, the above clip, which features Saget as a desperate-to-motivate high school gym teacher trying to teach his track team the importance of fastness, can be viewed in its entirety for free.