Will Lady Gaga Ever Appear In Another Season Of American Horror Story?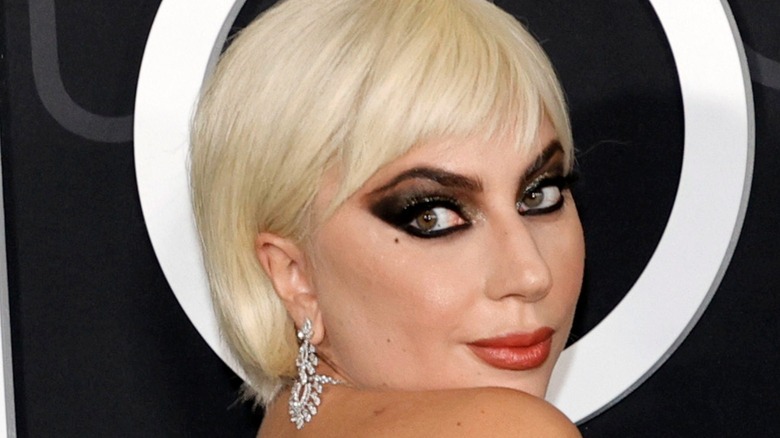 Amy Sussman/Getty
Lady Gaga shook fans of Ryan Murphy and Brad Falchuk's hit FX series "American Horror Story" when she starred as "The Countess" Elizabeth Johnson in "American Horror Story: Hotel." She won her first of two Golden Globes for her captivating portrayal (via Golden Globe Awards). The series is a horror anthology that has covered everything from aliens and haunted houses to the birth of the Anti-Christ.
With her success in "Hotel," it was no shock when Gaga later returned to the "AHS" universe in the sixth season titled "American Horror Story: Roanoke." In "Roanoke," Gaga played the mysterious witch Scáthach. Since her tenure in the beloved series, Gaga's acting career has exploded, and she even won an Oscar for 2019's "A Star is Born" (via IMDb). Recently, she has returned to the big screen in "House of Gucci."
Fans of the blood-soaked series are dying to know if Lady Gaga will indeed return to the small screen in a future "AHS" season. It seems there are some clues that might point to the answer.
There are cryptic clues about Gaga's future on AHS
Unlike series regulars like Kathy Bates, Lily Rabe, and Evan Peters, Lady Gaga has only starred in 15 episodes of the beloved series so far (via IMDb). This lack of screen-time combined with her acting ability has given her a sort of mythic status in "AHS." Therefore, fans have been clamoring for more Gaga. Seeing how she found critical praise as well as accolades during her time with the show, it seemed like it would be a no-brainer for the mega-star to want to return to the franchise. Sadly, to date, no official announcement has been made on Lady Gaga returning to the delightfully twisted world of "AHS." 
Ryan Murphy has dangled some hope, however. During a 2018 interview with Entertainment Weekly, Murphy stated, "The witches will be back." This was during the press for "American Horror Story: Apocalypse," which acted as a direct sequel season to both "American Horror Story: Murder House" and "Coven." The latter, of course, deals with the titular coven of witches — and Murphy has already confirmed that yes, Gaga's character Scáthach is indeed the original supreme, the ruling witch in the "AHS" universe (via HuffPost). 
Seeing how Murphy seems very much invested in Scáthach as a character, not to mention in revisiting the witches, it seems likely that Gaga may return to the small screen. It only remains to be seen if Gaga's busy schedule will allow for one more season.