The AHS: Roanoke Villain That Fans Agree Deserved More
Ryan Murphy and Brad Falchuk's successful FX television horror anthology "American Horror Story" has been going strong for 10 seasons with no signs of slowing down. Over the years, the show has gained a large and vocal fanbase. Season 6, titled "Roanoke," debuted in September 2016 and gained praise from critics (via Rotten Tomatoes), going on to be a favorite among diehard fans.
The "Roanoke" season is framed as a show-within-a-show. Audiences are brought into the world through "My Roanoke Nightmare," a television special about a couple's haunted house experience. The fictional TV show is complete with reenactments by actors (played by Sarah Paulson and Cuba Gooding Jr.) who play the couple living in a haunted North Carolina home. Married couple Shelby (Lily Rabe) and husband Matt (Andre Holland), the "real" couple whose experiences are retold on the show, also appear in interviews that break up the reenactments. The reenactment couple moves into a suspiciously affordable mansion haunted by the bloodthirsty ghosts of the Roanoke settlers, led by The Butcher, during a lethal phase of the moon.
It's revealed the land on which the young couple resides has quite the blood-soaked history involving the mass murder of the entire colony and a pact with an ancient wood witch made by The Butcher. The season then reveals "My Roanoke Nightmare" is a big hit, and creator Sidney Aaron James (Cheyenne Jackson) reunites the cast of actors and the people the story is actually based on at the actual haunted property during the blood moon. This decision proves to be deadly as bodies pile up in typical, grisly "AHS" fashion.
While there is no doubt that The Butcher, played by beloved series regular Kathy Bates, is iconic, there's another "Roanoke" character that left fans wanting more after the season wrapped.
Lady Gaga's Scáthach deserved better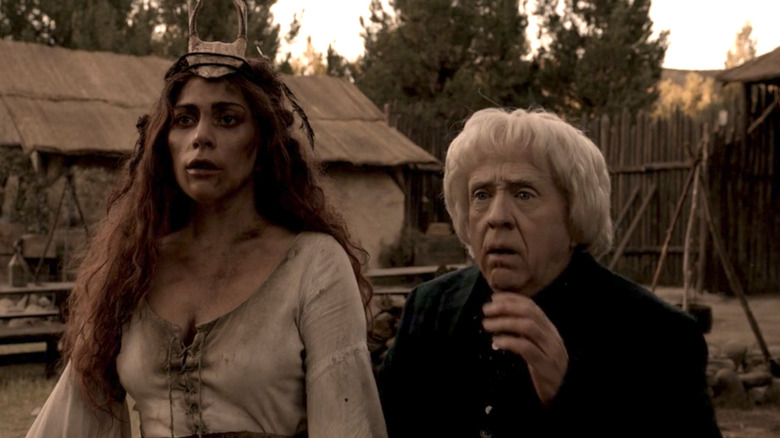 FX
When MTV News reported in March 2016 that Lady Gaga would join the "American Horror Story: Roanoke" cast, fans were excited. She had previously starred in "AHS" Season 5, "Hotel," as The Countess. In "Roanoke," she plays Scáthach, a very old and powerful witch who lurks in the forest. We learn Scáthach is an English woman who stows herself away on a ship headed to the colonies. Once on land, she is blamed and imprisoned for the plague that ravages the ship. She summons powers from ancient gods to save her, leading to her escape and the subsequent massacre of her captors.
Although she appears in three episodes (via IMDb) and gets a backstory, Gaga's Scáthach deserved better, according to fans on the subreddit r/AmericanHorrorStory. Reddit user u/grandmothertoon expressed their frustration, writing, "I'm still not over Lady Gaga disappearing with zero explanation." U/flyingchickenmeat went even further, lamenting, "They did Lady Gaga dirty ... I really want to see more of her."
As new seasons have been added to the "AHS" anthology, efforts have been made to connect characters. Many thought Scáthach could be the original supreme, a leader of witches introduced in "American Horror Story: Coven." Reddit user u/Pixiemermaidqueen expressed this, saying, "I wanted to see that too. HOW did she gather witches, and how did she die? Was she killed in Salem? Who decides the seven wonders?"
Echoing this theory, Redditor u/WizardJeremy said, "I wanted so much more Scáthach. I wanted to see how she was the first supreme and how she carried on her legacy as [the] mother of witches." Finally, one cheeky user, u/Munitttt, playfully connected Scáthach to the MCU, slyly remarking, "That makes Lady Gaga ... the Scarlett [sic] Witch."