The Best Blue Bloods Season 1 Episode According To IMDb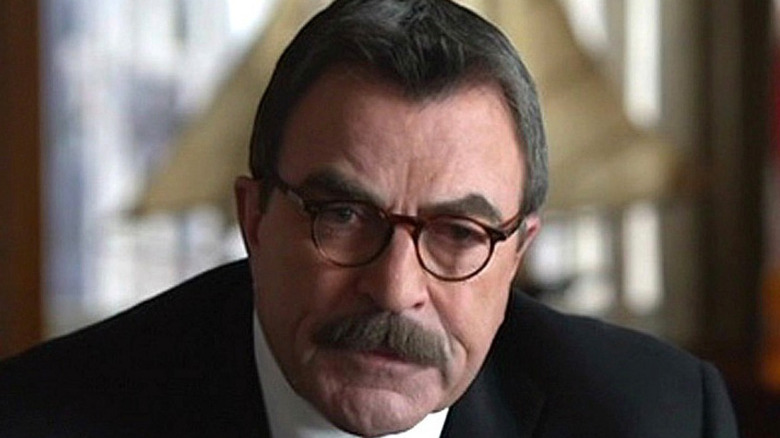 CBS
CBS' police drama "Blue Bloods" has been going strong for 12 seasons since it premiered in 2010. There's no shortage of cop shows on TV right now, but "Blue Bloods" stands out because of its main characters: the tight-knit Irish-Catholic Reagan family, many of whom are police officers or work in law enforcement. The Reagans often butt heads, but in the end they always look out for each other.
When Season 12 bows on January 28, 2022, it will mark the show's 244th episode. If you've never seen the show, that's a daunting amount of television to watch. Fortunately, we're picking out the best episodes to highlight, starting with Season 1.
A lot happens in "Blue Bloods" Season 1. After introducing the Reagan family and their weekly Sunday dinners, the show follows recent academy graduate Jamie Reagan (Will Estes) as he navigates his difficult first few months in uniform. Individual episodes tackle big subjects like criminal profiling, vigilantism, and the war on drugs. Season 1 also delves into the Reagan family's backstory, with episodes about Frank's corrupt former partner, and about criminals released from prison looking for revenge.
So, if you're looking to dive into "Blue Bloods," or if you're gearing up for a rewatch, here's the Season 1 episode you definitely don't want to miss. 
Season 1 of Blue Bloods ended on a high note with The Blue Templar
According to IMDb users, the best episode of "Blue Bloods" Season 1 is the finale, "The Blue Templar" – which shouldn't come as a surprise, since "Blue Bloods'" season finales are among the strongest of the show's episodes. On IMDb, "The Blue Templar" currently has a rating of 8.7, from 522 reviewers total. 
It makes sense why "The Blue Templar" is the highest-rated episode, because it taps into the show's original main storyline, as well as its themes about family and sacrifice. In it, the Reagans finally learn who killed their son and brother Joe, who was murdered 15 months before the show takes place and only appears in a photograph. 
During the episode, the Reagans learn that Joe was murdered by his former partner Sonny Malevsky (Michael Terry Weiss), a member of the Blue Templar. That's a fraternal organization founded within the NYPD to police corrupt officers. Over time, members of the Blue Templar themselves became corrupt, selling confiscated drugs and murdering anyone who tries to stop them. In "The Blue Templar's" climactic final moments, Frank confronts Malevsky, who confesses to killing Joe and then shoots himself. 
The death of Joe Reagan has fueled plenty more drama over the show's run, like the memorable Season 10 finale, but "The Blue Templar" is Joe-centric episode to watch.