Despicable Me 3 Tops Weekend Box Office With $75 Million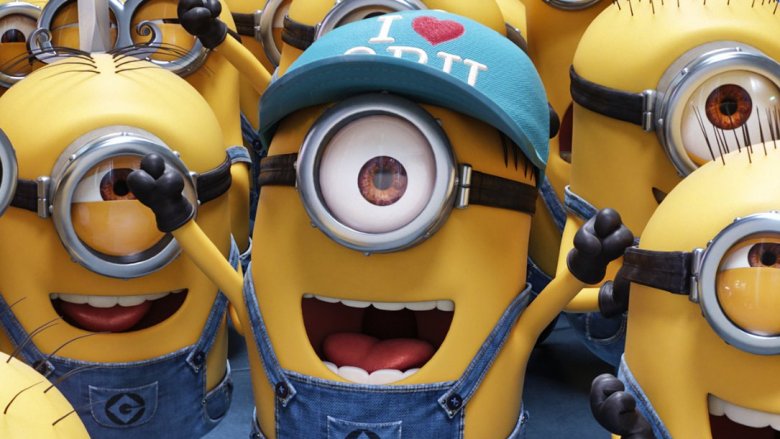 Despicable Me 3 pulled off a big heist at the box office this weekend, bringing in $75.4 million for an easy win. However, the animated franchise finally began to show its age by performing under initial expectations, which had pegged it for a $90 to $100 million opening weekend.
Despicable Me 3 sees Gru being pulled back into villainy after meeting his golden-haired twin brother Dru. The latest installment has the worst reviews of the central franchise thus far at a 63 percent on Rotten Tomatoes (although it is still higher than spin-off Minions), which may have played a part in its smaller opening weekend. Still, though, while the film couldn't surpass the opening weekends of Despicable Me 2 at $143 million or Minions at $115.8 million, Universal is likely very happy with the film's initial haul, especially in a languishing summer box office.
Elsewhere, Edgar Wright's well-reviewed action extravaganza Baby Driver pulled in an impressive $21 million, adding that haul to its $9 million from early week previews for a total of just over $30 million. The film stars Ansel Elgort as Baby, a young getaway driver whose life is set to his own personal soundtrack. When he meets the woman of his dreams, Baby tries to get out of the business, but he is brought back in at the behest of a crime boss who needs Baby's help with a doomed heist that ends up threatening his life, love, and freedom. 
Baby Driver's impressive haul blows away expectations and marks the biggest opening ever for Wright, beating out Scott Pilgrim vs. the World's $10.6 million. "Edgar and our partners at MRC and Working Title have made one of the most original and entertaining films in recent memory, and we're so thrilled to see it received as a bonafide hit in a crowded summer season," Sony's distribution chief Adrian Smith told Variety.
This weekend's other new wide release, The House, did not get the same fairytale ending as Despicable Me 3 and Baby Driver, collapsing under the weight of negative reviews and bringing in only $9 million. This is well below moderate initial expectations in the $12 to $14 million range for the R-rated comedy, which stars Will Ferrell and Amy Poehler as two parents who turn their house into an underground casino to help fill their daughter's college fund.
Transformers: The Last Knight saw a big dip from its first weekend in theaters, falling 62 percent and adding only $17 million to a disappointing domestic total. The film also lost its overseas crown to Despicable Me 3, which brought in $95.6 million; The Last Knight, meanwhile, saw a 66 percent drop and brought in $68 million, according to Deadline. These lowering returns could ultimately present a problem for the franchise's future, although for now, it seems like Transformers will continue to chug along as planned.  
You can view this weekend's full box office results below.
Top 10 Weekend Box Office Gross
1. Despicable Me 3: $75,410,275 (–), $75,410,275 Total Domestic Gross 
2. Baby Driver: $21,000,000 (–), $30,029,105  Total Domestic Gross
3. Transformers: The Last Knight: $17,000,000 (-62 percent), $102,103,351 Total Domestic Gross
4. Wonder Woman: $16,100,000 (-35.4 percent), $346,644,475 Total Domestic Gross
5. Cars 3: $9,524,000 (-60.4 percent), $120,714,099 Total Domestic Gross
6. The House: $9,000,000 (–), $9,000,000 Total Domestic Gross
7. The Beguiled: $3,259,740 (+1,321.7 percent), $3,579,188 Total Domestic Gross
8. The Mummy: $2,785,260 (-54 percent), $74,502,100 Total Domestic Gross
9. Pirates of the Caribbean: Dead Men Tell No Tales: $2,411,000 (-55.3 percent), $165,466,587 Total Domestic Gross
10. All Eyez on Me: $1,880,000 (-67.6 percent), $42,732,463 Total Domestic Gross