Why Detective Song From Peacemaker Looks So Familiar
"Peacemaker" is the upcoming HBO Max series that will premiere its first three episodes on January 13, 2022. When it does, it will be the first and so far only announced spinoff TV series from James Gunn's "The Suicide Squad," which premiered in July 2021. The movie about the DCEU's most notorious antiheroes didn't quite amaze at the box office, taking home just $167 million in a year beset by COVID-19, (via Box Office Mojo), but it did do well enough to warrant a whole separate show. 
Headlining "Peacemaker" will be John Cena, in the title role. Peacemaker is a foul-mouthed, rock-and-roll loving helmeted hero who wants to preserve peace at all costs, no matter how many people he has to kill to do it. As one character sums him up in the pilot, he's "Sexist. Probably racist. But there's something else about him that's ... sad." It's also directed by "The Suicide Squad" and "Guardians of the Galaxy's" James Gunn, so if you're into his signature blend of sophomoric humor combined with surprising heart, you should be in for a good time. The critics are already saying it's worth a watch. 
When watching a TV show or movie, nothing's more distracting than recognizing a cast member but not remembering where you've seen them before. We're here to help. On "Peacemaker," Peacemaker has frequent run ins with two long-suffering police detectives. One of them, Det. Sophie Song, is played by actress Annie Chang. Here's where you may have seen her before.
Peacemaker isn't the first time Annie Chang has played a cop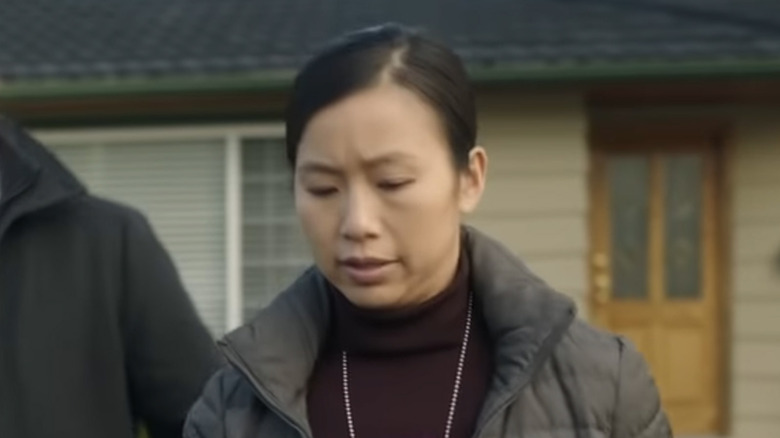 HBO Max
Annie Chang currently has 27 acting credits listed on IMDB. Before "Peacemaker," her first and only other recurring TV series role was when she appeared in 12 episodes of "Shades of Blue." "Shades of Blue" ran for three seasons on NBC from 2016 to 2018 and starred Jennifer Lopez as Harlee Santos, a single mother and NYPD detective who runs a crew of dirty cops, and later becomes an informant for the FBI. Chang played Molly Chen, an FBI special agent who was the partner to Harlee's handler, Special Agent Robert Stahl (Warren Kole).
Otherwise, Chang has had guest-starring roles on several well-known TV shows, including: "9-1-1," when she played Ashley Ryerson in 2021; "Grey's Anatomy," when she played Tammi Oyadomari in 2020; "Bosch," when she played Lulu Wang in 2018; "The Jim Gaffigan Show," when she played the barista Franz in 2016; and "Master of None," when she played Aziz Ansari's brief love interest Caroline in 2015.
Landing the role of Det. Sophie Song is no doubt a big win for Chang's career, and it should lead to bigger and better things.