Here's How You Can Watch Peacemaker Season 1
Despite a lackluster performance at the box office, it's clear that James Gunn's "The Suicide Squad" was a smash hit with fans and critics alike. As exhibited by the excerpts featured on Rotten Tomatoes, Gunn's film was praised for its stunning visuals and irreverent tone, as well as the lively performances from its cast. Yet, in a film that boasts heavy-hitters like Margot Robbie and Idris Elba, it was surprising to see that one character stood out above all the rest: John Cena's Peacemaker.
Peacemaker embodies all the anarchy and violence that make the Suicide Squad so unique, and he does so in a way that is laugh-out-loud funny every time he is on screen. His only goal is to spread peace across the world – and as he reminds us time and time again, he doesn't care how many people he has to kill to achieve that peace. Cena steals the spotlight in every scene he's in, making for one of the most memorable performances the DCEU has ever had. As such, it shouldn't be too much of a surprise (although it certainly was at the time) that Peacemaker is the only member of the Suicide Squad to get his own spin-off series, which was announced in September 2020 (via Variety ).
Fans will be happy to hear that "Peacemaker" will be available for streaming in early 2022. Here's how you can watch the Cena-led show.
Peacemaker will release exclusively on HBO Max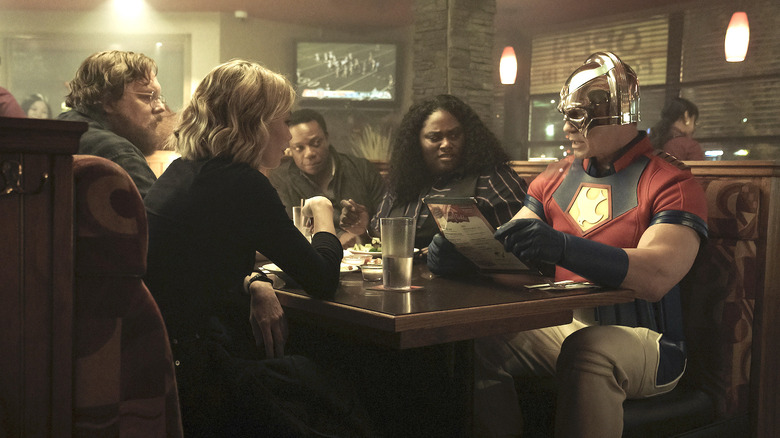 Courtesy of HBO Max
The first three episodes of the "Peacemaker" spin-off series will premiere on January 13, 2022, on HBO Max. James Gunn confirmed the special premiere news in December 2021 on Twitter. Gunn's tweet also noted that, following this premiere, one new episode will be released weekly, and the first season will run for a total of eight episodes. This means fans can expect "Peacemaker" Season 1 to wrap on February 17.
At the time of writing, it appears "Peacemaker" is only available to stream on HBO Max. As such, you will need a subscription to watch the series, and there are a few options for you to take advantage of if you don't already have a subscription. You can either the $9.99 per month plan that comes with ads or the $14.99 per month plan that offers ad-free viewing. If you want to save some money, you can also choose to pay for your subscription yearly, with plans starting at $99.99 a year or $149.99 a year, depending on your feelings about ads. Unfortunately, since HBO Max no longer offers a free trial, these plans are the best option when it comes to watching "Peacemaker."
We don't know exactly what time the series will appear on HBO Max. But, if "Peacemaker" follows the release schedule of other HBO Max originals, like "Station Eleven" and "Love Life," then it will most likely be available to stream starting at 3:01 a.m. ET/12:01 a.m. PT — the generally time slot when most Warner Bros. content becomes available for streaming (via CNET). There's no way to know for certain, so fans will have to wait until January 13 to find out for themselves.