The Surprising Jake Gyllenhaal Role Josh Hartnett Regrets Passing On
Dave J. Hogan/Getty
The current contender for the king of comebacks, Josh Hartnett, is starting on a good run this year. Not only is he reuniting with his "Wrath of Man" director, Guy Ritchie, in the upcoming action flick, "Operation Fortune," he's also just been cast in Christopher Nolan's forthcoming starry drama "Oppenheimer." The road to get back to big projects like this has felt like a long one, though, particularly for some of the box-office hits he appeared in the past with the likes of "Pearl Harbour" and "30 Days of Night."
Interestingly though, during that time of the world giving their heart to Hartnett, there was one role that the actor now looks back on and regrets turning down. It was an entry that ended up being major Oscar fodder for all involved, and Hartnett wasn't the only other person close to joining it, either. In fact, in some different dimension, there's a chance that we'd have seen him in it starring opposite none other than Joaquin Phoenix, in a love story we never knew how to quit.
Josh Hartnett came close to visiting Brokeback Mountain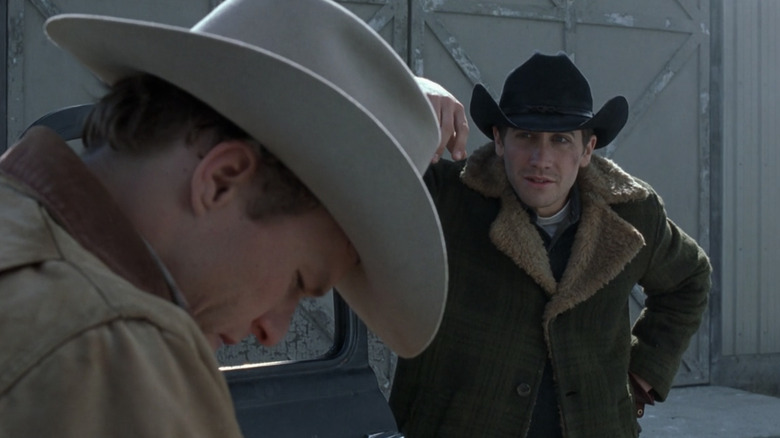 Focus Features
In a December 2021 interview with News.com.au, "The Faculty" alum revealed that he had been initially approached to star in Ang Lee's Oscar-winning 2005 romantic masterpiece, "Brokeback Mountain," which starred Jake Gyllenhaal and Heath Ledger. The timing just wasn't on Hartnett's side, though, as he was forced to leave the project due to contractual obligations on Brian De Palma's "The Black Dahlia." The actor revealed "Brokeback Mountain" was a different film altogether," at the time he was considered to star. He went on to reveal, "It was me and Joaquin Phoenix. But they went on to do it with Heath and Jake."
Following the film's release, the finalized pair that played two men battling their love for each other led to Oscar nominations for both Ledger and Gyllenhaal (via IMDB). The project is seemingly one Hartnett is okay with missing out on, albeit with one regret regarding his potential screen partner. "I've always wanted to kiss Joaquin, so that's my biggest regret."