Why Sam From Ozark Looks So Familiar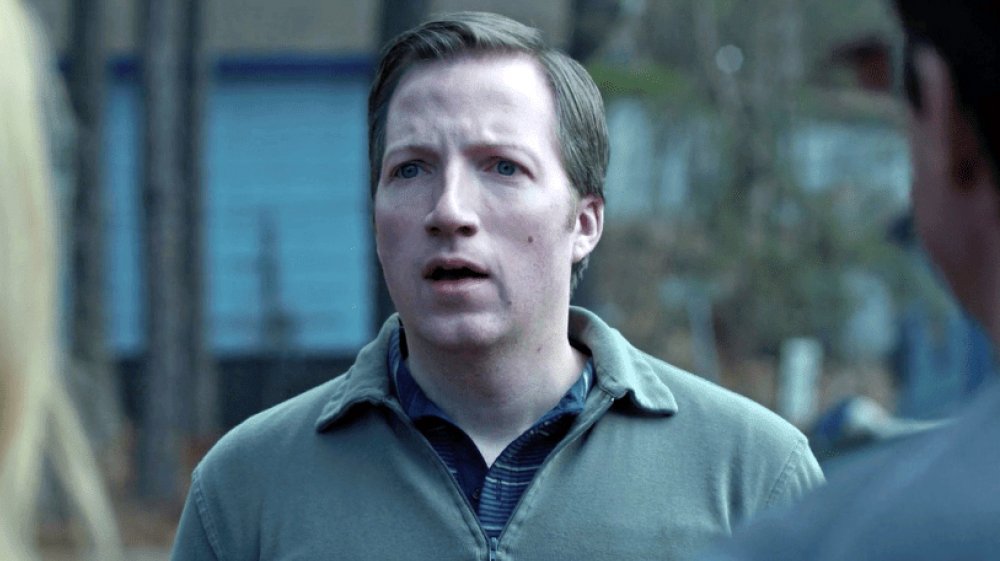 Netflix
If you're anything like us, you're probably still trying to slow your heart rate after binging the pulse-pounding third season of Netflix's pitch-black crime drama Ozark. For those not in the know, Ozark follows the Byrde family after dad Marty (Jason Bateman) is forced to move his wife Wendy (Laura Linney) and their children to the titular Lake of the Ozarks region to launder money for a drug cartel. Things don't go according to plan once the Byrdes arrive in their new home, and everyone seen on the series gets into some sticky situations.
That includes the kind-hearted, simple-minded Sam Dermody. The character turned up on Ozark's first season, and — through some fault of his own — has continued to play a role in the Byrde's laundering schemes, most recently as the man in charge of their strip club. Given where Sam ends up on Ozark season 3, he'll likely play a much bigger role moving forward. 
That means we're about to see a lot more of the actor who plays Sam on Ozark. His name is Kevin L. Johnson, and though Ozark is one of his first big-time roles, his face might seem familiar to you. Here's where you may have seen Sam from Ozark before.
Kevin L. Johnson shared the screen with Tom Cruise in American Made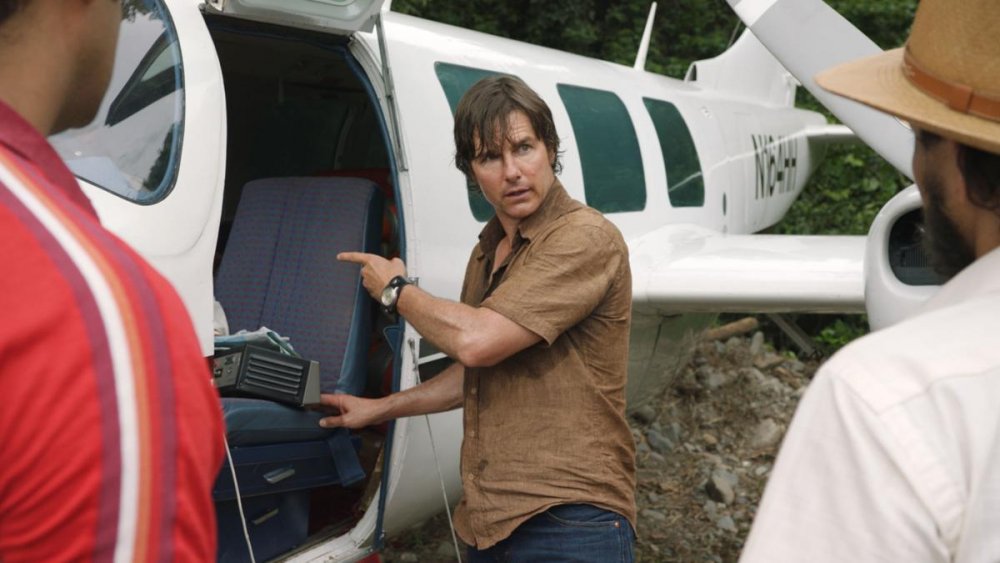 Universal Pictures
Kevin L. Johnson is still relatively early in his professional acting career, having first stepped in front of the camera in 2009. But he's been steadily gaining steam and has racked up a handful of impressive projects in recent years. After appearing in a few short films and TV movies, on three episodes of One Tree Hill in 2011, and in the rom-com drama Redneck Roots, Johnson landed roles in 2011's Devil's Crossing and 2012's Destiny Road. He held scored some unnamed supporting gigs like "Valet Parker" on Showtime's Banshee and the uncredited "Forensic Tech" in 2013's Prisoners, but Johnson eventually nabbed a pretty juicy part in a film starring Tom Cruise – American Made.
Directed by Cruise's Edge of Tomorrow helmer Doug Liman, American Made tells the incredible true story of Barry Seal (Cruise) — a former TWA pilot who, after initially being recruited by the CIA, spent much of the '80s running guns, drugs, and cash for Pablo Escobar's Medellín Cartel. In American Made, Johnson played Agent Horace Wainwright, one of the men tasked with bringing Barry Seal in. 
Though he didn't play quite as big a role in American Made has he does on Ozark, Johnson more than held his own opposite some big players in the movie — like Cruise and co-stars Domnhall Gleeson, Jesse Plemmons, Caleb Landry Jones, Jayma Mays, and Lola Kirke, just to name a few.
Kevin L. Johnson had a small part in one of 2018's most overlooked gems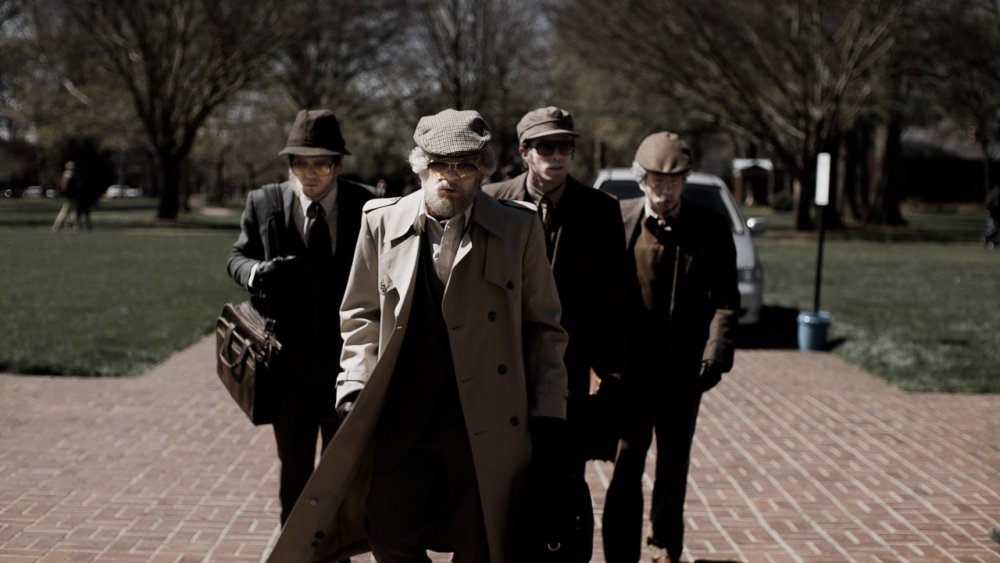 The Orchard/Film 4
Johnson followed up American Made with a memorable cameo as a character called "Scruffy Counterfeiter," and did so in one of the most egregiously overlooked indie gems of 2018. That film was Bart Layton's immaculately executed, life-imitating-art-that's-imitating-life heist flick American Animals.
American Animals is based on the infamous true story of four Kentucky undergrads who planned and executed the theft of a few rare books worth millions of dollars from their university's Special Collections Library. That story is as comically absurd as it is piercingly insightful. Layton utilizes the bizarre tale to frame thrillingly executed re-enactments that — spliced together with interviews featuring the real life thieves — inform a first-rate, white-knuckle heist flick that also has a lot to say about social privilege.
While Johnson doesn't play a major part in the action in American Animals, he still makes the most of his brief appearance. As such, the role remains one in a long list of performances that are contributing to Johnson's increasingly busy professional slate. 
Kevin L. Johnson visited Mr. Rogers in A Beautiful Day in the Neighborhood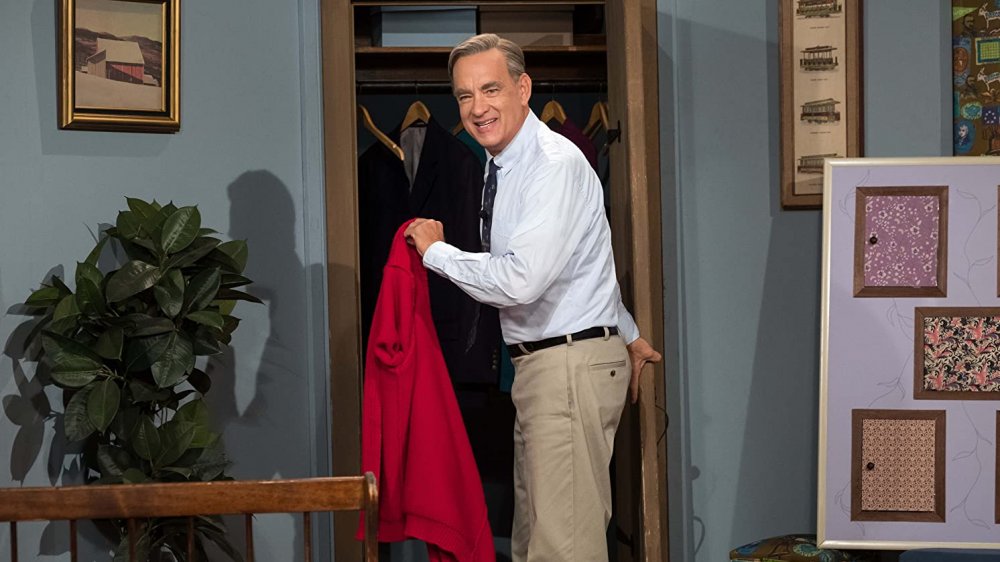 TriStar Pictures
As Kevin L. Johnson continues to raise his profile with turns in critically lauded works, he's naturally found himself on the set of significantly bigger projects. Though the film never quite found the audience it deserved in 2019, the biographical drama A Beautiful Day in the Neighborhood was undoubtedly one of Johnson's biggest projects to date — and found him sharing the screen with another one of the world's most famous movie stars.
That star was, of course, Tom Hanks, who portrayed the one and only Fred Rogers in the film. Unfolding in 1998, A Beautiful Day in the Neighborhood follows the tale of a jaded journalist with a traumatic past (The Americans' Matthew Rhys) who's tasked with writing an article focused on beloved children's show host Mr. Rogers. Along the way, the pair bond over Rogers' teachings of kindness and compassion while the journalist, Lloyd Vogel, begins to make amends with his estranged father. 
Even as it's a far more dramatic affair than much of Mr. Rogers' small-screen oeuvre, A Beautiful Day in the Neighborhood is still a very Mr. Rogers type of story thematically. And while he appeared uncredited in the film, we're certain fans of Ozark were quick to spot Johnson in his brief turn as Darin Scharf. 
You'll definitely be seeing a lot more of Kevin L. Johnson in the future
As he continues to bolster his professional resume, there's little doubt that Kevin L. Johnson's "up-and-coming" status will likely be short-lived, as he's set to step directly into the spotlight for handful of future gigs. First up for Johnson will be a starring role in Swimming with Dolphins, about four estranged college pals who come together for a reunion when one of them is stricken with a terminal illness. Johnson will showcase his chops as the ill-fated friend, Perry.
Johnson's Swimming with Dolphins follow-up will be much higher-profile: he's set to appear on an episode of AMC's latest The Walking Dead spin-off World Beyond. While little is known of World Beyond so far, we do know the series will be set 10 years after the beginning of the zombie apocalypse, and will follow the first generation of humans raised in the age of walkers. We know even less about who Johnson will play on the series, but he's slated to appear on World Beyond's third episode as a character named Corbin, so keep an eye out.
After his The Walking Dead: World Beyond appearance, Johnson has a pair of intriguing big-screen gigs lined up. The first is a starring role in an action-crime-thriller called Blue Ridge that should be hitting theaters later in 2020. The other is called Don't Look There, a horror flick produced by the folks behind Final Destination and The Woman that'll find Johnson portraying a detective who's enlisted the help of a psychiatrist to solve a series of grizzly murders.