The Steamy Romance Movie Charlie Hunnam Regrets Turning Down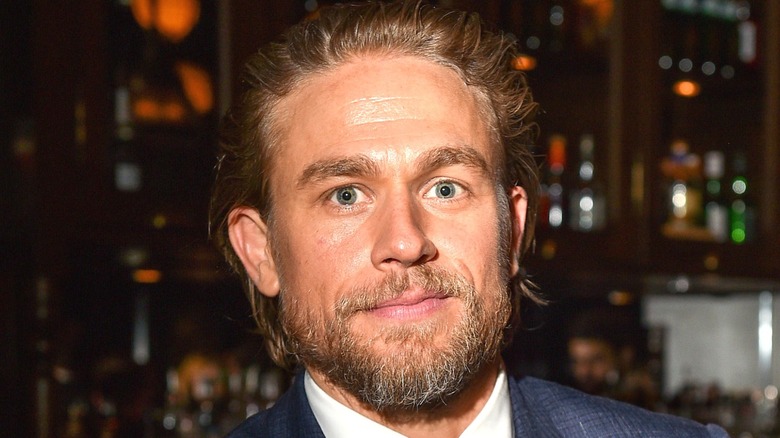 Ernesto Distefano/Getty
"Sons of Anarchy" star Charlie Hunnam has quite the acting resume under his belt. The 41-year-old Brit has had roles in films such as "Children of Men," "Pacific Rim," Guillermo del Toro's "Crimson Peak," "Triple Frontier," and Guy Ritchie's "The Gentleman." In 2017, he even starred in "King Arthur: Legend of the Sword" as Arthur himself. 
Still, "Sons of Anarchy" is where most fans will recognize Hunnam as Jackson "Jax" Teller, the eventual president of the Sons of Anarchy Motorcycle Club Redwood Original (SAMCRO). "Sons of Anarchy" ran for seven seasons from 2008 to 2014, and in that time, Hunnam explored the other acting opportunities as he got noticed by casting directors through the show. Hunnam had a particularly good year in 2013, with "Sons of Anarchy" filming its final season and Hunnam getting a major role in "Crimson Peak."
But right around the same time, a film adaptation for a famous steamy romance novel was coming together, and casting thought Hunnam was the perfect candidate to play the role of the iconic male lead. Ultimately, Hunnam decided not to take the role and the film went on to be very successful, leaving Hunnam with a bit of lingering regret over his decision.
Charlie Hunnam regrets turning down the role of Christian Grey in Fifty Shades of Grey
According to Hunnam in an interview with Variety, he was initially set to play Christian Grey in "Fifty Shades of Grey." But due to scheduling conflicts, he had to pull out and was replaced by Irish actor Jamie Dornan, much to Hunnam's dismay. 
The actor revealed that the main reason he couldn't do the project was because he gave his word to del Toro to star in "Crimson Peak." Hunnam described how "People were saying, 'Are you crazy? Guillermo still has got four months to recast, it's the fourth lead, you can go and do this [instead].' I said, 'I can't. He's my friend, I've done a film with him, I gave him my word.'" Although the romantic drama was a fantastic opportunity for Hunnam, and one he wanted to take, he was determined to keep a promise to a close friend.
He even called the director of "Fifty Shades of Grey," Sam Taylor-Johnson himself to officially give her the news, and he said, "we both cried our eyes out on the phone for 20 minutes ... There was a lot of personal stuff going on in my life that left me on real emotional shaky ground and mentally weak. I just got myself so f–king overwhelmed and I was sort of having panic attacks about the whole thing."
Hunnam said that leaving the opportunity to star in "Fifty Shades of Grey" was one of his worst experiences throughout his acting career as it was so emotionally draining.