The Underrated Charlie Hunnam Fantasy Adventure You Can Watch On HBO Max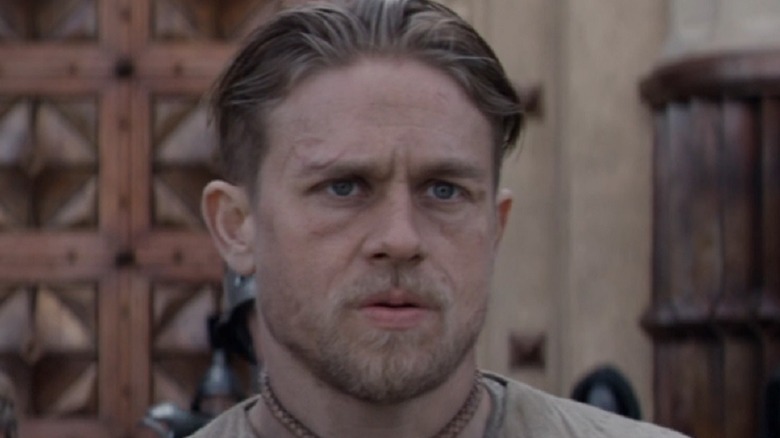 Warner Bros Pictures
The legend of King Arthur and the Knights of the Round Table is one of the western world's most popular stories. It has been retold, adapted, and reimagined countless times before, but never quite like Guy Ritchie's "King Arthur: Legend of the Sword."
This high-concept vision casts Arthur (Charlie Hunnam) as your typical Ritchian tough guy, except instead of brawling on the streets of contemporary London, he and his crew run around in Medieval Londinium. Although Arthur was raised in a brothel, he actually comes from a royal bloodline. His father was King Uther of Britain (Eric Bana) and his uncle is the demonic Vortigern (Jude Law), who used black magic to kill his brother and steal his throne. You don't need to be a scholar of western literature to know where this is going. After having an encounter with a certain sword in a certain stone, Arthur finds himself on a collision course with destiny and his dastardly uncle.
When "King Arthur: Legend of the Sword" came out in 2017 it flopped pretty hard with both critics and audiences. The film has a 30% rating on Rotten Tomatoes and made a little under $150 million at the global box office against a $175 million budget (via Box Office Mojo). However, as is sometimes the case, the film's poor performance doesn't quite tell the whole story.
There were some critics who saw enough in Ritchie's take on the fable to recommend the movie for those who enjoy a fun fantasy romp that doesn't take itself too seriously. And now that the film is streaming on HBO Max, it might be time to give "King Arthur: Legend of the Sword" a second look.
Some critics saw the magic of King Arthur: Legend of the Sword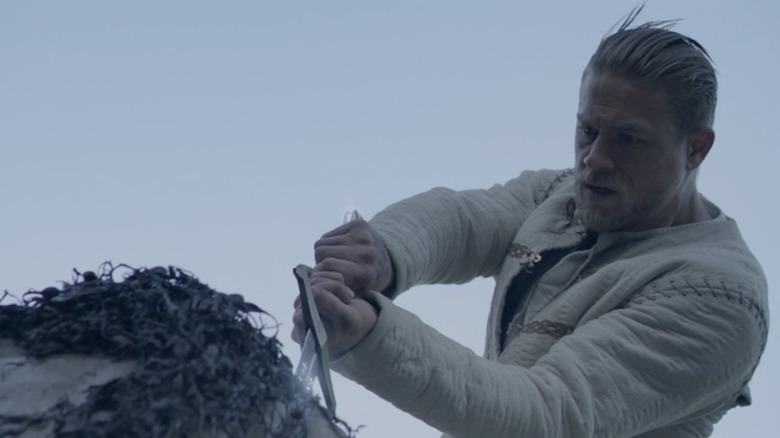 Warner Bros Pictures
While many professional critics weren't feeling the stylistic and narrative choices that "King Arthur: Legend of the Sword" was serving, others found themselves enjoying the movie for what it was.
Writing for Slash Film, Karen Han said that the movie "shares its DNA with the big action movies of the late '90s/early 2000s." She continued on to write, "As insane as the proceedings become, there's not a lick of shame or self-consciousness to be found anywhere ... It can't be denied that 'King Arthur' is a tremendous amount of fun."
James Berardinelli of Reelviews thought that Ritchie's signature stylistic touches sometimes did more harm than good, but ultimately felt that the movie was an enjoyable watch. "The film's look is one of its assets," he wrote. "Visually, it's an easy match for the darker, seedier portions of Peter Jackson's Middle Earth and proves to be one of the best realized early Medieval settings captured on film."
Meanwhile, Alissa Wilkinson acknowledged the film's downsides in her review for Vox, writing, "It's kind of generic, sure, and Camelot's greatest fans may consider the film blasphemy." However, she concluded, "But as a piece of silly summer entertainment, it's often good."
You can check out "King Arthur: Legend of the Sword" on HBO Max.