The Studio Ghibli Character Everyone Forgets Willem Dafoe Played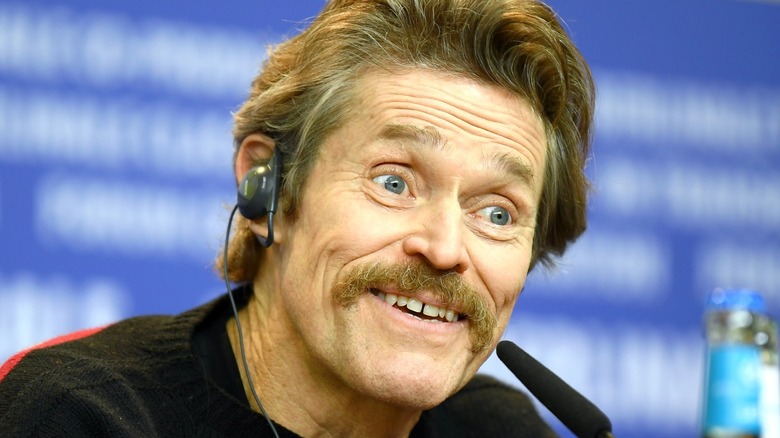 Matthias Nareyek/Getty
Willem Dafoe has appeared on the screens of millions for decades, showcasing his versatile skill as an actor. His acting career kicked off with his first role in "Heaven's Gate" in 1980 and his profile has grown substantially ever since, eventually leading him to his portrayal of the Green Goblin in multiple "Spider-Man" films and Vulko in "Aquaman," just to name a few major roles. Dafoe has a long list of credits to his name, and for good reason. With four Academy Awards and three Golden Globe Awards, his skill and dedication to his craft remain unquestionable to those familiar with his work.
With his on-screen resume being as extensive as it is, it comes as no surprise that Dafoe is the voice behind a few animated characters as well. Aside from his multiple live-action appearances as the Green Goblin, he also voiced the character in the 2002 "Spider-Man" video game. In many cases, the person behind the animated character may come as a surprise to viewers, so it remains a little-known fact that Dafoe's skills as a performer, along with his vocal talents, are a primary source of storytelling in one of the vibrantly animated works of Studio Ghibli.
Willem Dafoe played Cob in Tales from Earthsea
In 2006 the Studio Ghibli film "Tales from Earthsea" hit theaters and showcased a star-studded cast that included Timothy Dalton, Cheech Marin, and Willem Dafoe among the talents for the English dub. In the movie, Dafoe voiced the antagonist, Lord Cob, who has been banished for controlling the dead in an attempt to gain power. Dafoe does an excellent job of capturing Lord Cob's sinister mannerisms as the wizard delves into dark magic in search of eternal life. 
The portrayal of such a character allowed Dafoe's talents as a voice actor to flourish throughout the visually stunning storytelling. Studio Ghibli is well-known for using veteran actors to portray the characters in their movies, and with Willem Dafoe's credits as a voice actor only continuing to grow, this explains their decision to work with him on the project.
"Tales from Earthsea" might be one of the more overlooked films in the Studio Ghibli library, given its middling reviews on Rotten Tomatoes. Still, it stays true to the whimsical nature that lovers of the company's movies admire. "Tales from Earthsea" is one of the lesser-known roles on Dafoe's decades-long and impressive resume, but like other Ghibli films, the vocal performances are almost reason enough to give it a chance.