The One Role That Changed The Course Of Sidney Poitier's Career Forever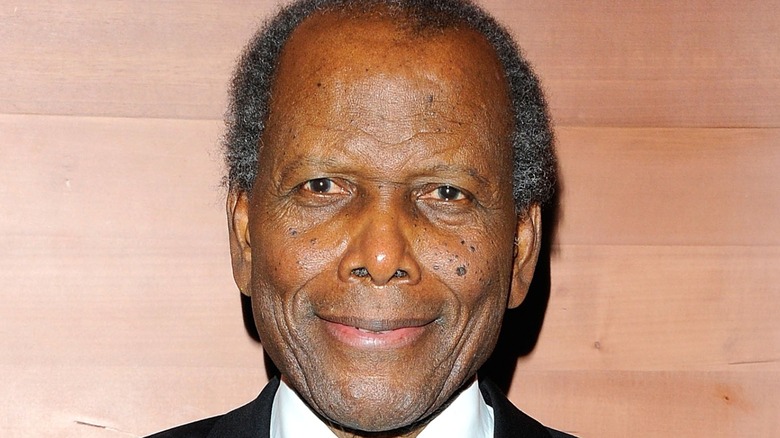 Andrew H. Walker/Getty
The recently deceased Sidney Poitier, who died at age 94 on January 7th, 2022, leaves behind an astounding body of work in Hollywood, both as an actor and a director. He's known for his pioneering roles in films like "In the Heat of the Night," "Guess Who's Coming to Dinner," and "To Sir, with Love," as well as for directing films like "Stir Crazy," and even the infamous "Ghost Dad." He's one of the most beloved movie stars in the history of film, but his first big breakthrough role might not be familiar to every casual fan.
Poitier had appeared in several films before this crucial part put him at the forefront of Hollywood stardom, put him on the path to become the first Black actor to win Best Actor at the Academy Awards (for "Lilies of the Field"), and all the critical and audience acclaim that followed. And if you haven't seen it, you're missing out on an undervalued gem of classic 1950s social drama.
Poitier broke through in Blackboard Jungle
If you've ever enjoyed a film about a young teacher getting a new job at a tough inner-city school, it can probably trace some aspect of its cinematic lineage back to "Blackboard Jungle," written and directed by Richard Brooks and based on the novel by Evan Hunter. Poitier himself even played the teacher role in just such a drama in "To Sir, with Love," but in 1955's "Blackboard Jungle," his role was as Gregory Miller, a rebellious student whose musical talent is noticed and encouraged by Glenn Ford's Richard Dadier.
"Blackboard Jungle" was a pioneering Hollywood film about the challenges of public education and part of a wave of "juvenile delinquency" films in the 50s, including titles like "The Wild One" or "Rebel Without a Cause." It was also the first time many American viewers were exposed to Poitier, who imbues the role with what would become his signature dignity and poise (two words that inevitably come up when discussing his acting work).
If you're a fan of Sidney Poitier, or you're looking for a film of his to watch in honor of his passing, "Blackboard Jungle" makes a fine selection.