The Real Reason Anne Hathaway Turned Down This Iconic Disney Role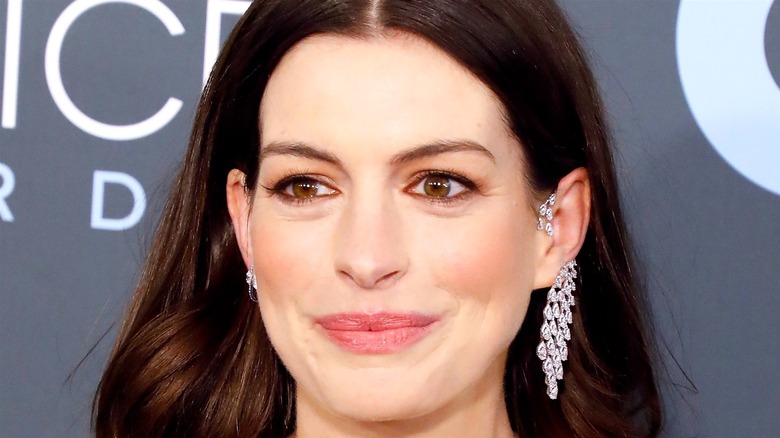 Taylor Hill/Getty
If you've seen "The Princess Diaries" or "Ella Enchanted," you know exactly why Anne Hathaway, who has played several characters that bear a striking similarity to Alice, would have been the perfect choice to play the titular character in "Alice in the Wonderland."
As Mia Thermopolis in "The Princess Diaries," Hathaway broke into Hollywood with her transformation from a nerdy teen to a princess and heir to the throne of Genovia. Though her roles in films like "Brokeback Mountain" and "Rachel Getting Married" gave a definitive idea of her range, she was still typecast into Disney heroine roles. Later in her career, movies like "Bride Wars" and "The Devil Wears Prada," in which Hathaway played the role of an innocent counterpart to clever nemeses, set her perfectly in the mold of "the good girl." 
Alice, the doe-eyed naive heroine of Lewis Carroll's novel "Alice's Adventures in Wonderland," is polite, courteous, and kind, leading some fans to wonder why the Oscar-winning actress played the role of the White Queen instead in Tim Burton's "Alice in the Wonderland" in 2010. As it turns out, Hathaway was, in fact, approached for the role but turned it down.
Hathaway was tired of playing Disney princess roles
While talking to GQ about her role in "Alice in Wonderland," Hathaway revealed that she was first offered to play Alice but turned it down because she wanted to play the White Queen instead. "The studio had the Alice script a long time ago and I was approached back then for the part of Alice. I considered it, but felt, what with 'The Princess Diaries,' that I had been there, done that sort of pretty-girl-in-a-fairy-dress role," Hathaway said.
On the other hand, Hathaway, who had long been an admirer of director Tim Burton's work, wasn't the first choice to play the White Queen. "When Tim [Burton] came on board he had the cast he wanted and, of course, that didn't include me," Hathaway said. "But the other actress who was marked had scheduling conflicts, so the studio piped up and put me forward."
After a phone call with Burton, Hathaway was able to convince him of her idea of the White Queen, which had multiple inspirations in the form of Debbie Harry, Greta Garbo, and David Bowie. And the rest, as they say, is history.