Will This New Spanish Horror Movie Take Over Netflix's Top Spot?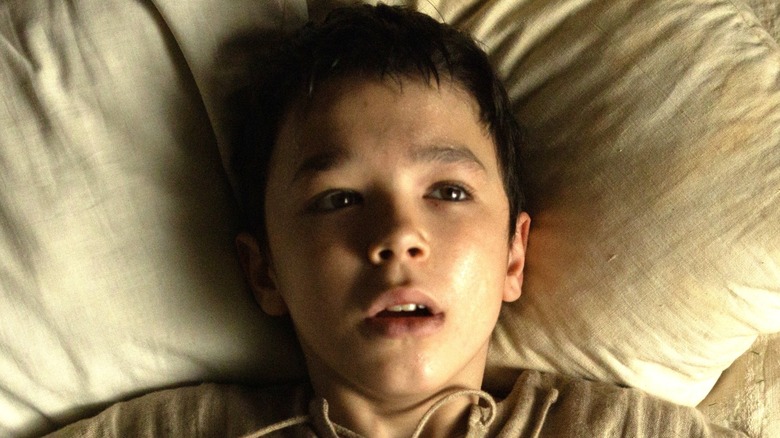 Lander Larrañga/Netflix
Since its release to Netflix on January 6, the slow-burn Spanish horror film "The Wasteland" has already moved to the ninth spot on the streamer's top 10 movie list, as of the time of writing. "The Wasteland" (also known as "The Beast) is the debut feature film from director David Casademunt, who counts Guillermo del Toro and M. Night Shyamalan as influences. When making "The Wasteland," Casademunt told Variety, "we want to make a film that can touch the soul of people that normally might not go to see horror films; a horror film with a lot of emotion that could be loved by all audiences."
"The Wasteland," which is set in an isolated Spanish home around 125 years ago, focuses on three characters: The mother, Lucía (Inma Cuesta), the father, Salvador (Roberto Álamo), and the son, Diego (Asier Flores). At the beginning, it's clear that Lucía is trying to retain Diego's innocence as long as possible, while Salvador thinks it's time for him to start growing up. Then a stranger comes down the river and disrupts their lives, and Salvador leaves Lucía and Diego alone. It isn't long before Lucía becomes convinced that something is coming for them.
The film currently sits below star-studded Netflix hits like "The Lost Daughter" and "Don't Look Up" on the top 10 list. But does it have the potential to surpass them both?
The Wasteland proves how terrifying isolation can really be
"The Wasteland" may be set over a hundred years in the past, but the theme of isolation in the movie is something that anyone today could relate to, with the COVID-19 pandemic finishing its second year. The film begins with context for viewers, with the words: "Spain. 19th Century. Successive wars left the country wounded, some people decided to isolate themselves to escape the violence and madness." This is great foreshadowing, that this is going to be a film that tries to get into your head with psychological scares rather than gore.
The story moves at a slow pace, with Lucía's increasingly distant and detached behavior, as well as Diego's recollections of his father's stories about a creature known simply as the Beast, building undeniable tension. Throughout the film, the question always looms: Is there something out there, or is it just the isolation affecting their minds? All Diego can do is watch helplessly as his mother continues to spiral, and ironically, in order to survive, he's forced to mature just as his father wanted.
"The Wasteland" is not your typical horror movie and it may have trouble gaining runaway popularity because of that. But it is perfect if you're looking for some psychological terror to keep you guessing what will happen next. Even if it doesn't end up beating out "Don't Look Up" for the Netflix top spot, it's definitely giving viewers a disturbing alternative.