The Classic '80s Comedy You Didn't Know Sidney Poitier Directed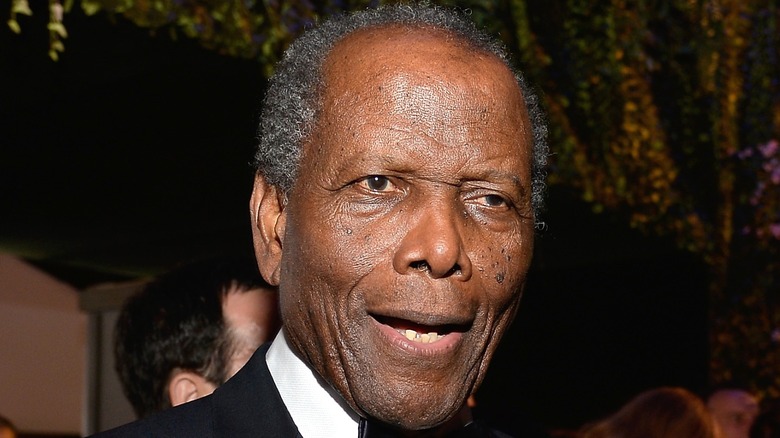 Kevork Djansezian/Getty
Sidney Poitier was a legendary actor, director, and activist, that got his original start back in the Golden Age of Cinema. Born on February 1927 and passing in January 2022, Poitier had an epic history that spanned decades — he earned 41 nominations and took home 28 awards from those nods (via IMDb). Getting his first big recognition in "Blackboard Jungle," Poitier later starred in "The Defiant Ones," "Porgy and Bess," and "A Raisin in the Sun," and was at one point the highest grossing star in 1967 (per NPR).
His long career saw him knighted in 1974, and he continued working as an actor by appearing in "Sneakers," "The Jackal," and "Little Nikita." Poitier even became the Bahamian ambassador to Japan in 1997, which lasted until 2007 (via NBC). Besides his noble activism, acting, and political work, Poitier also acted as a director, with his first movie being "Buck and the Preacher," which was in 1972. He continued working as a director for several films like "Uptown Saturday Night," "Let's Do It Again," and "A Piece of the Action," but one of his directorial accolades may surprise you.
Sidney Poitier directed the '80s classic Stir Crazy
The movie in question is the famous 1980s comedy "Stir Crazy." Starring the legendary Richard Pryor and Gene Wilder, "Stir Crazy" was the second outing for the hilarious comedic duo. The movie sees Wilder and Pryor framed for a bank robbery that results in both of them being sent to jail for 125 years. The two attempt to use the insanity defense to evade serving the sentence, but this action fails. However, another opportunity to escape presents itself at a prison-sponsored mechanical bull riding contest, and they are finally able to slip their confinement.
According to The New York Times, the movie was adapted into a sitcom in 1985, though it did not utilize the same actors and director. Meanwhile, the movie went on to make $101 million, which would be around $345 million adjusted for inflation (via The Numbers). "Stir Crazy" also marked the first time a Black director made over $100 million for a film (via IndieWire), and it further solidified Poitier's position as a potent director and added another notch to his extensive career.