The Two Music Superstars Who Were Almost Bond Villains
Ian Fleming's James Bond is notorious for many things — his charm, his secret agent skills, his excellent fashion, and of course, the excellent villains he's pitted against. Over the 25 films in which the character has graced the silver screen, audiences have seen plenty of complex and extravagant antagonists. Some are even famous in their own right, including Francisco Scaramanga, aka the Man with the Golden Gun (Christopher Lee), Oddjob (Harold Sakata), Auric Goldfinger (Gert Fröbe), and all versions of Ernst Stavro Blofeld (Donald Pleasence, Telly Savalas, Charles Gray, Max von Sydow, and Christoph Waltz).
Many famous actors have been cast as "Bond" villains over the years as well. Even in the most recent "Bond" films with Daniel Craig, very well-known and talented actors play the villains, including Mads Mikkelsen, Javier Bardem, the aforementioned and two-time Oscar winner Christoph Waltz, and most recently, Rami Malek. However, these "Bond" villain roles were not always so set in stone — or even set to be given to great Hollywood actors. In fact, two music superstars of the 1980s were nearly "Bond" villains. Here's what we know.
Sting and David Bowie were almost Bond villains in A View to a Kill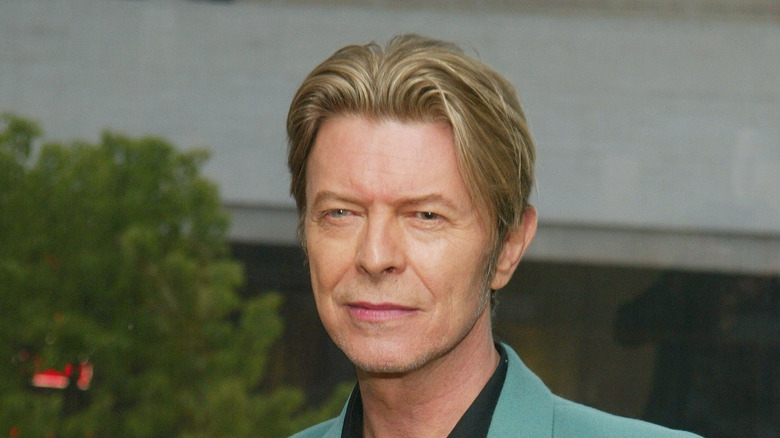 Evan Agostini/Getty Images
During the pre-production and casting for 1985's "A View to a Kill," music and pop culture icons Sting and the late David Bowie were both in talks to be featured in the main villain role of Max Zorin (via NME). The film already included another pop culture star in Grace Jones, so perhaps the studio was looking to add one more in the iconic villain role that eventually went to Christopher Walken. The studio, Eon Productions, was so set on Bowie, in fact, that it released a public statement from producer Albert Broccoli that mentioned their plans to "exploit" the actor's different-colored eyes for the role before he even had the chance to turn it down. Ouch.
Speaking on the possibility of taking the role, Bowie said in an interview with NME, "But I think that for somebody from rock it's more of a clown performance. And I didn't want to spend five months watching my double fall off mountains." Needless to say, it's likely that Bowie simply wasn't interested in being a part of it. Either way, it could have made for an even more incredibly nostalgic 1980s film than it already is.