The Battlestar Galactica Reboot Is Even Bigger Than We Imagined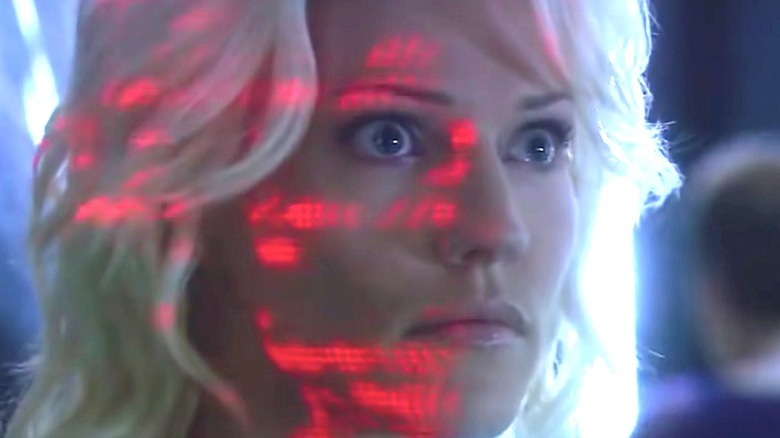 BSkyB/NBC/Youtube
A year after the release of the original "Star Wars," ABC launched its own take on the epic space opera genre with the 1978 series "Battlestar Galactica." The show follows the remnants of the human race in the aftermath of a genocidal war with the mechanical Cylons. As humans huddle together in the last human warship, Galactica, they evade Cylon capture, searching for their mythical homeworld. The series began as a planet-of-the-week show where the crew explored new civilizations and searched for a place to live until the second half of its only season shifted primarily to examining life on the fleet.
In 2003, there was a miniseries reboot, which eventually gave way to a four-season series that followed the survivors of the Cylon genocide of the 12 Colonies on the Galactica. Human survivors were led by President Laura Roslin (Mary McDonnell), Commander William Adama (Edward James Olmos), and renegade pilot Starbuck (sci-fi favorite Katee Sackoff). About a decade after the series finale of the '00s reboot aired, fans were treated with the announcement of multiple new "Battlestar Galactica" projects, including a Peacock series and a movie. And we now know what fans can expect from the scope of these upcoming reboots.
The Battlestar Galactica reboots will have a shared universe
Simon Kinberg, who is penning the script for the upcoming "Battlestar Galactica" movie, gave a few updates on the project during a recent interview with Collider. "We are in the process of going out to directors and the hope is to attach a director and start prepping the movie this year," Kinberg teased, before going on to describe the scope of the film as "humongous."
However, the movie is not the only project on the horizon. When asked about the Peacock series, Kinberg gave a few details that should have fans of the franchise excited. "In terms of the situation with ... the show, I can't say too much about it other than there is synergy between the two enterprises and constant communication between us," Kinberg said. He then used the two magic words everyone in Hollywood loves to hear: "there will be, for lack of a better phrase, and it's an overused phrase, a shared universe." 
This prospect could open massive doors for future spin-offs and movies, and will no doubt have fans keeping a close eye on both upcoming projects.