Katee Sackhoff Teases Bo-Katan's Future In The Mandalorian Season 3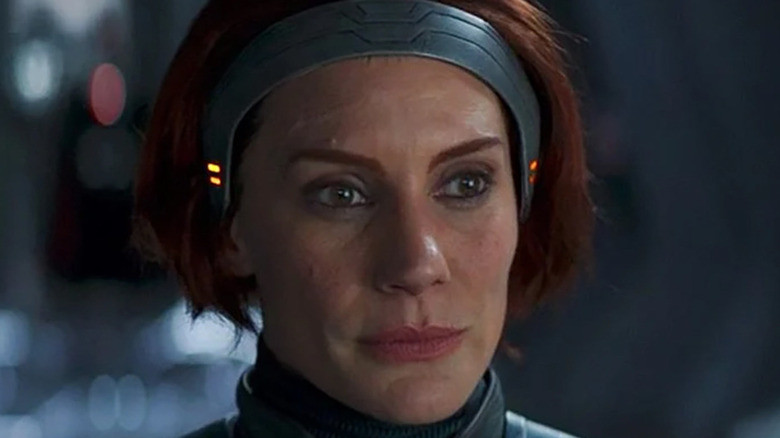 Lucasfilm/Disney+
The Disney+ "Star Wars" epic "The Mandalorian" wrapped up its second season a good while ago, and though Grogu the "Baby Yoda" is now safe with Luke Skywalker (Mark Hamill), the show still has plenty of neat plot threads to keep fans eagerly waiting for season 3. The "Star Wars" galaxy is vast, and its possibilities are infinite — but one of them is definitely that Bo-Katan Kryze (Katee Sackhoff) may have something to say about the ownership of the Darksaber, which Din Djarin (Pedro Pascal) more or less stumbled upon, and which she considers her rightful property.
Judging by the amazing way "The Mandalorian" managed to keep its epic Luke cameo secret, it's anyone's guess where the secretive show plans to takes you next. Even so, Sackhoff herself has recently teased some intriguing ideas about her fan-favorite character's potential future adventures. Let's see what Katee Sackhoff has to say about Bo-Katan's future in "The Mandalorian" season 3.
Bo-Katan might go after the darksaber or meet up with Ahsoka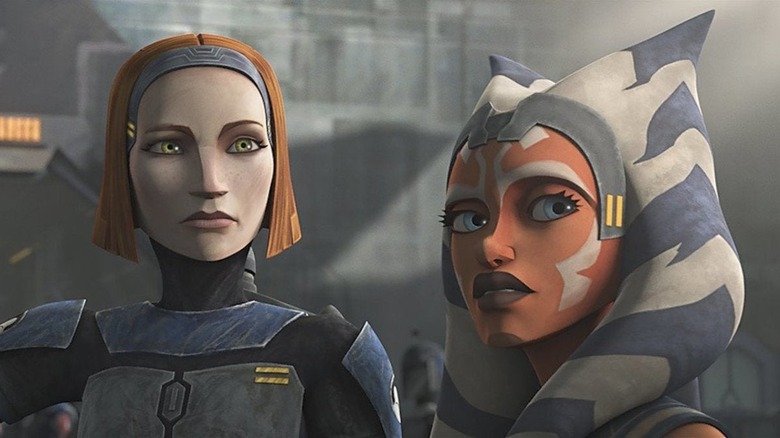 Lucasfilm
In an exclusive interview with Slashfilm, Katee Sackhoff teased that you might not have seen the last of the live-action version Bo-Katan. Though she naturally didn't outright confirm or deny anything about the character's future, she was more than willing to drop a few teasers about what she feels might be next for the character — and it indeed involves dealing with the whole Darksaber ownership situation the sophomore season of "The Mandalorian" ended with. 
"The way that Lucasfilm left me in season 2, one of the roads that could be gone down — absolutely, you'd think — would be the unfinished business," Sackhoff told Slashfilm. "But that is so far above my pay grade, and you just don't know, right? As a fan of the show, I'm just excited to see what they come up with." That being said, Sackhoff also noted that she's had plenty of conversations with executive producer Dave Filoni about the character, so no matter what happens, she's at the very least well-informed. "Dave and I talk a lot about Bo and her backstory and time lost and things like that, just because we enjoy talking about Star Wars and the characters," Sackhoff revealed. "I definitely know a lot about who she is and where she's been and what's happened. So, yeah, I knew that kind of stuff for sure."
One thing Sackhoff made very clear she'd like to do is explore Bo-Katan's historically close relationship with the Jedi Ahsoka Tano (played by Rosario Dawson in "The Mandalorian") in live action form, if only because she'd be super interested to work with Dawson. "I love Rosario," the actress said. "I've never had the pleasure of meeting her. So maybe one of these days." Maybe, indeed.