Tom Holland's Role In Uncharted Came From A Failed Pitch To Join This Classic Franchise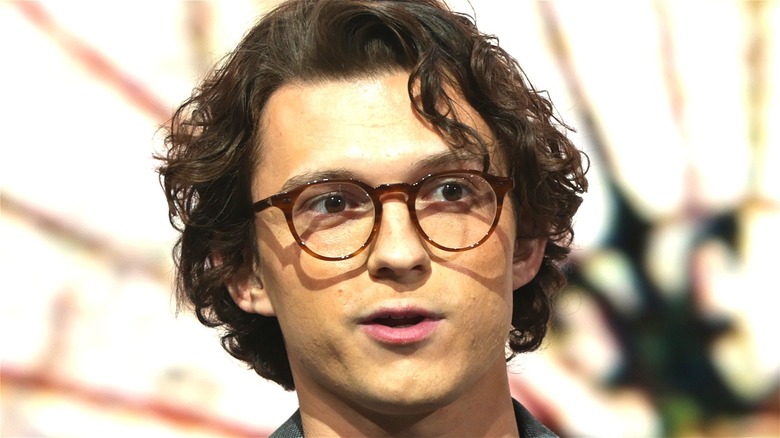 Alex Wong/Getty
Tom Holland has cemented himself as one of the biggest young stars in Hollywood. With the recent box office super-success of "Spider-Man: No Way Home" — which banked over $1 billion worldwide (via Box Office Mojo) — it's clear the actor has the chops to lead a big-budget franchise. He's even demonstrated that his talent soars without the help of a beloved IP, with credible performances in films like the historical thriller "The Devil All The Time" and the gritty drama "Cherry."
With his remarkable success and already impressive résumé, it can be easy to forget that Holland is still just 25 years old. But the star hasn't let his young age stop him from trying to elevate his career to new heights. In fact, Holland recently revealed that he's already pitched himself for another iconic role. In an interview with Game Radar's Total Film magazine, Holland opened up about approaching Sony with an unexpected idea for a film, and while it didn't pan out the way he hoped, it led to another entirely different, but no less exciting, story idea.
Holland's dreams of playing a young James Bond helped lead to his Uncharted role
While speaking with Game Radar's Total Film, Tom Holland shared that he approached Sony with the hopes of playing a young James Bond, a desire that he's made known before. However, the actor's pitch never developed past the idea stage. "It was the origin story of James Bond. It didn't really make sense," Holland told Total Film. "It was the dream of a young kid, and I don't think the Bond estate were particularly interested."
Still, his idea seems to have gotten Sony thinking about another potential story idea, and it led to Holland's role in "Uncharted," the upcoming film adaptation of the popular video game franchise. In the adaptation, Holland plays Nathan Drake, a charismatic treasure hunter who adventures with his mentor Victor "Sully" Sullivan (Mark Walhberg). Holland will be playing a younger version of Drake than fans saw in the game series (outside of some flashbacks to Drake's teenage years that pop up throughout the franchise), and that concept seems to have been born out of Holland's young Bond pitch. "The idea of a young Bond film sparked this idea, in turn, that you could do a Nathan Drake story as an origin story, rather than as an addition to the games. And that opened a conversation," Holland explained.
When one door closes, another opens, and with an undoubtedly long career ahead of him, maybe suiting up as 007 is still in Holland's future.