The Joe Pesci TV Series You Never Knew Existed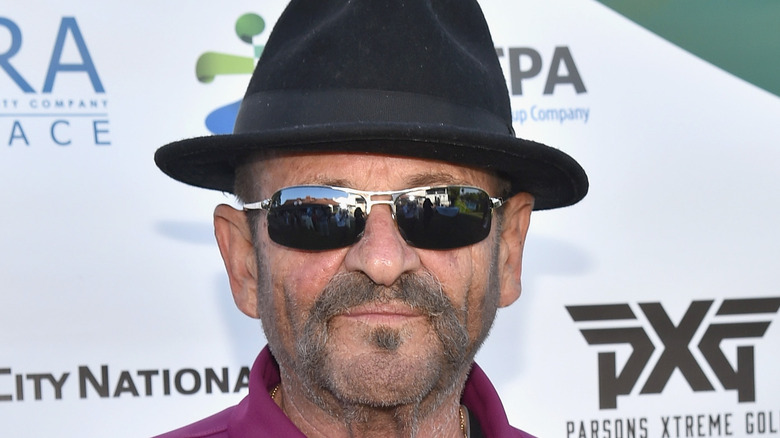 Mike Windle/Getty Images
It's no secret that Joe Pesci is one of the most revered actors in all of Hollywood. In a career that's spanned six decades, he's given us timeless performances in gritty dramas like "Goodfellas," for which he received the Academy Award for Best Supporting Actor, "Raging Bull," and "The Irishman," as well as his iconic comedic roles in films like "Home Alone" and "My Cousin Vinny." 
Despite all his accolades, it's important to point out that Pescis's illustrious career is not without its fair share of questionable decisions. These include Pesci's failed attempt to enter the rap game with the hip-hop song "Wise Guy," and his role in the 1997 film "Gone Fishing" -– a box office bomb in which he starred alongside Danny Glover as an eccentric fisherman. One such failed endeavor was Pesci's leading role on NBC's "Half Nelson," a comedy/drama series that lasted all of nine episodes back in 1985.
Pesci starred as a cop-turned-actor in Half Nelson
"Half Nelson" followed the story of former New York City police officer Rocky Nelson (Pesci), who quits his job and moves to Hollywood with dreams of becoming a famous actor. Despite his almost immediate rejection in Hollywood, Rocky decides to tough it out, picking up a job with a private security firm known as "Beverly Hills Patrol" so that he can continue to pursue his dream on the side.
As a member of the Beverly Hills Patrol, Rocky is tasked with providing security for the legendary Dean Martin, who plays a fictionalized version of himself in what would end up being his final acting role before his death in 1995. After one of his co-workers is murdered under mysterious circumstances, Rocky takes on the role of the hard-boiled detective and travels L.A. solving crimes –- eventually becoming embroiled in a wide-reaching blackmail scheme aimed at taking down the Hollywood elite (via TV Obscurities).
"Half Nelson" was marketed as a "light-hearted" action-adventure series, and while this amalgamation of a comedic premise and a classic noir detective story is certainly interesting, it's clear the show wasn't for everybody.
The show was canceled almost immediately due to its abysmal ratings
NBC first premiered "Half Nelson" with a made-for-TV movie that served as the series pilot, before moving the show to Friday nights from 8 to 9 p.m., according to TV Obscurities. This move to a highly sought-after primetime spot may have been intended to help the series get off its feet, though perhaps, it did just the opposite.
"Half Nelson" was unable to compete with the rest of the shows in that coveted Friday night lineup, and in fact, that first Friday episode only ranked 44th in viewership across all audiences. The show managed to increase its audience by the end of its first season, but by then, the writing was on the wall. Critics also bemoaned the series as boring and unoriginal, despite the stellar cast.
Indeed, "Half Nelson" was not lacking for star power: in addition to Dean Martin and Pesci, the series also starred former NFL linebacker and Football Hall of Famer Dick Butkus, as well as "SNL" cast member Victoria Jackson. Whatever the reason, the series was abruptly cancelled in May 1985 – and one can only imagine what "Half Nelson" might have been if Pesci had gotten a few more seasons under his belt.