The Improvised Joe Pesci Line That Changed Goodfellas Forever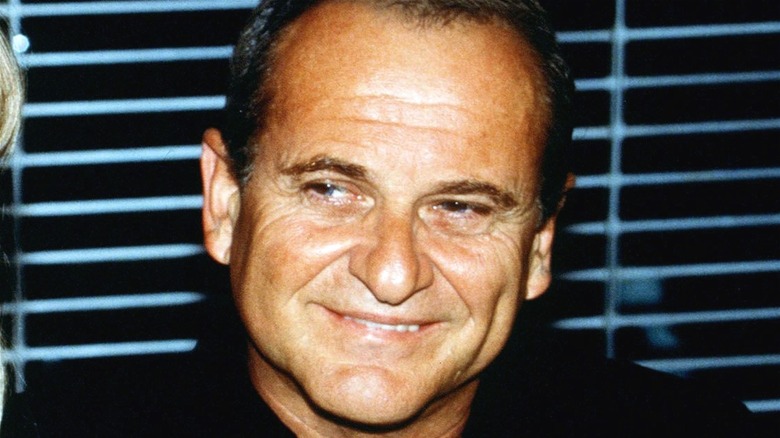 Russell Einhorn/Getty Images
Released in the fall of 1990, Martin Scorsese's sprawling gangster epic "Goodfellas" wash hailed by critics and viewers as a first-rate slice of mobster cinema (per Rotten Tomatoes) — one praised as much for its brutal depiction of mob life as its incisive study of the people who chose to live it. Depending on who you talk to, the film might even be the crown jewel of Scorsese's lauded body of work to date (via /Film). If you've seen "Goodfellas," you know Scorsese's subversive, stylishly-rendered "based-on-actual-events" exploration of the criminal underworld, which details the rise of Henry Hill (Ray Liotta) in New York's criminal ranks, to be a film every bit as ambitious as "The Godfather."
Though it's hardly a comedy, you undoubtedly also know "Goodfellas" to be the funnier of the two films. That has a lot to do with Joe Pesci's Oscar-winning turn as the wise-cracking tough guy Tommy DeVito in the film, which remains the very definition of scene-stealing. Of the many scenes Pesci stole in "Goodfellas," however, none were more memorable than the "funny how?" exchange between his and Liotta's characters early in the film. And it turns out, much of that scene was not in the film's original script.
Pesci's famed Goodfellas 'funny how?' monologue was largely unscripted
The said scene unfolds in the famed Copacabana Club, and it finds Tommy entertaining his underworld counterparts with another tale of wiseguy shenanigans. Amid all the laughter, Henry innocently quips that Tommy is "funny," which promptly sets Tommy into a venomous tirade that begins, more or less, with Joe Pesci's improvised line, "funny how?"
As covered by Insider, during a 2015 post-screening Q&A session celebrating the 25th anniversary of "Goodfellas," Ray Liotta regaled audience members with the story of how the scene came together. Per Liotta, a similarly unsettling event happened to Pesci himself in his youth, "Joe was telling me a story about what happened to him in Queens or wherever it was and he said to some guy ... the guy said something who happened to be a connected guy and he said 'Well ... you think I'm funny?" 
While Pesci's real-life experience informed the infamous scene, the moment wasn't improvised in the strictest sense of the word. As revealed in a "Making of" documentary, Pesci actually brought the idea to Martin Scorsese during rehearsals, with Scorsese writing it into the script the way he and his actors wanted to do it on the day. He apparently didn't tell the extras what they were in for, though. It's safe to say their stunned silence as the scene becomes unbearably tense was no doubt matched by viewers — right up until Tommy reveals it's just a ruse, of course. And oh boy, what a welcome release that hilarious moment is.