The Real Reason We Don't Hear About Joe Pesci Anymore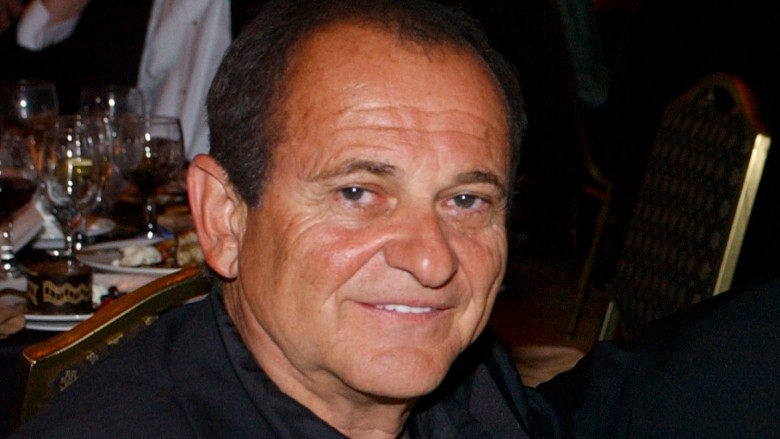 Joe Pesci is one of the all-time great (and versatile) character actors. From Jake La Motta's brother and manager in Raging Bull to the psychopathic Tommy DeVito in Goodfellas, not to mention memorable roles in Home Alone, My Cousin Vinny, and Lethal Weapon, Pesci was a frequent and extremely welcome presence on the big screen for decades, but we haven't heard much from him lately. (What, you think that's funny? In what way is that funny?) His talents are sorely missed—and these are the real reasons you don't see Joe Pesci at the movies anymore.
He retired from acting...for music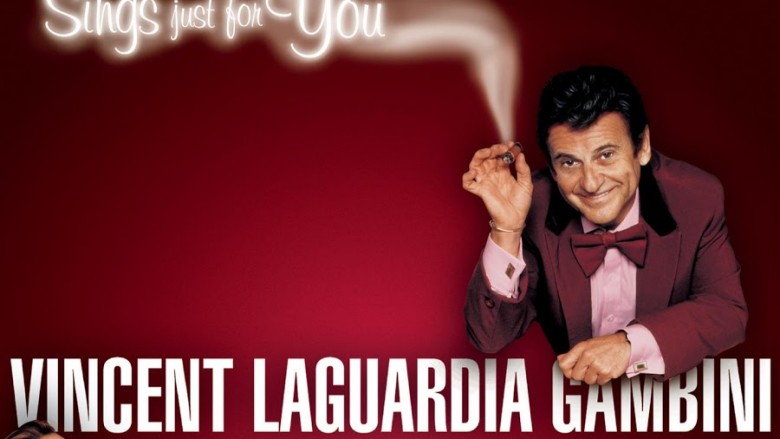 In 1999, Pesci announced he'd largely retire from his acclaimed acting career in order to pursue his first love: music. Now, while a lot of actors decide to record an album or take a role in a Broadway musical because they can, Pesci actually has some chops. In the '60s, he was the guitarist for the band Joey Dee and the Starliters, a position he vacated to a slightly better guitarist named Jimi Hendrix. In 1968, he released an album called Little Joe Sure Can Sing! under the stage name of Joe Ritchie. He even introduced the two musicians who'd go on to form the Four Seasons—but then his acting career took off, and music went on the back burner for 30 years. Pesci's retirement came right after the release of a new LP called Vincent LaGuardia Gambini Sings Just for You. Something of a novelty project, the title is derived from the name of Pesci's My Cousin Vinny character. As for the album itself? It includes a rap single.
He almost got married (again)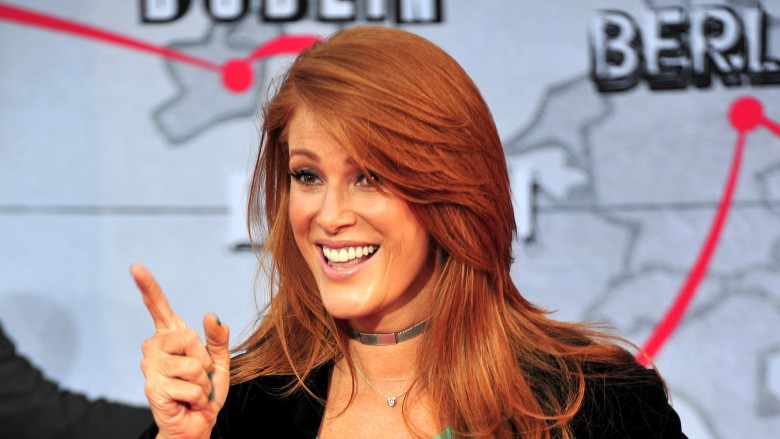 An active social life can take up a lot of time and energy. Just ask Joe Pesci: in 2000, he started dating Sports Illustrated swimsuit model and actress Angie Everhart—who media outlets loved to report was both six inches taller and 27 years younger. After seven years of dating, Pesci decided to make an honest woman out of Everhart and proposed (which would make her his fourth wife). But in 2008, less than a year after they'd gotten engaged, the couple split up.
He still acts, but only for friends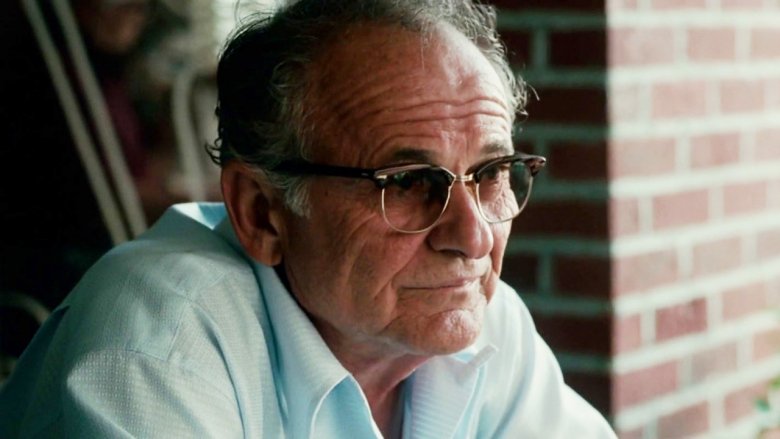 Pesci is very close friends with Robert De Niro. Over the past 40 years or so, they've starred in a number of movies together, among which are the best of both actors' storied careers: Once Upon a Time in America, for example, as well as Martin Scorcese's Raging Bull, Casino, and Goodfellas, the latter of which netted Pesci the Academy Award for Best Supporting Actor. (His acceptance speech was five words long: "It's my privilege. Thank you.") It's his bond with De Niro that led to Pesci's only major role of note since 2000: a cameo in The Good Shepherd, the 2006 movie De Niro directed. (Beyond that, Pesci showed up in the 2010 brothel drama Love Ranch and a 2011 Snickers commercial.)
He lost interest in acting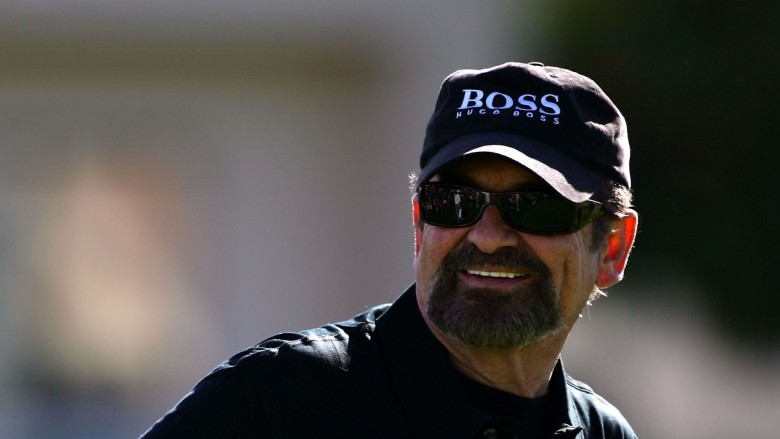 Retirement, or at least semi-permanent acting, was a logical conclusion for Pesci in the late '90s, because he just wasn't feeling it anymore. A glance at his résumé reveals very few movies after the classic Casino was released in 1995, and what he was being offered really couldn't compete with his best films. Remember 8 Heads in a Duffel Bag or Gone Fishin'? Pesci's last major movie was the 1998 sequel Lethal Weapon 4, which earned him a Razzie Award nomination for Worst Supporting Actor for reprising his role as the obnoxious informant Leo Getz. Those movies, and his subsequent walking away from Hollywood, reflects a comment Pesci made in 1992: "I love to star in movies, but I want to have good roles. It doesn't help to get starring roles in something that's no good. I mean, that will just kill you."
He gained 30 pounds for a movie that never got made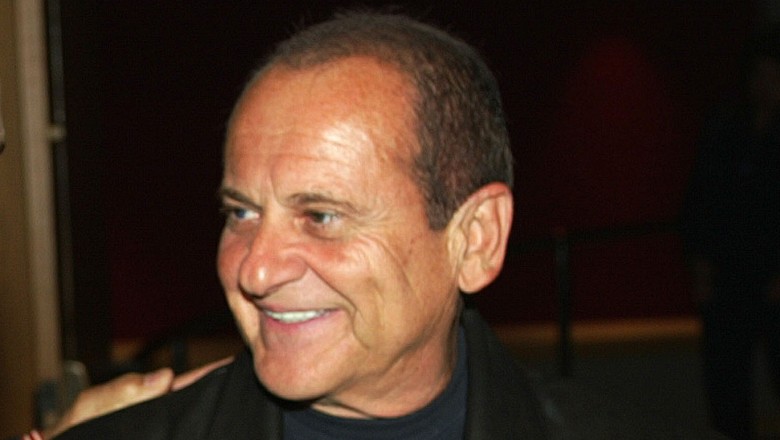 Pesci may have retired, but he's still willing to take on a big role if it all the factors align. Around 2011, he was set for a major supporting role in a film about the Gambino crime family with John Travolta attached to star as John Gotti, and Pesci set to portray Gotti's friend and personal "enforcer," Angelo Ruggiero. Ruggiero was a big guy, so Pesci dutifully gained 30 pounds for the role. Then he was reportedly dropped into a smaller part—and offered a reduced salary. It's all detailed in the $3 million lawsuit Pesci filed against the film's producers. Pesci and Fiore Films reached an undisclosed agreement in 2013; the Gambino film still hasn't been filmed, with or without Pesci.
He got tied up in a strange legal matter involving his ex-wife and a hitman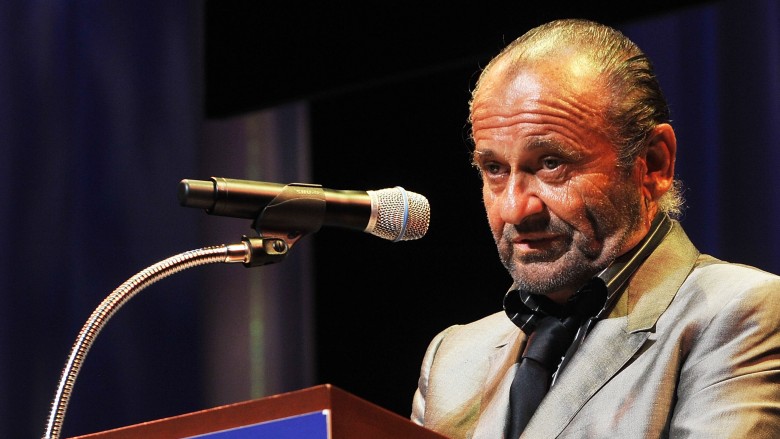 Pesci was married to model-actress Claudia Haro from 1988 to 1992, with whom he had a daughter. They must have remained on good terms, because Haro's acting career started after the divorce, and of the five movies she appeared in, four were Pesci films. Pesci also stood by her side during a very bizarre legal matter.
After her split from Pesci, Haro married Hollywood stuntman Garrett Warren. But things soured in 1999...about a year before Warren was shot by a stranger at the front door of his home in Westlake Village, California. It took years to figure out who shot him, but some evidence uncovered in the trunk of a car in a drug bust—directions to Warren's house and his photograph—set police off and running, and they eventually figured out that Haro had paid the assailant, a hitman, to kill her ex-husband. (She later hired another hitman to finish the job.)
During her 2012 trial, during which she was free on $1.25 million bail, Haro brought a huge entourage to the courtroom each day, including a nun dressed all in white...and her other ex-husband, Joe Pesci, dressed all in black. Haro plead no contest and was sentenced to just over 12 years in prison. While during a preliminary hearing a witness strongly implied that Pesci had paid for Haro's hit against Warren, police interviewed him and searched his property and found him absolutely unrelated to the crime.
He got tired of suffering for his art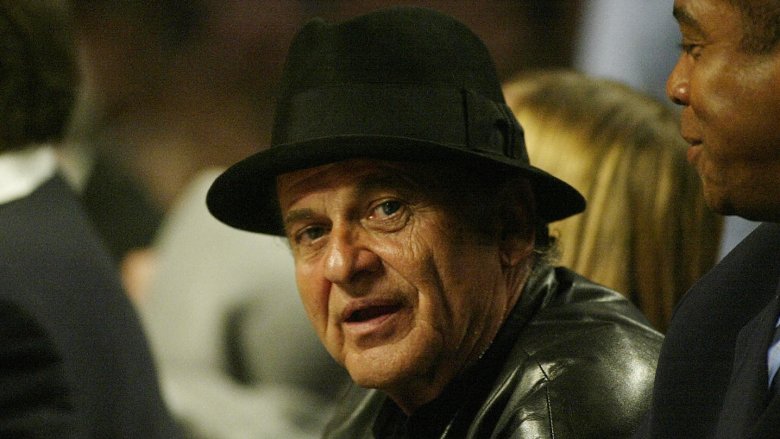 Getty Images
Despite numerous safety precautions and competent crews, sometimes things go awry and actors get hurt on movie sets — and over the course of his career, Joe Pesci endured major injuries during the production of two of his films. 
Starring opposite Robert De Niro in Martin Scorsese's Raging Bull, Pesci suffered a broken rib during a fight scene — and roughly 15 years later, he broke the same rib on the set of Casino, another Scorsese production. Both movies earned critical praise, and the former led to an Academy Award nomination for Pesci — although he later wisecracked about being tired of suffering for his art and suggested that making bad movies had its rewards. "I've come to the conclusion that great movies mean cracked ribs," Pesci quipped at a 1997 American Film Institute event honoring Scorsese. "With The Super and Jimmy Hollywood, I came through virtually unscathed."
He was missing the links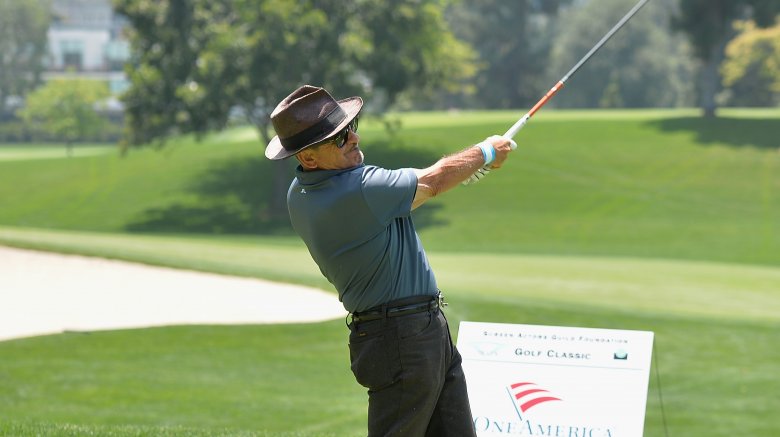 Getty Images
Some people love golfing so much that employment is just a means to an end — work gets them the money they need to pay for country club memberships and greens fees. Joe Pesci might be just that kind of guy. Even before he basically retired from acting, he was an avid duffer who hit the course as often as he could. Without all those bothersome Hollywood movies mucking up his schedule, he's been able to devote even more time to the game he loves.
After finding himself typecast as New York Italian tough guys after Raging Bull, Pesci turned down a lot of movies and turned to the links. "I played golf every day to keep my sanity," he told New York (via Turner Classic Movies). He kept up the habit, including regular games with fellow movie stars Jack Nicholson and Dennis Hopper, as well as with professional championship golfer John Daly. Golf Digest lists the actor's handicap at an impressive 15.9.
He's a Jersey Boy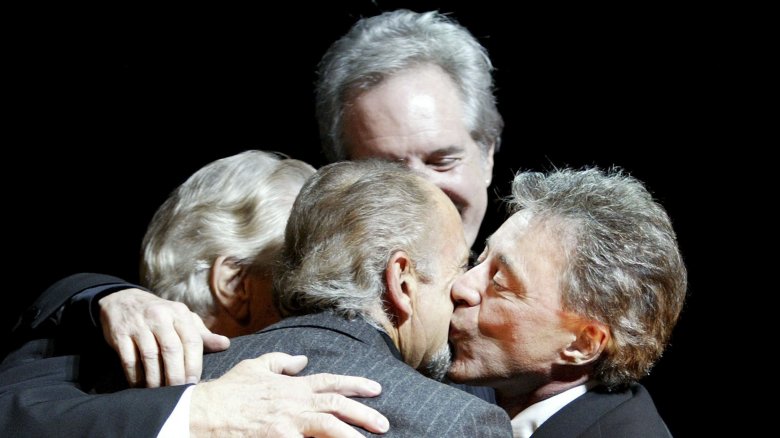 Getty Images
In the early 2000s, the biggest fad on Broadway was the "jukebox musical" — shows that use pre-existing songs, usually by a single band or performer and often to tell the story of that artist. Famous examples include Mamma Mia! (ABBA), Good Vibrations (the Beach Boys), and Jersey Boys, which depicted the rise of the '60s pop group the Four Seasons. Pesci was instrumental in Jersey Boys, both the 2005 Broadway musical and its 2014 Clint Eastwood-directed film adaptation. Pesci didn't actually act in either production — he figured in the story of how the Four Seasons got together. He introduced musically inclined friend Tommy DeVito to songwriter Bob Gaudio, sparking the first incarnation of the band. There's even a fun Pesci reference in the film: Joe Pesci (portrayed by Joseph Russo) is called "funny," and he asks, "Funny how?" — a clear nod to Pesci's character in Goodfellas...who happens to be named "Tommy DeVito."
He didn't know who Joe Pesci was anymore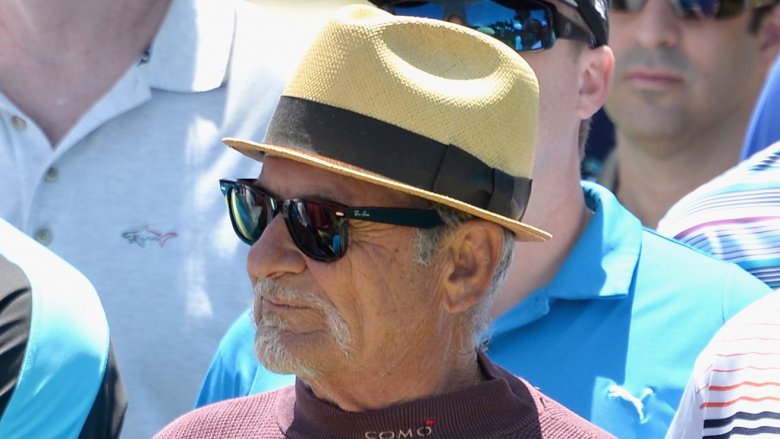 Getty Images
Acting is an odd profession. It's psychological make-believe, the way performers completely inhabit a character on the page and suppress their own personalities to bring this other person to life. It's understandable that such a process can play tricks on an actor's mind, particularly for extremely dedicated performers like Joe Pesci, who often played very dark and disturbed individuals.
In 1992, he told the Orange County Register (via the Baltimore Sun) about the moment he felt the ugly side of acting — an identity crisis. He walked up to the first tee on a golf course, set down his ball, drew back his club...and stopped, in the middle of a swing. He stepped away from the ball and tried to shake off the bad feelings coursing through him. "I didn't know who the hell was about to hit that golf ball. Was it Leo Getz or David Ferry or Tommy or Harry or Joe?" Pesci said, referring to some of his characters. "I've spent so much time as somebody else, and so little time as myself, I lost sight of who I was for an instant." If Pesci was grappling with these issues at the peak of his career, it's no wonder he eventually walked away from acting.
An offer he couldn't refuse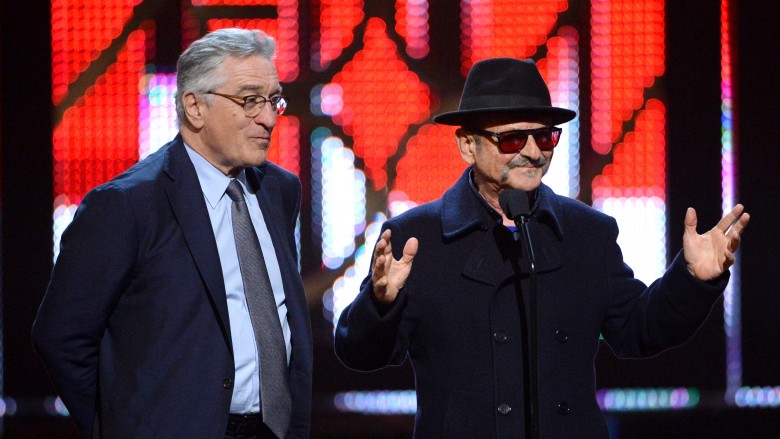 In the summer of 2016, Pesci made a surprise appearance at Spike TV's Guys Choice Awards alongside De Niro to induct GoodFellas into the "Guy Movie Hall of Fame." De Niro mentioned a long-gestating movie called The Irishman, which Martin Scorsese had been trying to get off the ground for years, but was stalled in part because he wanted it to star not just De Niro, but the elusive Pesci. "So far," De Niro said, "all he keeps saying is 'go f*** yourself.'"
By some estimates, Pesci refused a role in The Irishman more than four dozen times — but Scorsese can evidently be pretty persuasive when he wants to be, because in July of 2017, Deadline confirmed that he'd signed on for the project. The film, a dramatization of the events surrounding union boss Jimmy Hoffa's infamous disappearance, was snapped up by Netflix for a whopping $175 million — and with a cast that includes De Niro and Al Pacino as well as Pesci, who agreed to play real-life mob boss Russell Bufalino, it isn't hard to understand why they made the investment.