The Best Time Daniel LaRusso Broke Character On Cobra Kai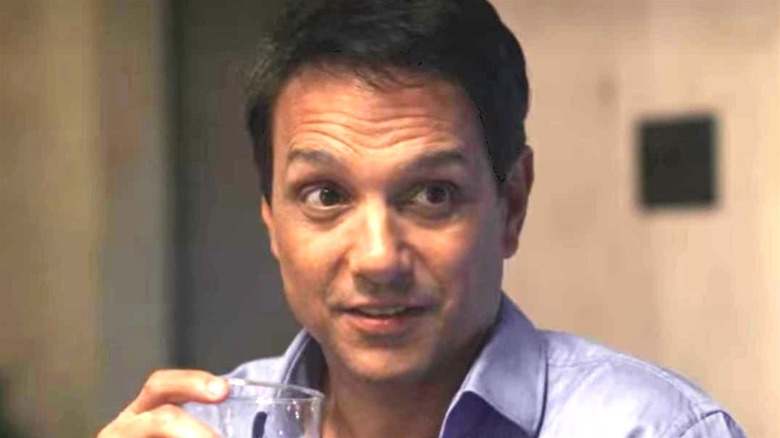 Netflix
The story of how "Cobra Kai" became the hit it is today is truly remarkable. The series spent two seasons on YouTube Red before it moved to Netflix (via Deadline). From there, the show's popularity exploded and it went on to rack up over 2 billion minutes of streaming time during the week of August 31 — September 6, 2020 (via Deadline). Of course, part of what makes the show so popular is the nostalgic pull it has for many "Karate Kids" fans, as it provides them with a continuation of the feud between Daniel LaRusso (Ralph Macchio) and Johnny Lawrence (William Zabka).
Set 30 years after the events of 1984's "The Karate Kid," the series finds Daniel and his former nemesis still going at it — this time, as the heads of their own dojos. On-screen, it's clear the two characters share an intense hatred for one another, the kind that doesn't seem to have lessened at all in the three decades between the end of "Karate Kid" and the start of "Cobra Kai." 
However, behind the scenes, Ralph Macchio and William Zabka seem incredibly happy to be working together once more — as is proven by what is, perhaps, the funniest blooper that has ever happened on the set of "Cobra Kai."
Ralph Macchio once broke character because William Zabka accidentally scared him
The blooper in question took place during the filming of a scene in which William Zabka's Johnny confronts Ralph Macchio's Daniel in his home in response to the latter recruiting Johnny's son, Robby (Tanner Buchanan), as a student for his dojo. It's an incredibly tense scene, and apparently, Macchio was really feeling some of that tension while shooting it. At least, that's what seemed to be the case when Zabka raised his fists as if he was about to start fighting his co-star and Macchio immediately broke character — flinching away and fumbling the rest of his lines.
Zabka and Macchio quickly burst into laughter over the moment, as did many of the show's crew members — and it's not hard to see why. The outtake is hilarious not only because the scene is supposed to be so serious, but also because Daniel is supposedly a better fighter than Johnny, despite Macchio flinching so quickly.
If anything, the blooper shows just how much fun Macchio and Zabka are clearly having being back in the world of "The Karate Kid," and it suggests that the show is, perhaps, just as enjoyable to make as it is to watch.