Are Ralph Macchio And William Zabka From Cobra Kai Friends In Real Life?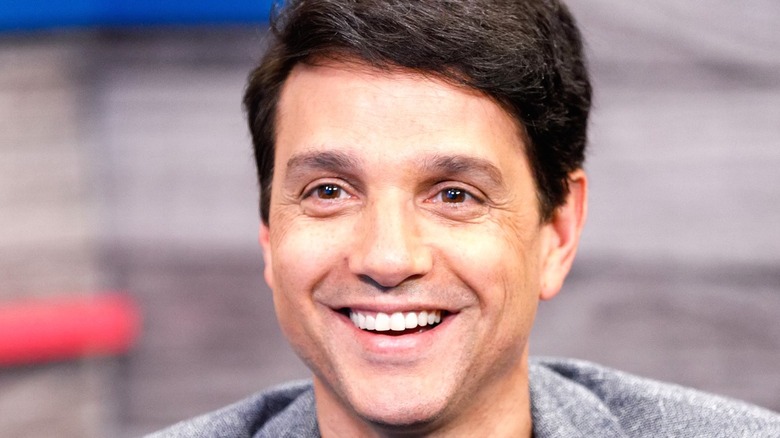 Rich Polk/Getty
The 1984 film "The Karate Kid" shows that true power rests in the mind and heart, and not in the hands. Or perhaps true power is actually an unorthodox crane-style kick to the face during a martial arts tournament. Starring Pat Morita, William Zabka, Elisabeth Shue, and Ralph Macchio, "The Karate Kid" tells the story of Daniel LaRusso (Macchio) as he is taken under the wing of the legendary Mr. Miyagi (Morita), and his journey to understand the varying aspects of karate in both mind and body.
The movie culminates in a tournament that sees LaRusso reign victorious over his bully Johnny Lawrence (Zabka) by using the previously mentioned crane kick. Tournament rules aside regarding kicks to the face, these events have a huge impact on both LaRusso and Lawrence's lives. LaRusso goes on to become a successful car dealer, while Lawrence coasts through life aimlessly. However, "Cobra Kai" picks up long after the events of the movies and sees the rivalry between LaRusso and Lawrence temporarily reignited. Entering Season 4 on Netflix on December 31, 2021, "Cobra Kai" has been well-received thus far, but are the two stars of the show, Macchio and Zabka, close in real life?
Ralph Macchio and William Zabka engage in off-set antics and carpool together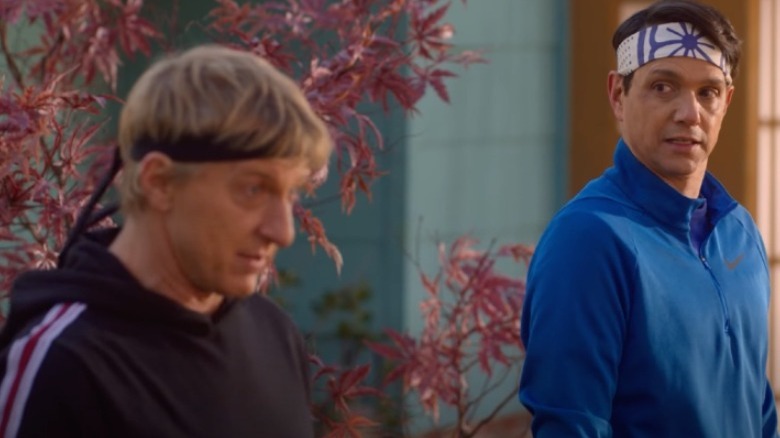 Netflix
Despite the fact that the "Cobra Kai" creed is "Strike first, strike hard, no mercy," the rivalry between William Zabka and Ralph Macchio is only screen deep! Speaking with PopCulture.com, Zabka said, "It's been so great — Ralph and I have become good friends over the years and from the ground-up, when we first got pitched this, we've been in close contact since." In a separate interview with "The Jenny McCarthy Show," Zabka spoke of off-screen antics between himself and Macchio, and added, "We'll drive home. We'll have the same complaints, the same thoughts ... we get lost together, crank the music together."
Clearly, the show has helped them become even better friends, and during a 2019 joint interview with Rotten Tomatoes, Macchio stated, "We've become closer friends over the years, certainly since Pat — when Pat passed away we became closer friends just through the loss of him and moving forward and the fact that this film has stood the test of time." Zabka replied that "After the film, we were young, we went our different ways ... But I remember it being Pat's funeral where we reconnected."
Considering these interviews, Macchio and Zabka are most assuredly close in real life, and they use that chemistry to enhance their performances on "Cobra Kai." Originally produced as a YouTube Original, the series was later picked up by Netflix, and the streamer is the show's current home. Season 4 of "Cobra Kai" will have Zabka and Macchio now teaming up against a common foe, so it is sure to be a wild and hilarious ride.