Marvel Might Bring Captain Britain To The MCU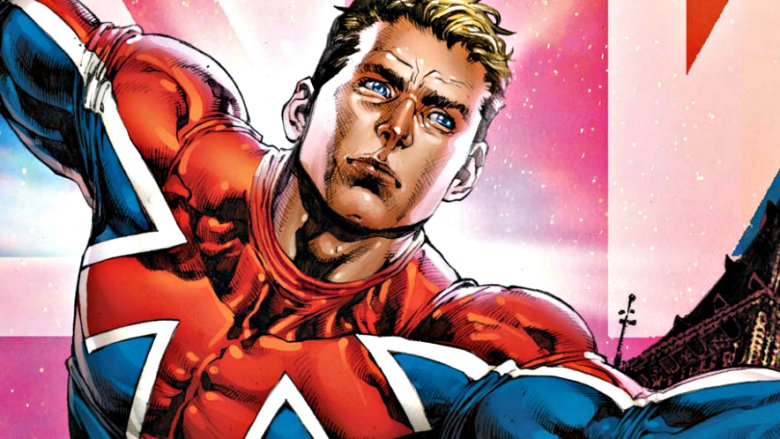 Marvel
Is there room in the Marvel Cinematic Universe for another captain?
British media outlet Hey U Guys recently asked Marvel Studios president Kevin Feige if there are any plans to introduce Captain Britain in the MCU, and Feige said there have been talks.
"We have discussed it," Feige said. "There are a lot of actors that come in and ask us about that part, so we'll have to see." 
Obviously, it's not like Feige brought up the subject or made any kind of announcement. He was just answering the question. Still, it's interesting to hear that Marvel might be considering the prospect of bringing Captain Britain into the mix.
The character, also known as Brian Braddock, first appeared in the comics in 1976. Unlike Captain America, who gained his powers through science, Captain Britain was granted superhero abilities by the wizard Merlyn after a nearly fatal motorcycle accident. He protects England much in the same way as his American counterpart, and he interacted with Steve Rogers in the Secret Avengers series.
Of course, if we do see Captain Britain on the big screen, it likely wouldn't be until after Avengers: Infinity War and Avengers 4. Production is already underway for both flicks, and as Captain America actor Chris Evans said, those movies are going to "wrap everything up" in the current MCU.
However, it would be possible for Captain Britain to be part of Marvel's Phase 4, which will come after Avengers 4. Feige previously said that what happens next "will be very different."
We probably won't hear much about the future plans for a little while, though. Infinity War will arrive May 4, 2018, and Avengers 4 is expected May 3, 2019.