The Tim Burton Reunion Fans Want To See In Beetlejuice 2
"It's showtime!" ... well, not quite yet. Since "Beetlejuice" was first summoned to the screen, audiences have eagerly awaited the resurrection of the ghost with the most. The 1988 Tim Burton masterpiece is a comic inversion of horror tropes, featuring ghost couple Adam and Barbara (Alec Baldwin and Geena Davis), whose peaceful afterlife is disturbed when their beloved house is invaded by obnoxious living tenants the Deetzes (Catherine O'Hara and Jeffrey Jones) and their Goth teen daughter, Lydia (Winona Ryder). Over the course of the film, Adam and Barbara hire an unhinged poltergeist named Betelgeuse (Michael Keaton) to evict the family via classic scare tactics.
Though it has endured as a cult favorite, inspiring both a Broadway musical and an animated series, fan fervor has yet to conjure "Beetlejuice 2" — a strange predicament in an age where the reboot reigns supreme. Burton teased a "Beetlejuice" sequel as early as 1990, hiring future screenwriter of 1996's "Mars Attacks!" Jonathan Gems to draft a script for a follow-up film called "Beetlejuice Goes Hawaiian" — which was then abruptly condemned to the sandworm desert (via CinemaBlend). The project was seemingly resuscitated in 2017, when Deadline reported that a new screenwriter had been hired to pen the sequel. What followed was radio silence — until Burton himself cryptically dismissed the possibility of a revival in an interview with USA Today, replying, "I don't know. I doubt it," when directly asked if Betelgeuse would return.
Since then, the film remains in purgatory, but fan speculation still abounds. Rumor has it Burton recently confirmed that he will indeed be moving forward with the production of "Beetlejuice 2" – and that it will star two familiar Burton film favorites.
Winona Ryder and Johnny Depp are rumored to star in the "Beetlejuice" sequel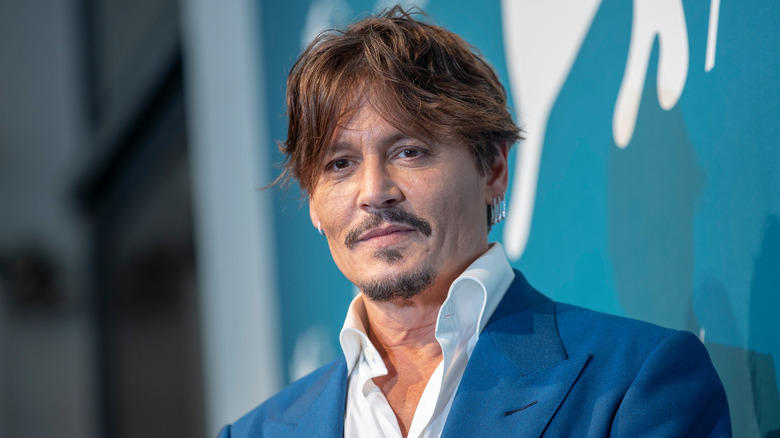 Denis Makarenko/Shutterstock
In 2015, Winona Ryder claimed on "Late Night with Seth Meyers" that she was slated to appear in the "Beetlejuice" sequel. "Um, I think I can confirm it," she said, "because Tim Burton ... did an on-camera interview, and he said, 'Oh yeah, we're doing it, and Winona's going to be in it.'"
But Ryder is reportedly not the only Burton film darling tagged to star in "Beetlejuice 2." Another contender may be Johnny Depp, who played the titular character opposite Ryder in the 1990 Gothic romance "Edward Scissorhands" and has appeared in several other Burton films.
After losing a libel suit in 2020 to the Sun, which accused Depp of domestic violence against ex-wife Amber Heard, he was asked to resign from his role as Grindelwald in the "Fantastic Beasts" franchise (via the Guardian). According to rumors in the South China Morning Post, Burton may be engineering a comeback for the disgraced actor via a role in "Beetlejuice 2" – which some fans speculate may be that of Betelgeuse himself.
Winona Ryder, who famously dated Depp in the early '90s, has also publicly come to Depp's defense. "He was never, never that way towards me. Never abusive at all towards me. I only know him as a really good, loving, caring guy who is very, very protective of the people that he loves," she said to Time Magazine.
But until April, when Depp is scheduled to appear in court for a $50 million defamation trial against Heard (via Deadline), his film career — like the "Beetlejuice" sequel — remains on indefinite hold in the afterlife waiting room.
If you or someone you know is dealing with domestic abuse, you can call the National Domestic Violence Hotline at 1−800−799−7233. You can also find more information, resources, and support at their website.