Sebastian Stan Had A Hilarious Reaction To Spider-Man: No Way Home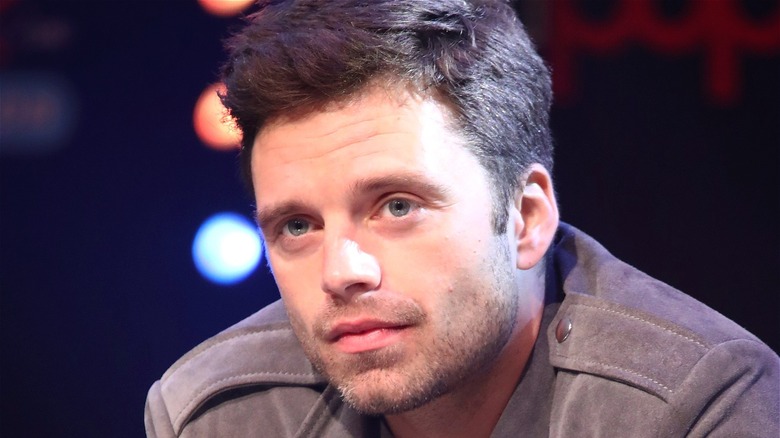 Holger Much/Shutterstock
Now that Marvel fans have finally seen "Spider-Man: No Way Home," there's been plenty of conversation about the web-slinger's dramatic third solo film — if it can really be called a solo film with the amount of costars Tom Holland has. 
Holland's joined by the likes of Benedict Cumberbatch, Willem Dafoe, Alfred Molina, Jamie Foxx, Thomas Haden Church, Rhys Ifans, and many more. The multiverse adventure has smashed a number of box office records, and quickly surpassed the $1 billion mark within a few weeks of its debut. Spidey's success is hardly surprising considering all the hype surrounding the sequel, and it'll be interesting to see where Peter Parker (Holland) goes in future movies. Many fans have also wondered how other heroes will react to Spider-Man considering his heartbreaking choice at the end of "Spider-Man: No Way Home." 
While there's been a lot of love thrown at Holland's performance in this film — mainly because of the more spoilery parts of the storyline — one of his "Avengers" costars, Sebastian Stan, who plays Bucky Barnes in the MCU, had a hilarious reaction to the "Spider-Man" sequel. Stan has a long-running joke with fellow "The Falcon and the Winter Soldier" star Anthony Mackie over the years where they make fun of Holland during interviews, and it looks like that isn't stopping anytime soon.
Stan says he hasn't seen Spider-Man: No Way Home yet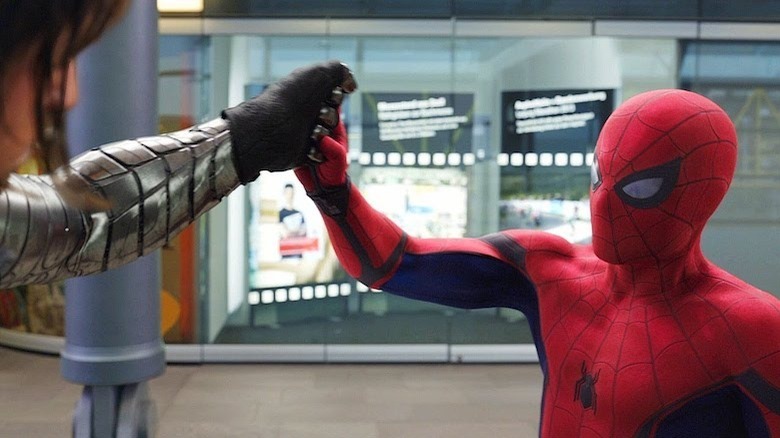 Marvel Studios
Sebastian Stan recently spoke to Jake Hamilton ahead of his upcoming action-thriller "The 355," and he surprisingly confessed that hasn't seen "Spider-Man: No Way Home" yet. The star explained, "I haven't seen it because I haven't been to a theater," then added that "I do want to see it, because I love the idea that it brings back all these characters from the past and just seeing how all of them are going to interact in that one movie."
But, of course, Stan then took the conversation as an opportunity to continue his faux feud with the actor behind Peter Parker, joking that the main reason he hasn't seen it is because "I typically don't like to support Tom Holland." The star also added that he supports the Marvel Cinematic Universe, just not the "Spider-Man" actor, saying, "I support the films. But not him so much."
Obviously, this is all a joke, and it likely stems from the rivalry between their respective characters in the MCU. Fans will remember that Bucky meets Spidey briefly during "Captain America: Civil War." In the 2016 film, Parker fights Falcon and the Winter Soldier during the big battle at the airport. Although, their fight comes to an end once Parker webs both of the older heroes to the floor.