Why John From Peacemaker Looks So Familiar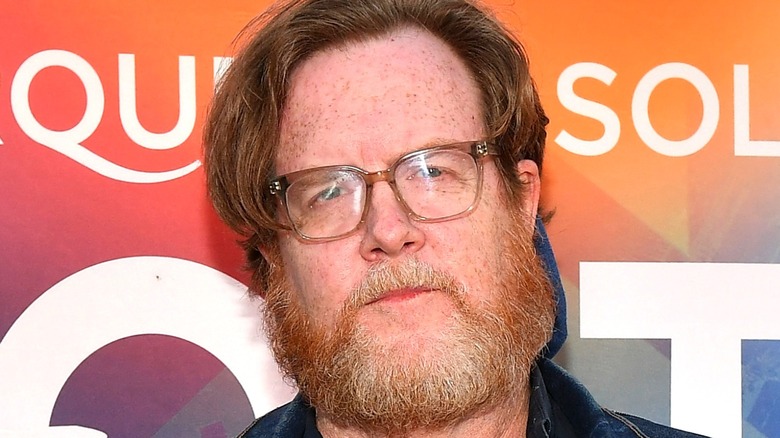 Paras Griffin/Getty
Christopher Smith (John Cena), aka "Peacemaker," is finally back in action in the eagerly anticipated HBO Max spin-off show to "The Suicide Squad," and it's packed with all the essential ingredients that the seemingly top-tier comic book adapter James Gunn is a master of. Besides a ridiculously catchy playlist crammed in the eight-episode series, there are also insane action set pieces littered with a band of misfit characters that are completely in over their heads. One, in particular, is former IT guy to Amanda Waller (Viola Davis), John Economos, who is last seen going against orders during Operation Starfish.
Coined by the team's foot-shuffling frontman and advocate of peace as "Dye Beard," Economos is a key, albeit clumsy member of the group, who has a few altercations with our hero throughout the series. Nevertheless, he redeems himself on a few occasions thanks to his overlooked taste in music and skill with a chainsaw, all of which is executed (pardon the pun) by actor and comedian Steve Agee. Nailing the bitter office jockey who hates his job, Agee's back catalog of performances has a number of notable turns, including a completely different DCEU role to the one we seen him portray in "Peacemaker."
He had a recurring role opposite a well-known friend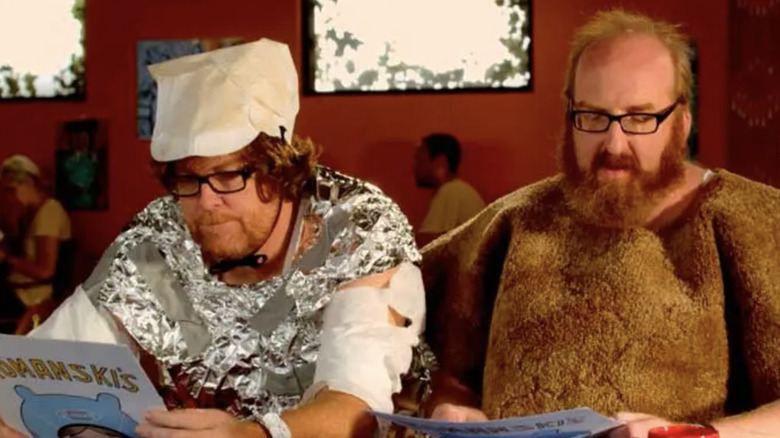 Comedy Central
After working as a writer on the popular evening talk show, "Jimmy Kimmel Live!", Agee eventually ended up getting an opportunity from a very funny friend who was about to get a project going. Iconic comedian Sarah Silverman roped Agee into appearing in a recurring role as her neighbor, Steve Myron, in Comedy Central's "Sarah Silverman Program." His character is Sarah's friend and boyfriend to Brian (Brian Posehn), and he appears throughout the show's 32-episode run. Myron is renowned for being a tad judgmental when it comes to Brian's daily ongoings, as well as having terrible flatulence. The blend of sarcasm and fart jokes, to Agee, was somewhat of a no brainer.
Agee explained to Discussing Film, "Sarah Silverman, who is a very good friend of mine, had just created a TV show and there was a part for me as her neighbor. So I left Jimmy's show to pursue acting in I think 2007." It was a move that Agee believed would get him closer to where he really wanted to be, explaining that "Acting was what I really wanted to do since I was a kid and that opportunity came up and I haven't looked back."
Agee is a familiar face for a New Girl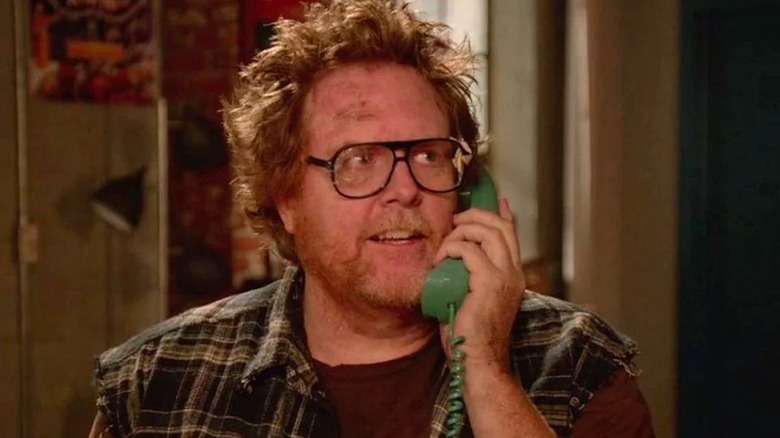 Fox
One of his most notable acting roles before his bickering with the brick-headed brute in "Peacemaker" is Outside Dave, the local homeless man to "New Girl" Jessica Day (Zooey Deschanel). Appearing in 14 episodes of the series, Outside Dave is a friendly but undeniably odd hoarder, who often gets involved with some of Jess, Nick (Jake Johnson), and company's weekly antics on the popular sitcom series before its end in 2018.
Almost a "Friends" Gunther-type background character that gained prominence over time, Agee's Outside Dave is a welcome addition even when he causes issues for the show's leading characters. From sleeping on cars during a battle for a parking space, to stealing vintage handbags when thrown onto the street, Agee's Dave is the cause of a number of laughs alongside the loft's inhabitants, and he's a significant minor character who pops up outside the apartment now and again.
The actor spent time at the Superstore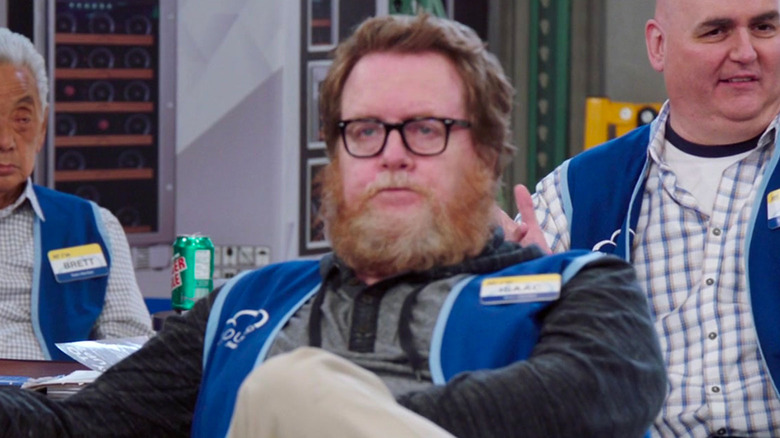 NBC
Among Agee's other notable appearances on television, he had a lengthy shift in the popular NBC comedy, "Superstore." Boasting the talents of America Ferrera and Ben Feldman, Agee joined the ranks of Cloud 9, the big box store the show is set in. He plays the erratic temp turned permanent staff member Isaac, who arrives in Season 2 and appears in 12 episodes, the last of which is in the final season of "Superstore" in 2021.
Sharing similar traits to other characters Agee has played in the past, Isaac is a rather odd member of the workforce, prone to outbursts, who initially quits his time as temp after being pushed to the brink by Jonah (Feldman) for his own personal gain. He eventually makes his way back into the branch though, and is a supporting staff member who doesn't hesitate to share some rather odd private habits, like a fondness for breast milk and crystal meth.
Agee transformed into King Shark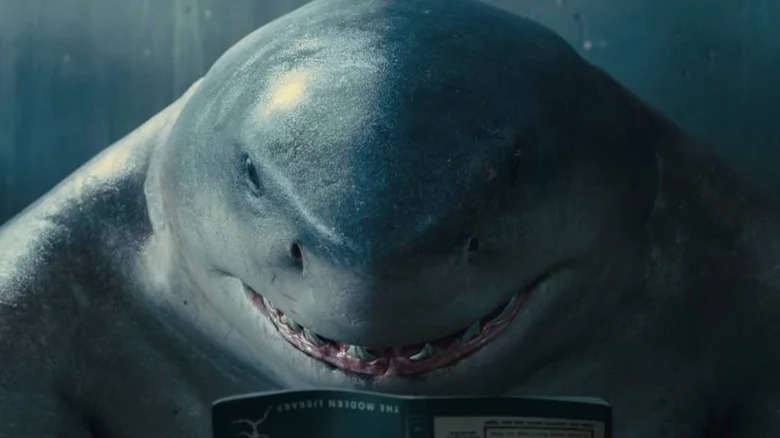 Warner Bros
Following his lengthy stint on the small screen, Agee made a jump to the big one through some of James Gunn's best work. First, he appeared in "Super" alongside Rainn Wilson and Elliot Page in 2010, as well as in the debut of everyone's favorite space losers, "Guardians of the Galaxy." Clearly, Gunn saw something special in his supporting star, as he then cast him in not just one, but two roles for the director's dip into the DC Universe with "The Suicide Squad," one of which is far toothier than the other.
Besides appearing as Economos in the do-or-die mission of a movie, Agee also dons flippers and a set of jaws that would give even that other famous fish some competition as Suicide Squad member King Shark. While Sylvester Stallone handles vocal duties, Agee is doing the slow-walk away from explosions on set alongside Idris Elba and Margot Robbie. Like Sean Gunn (James' brother), who performs as Weasel in "The Suicide Squad" and Rocket in the "Guardians" movies, Agee's involvement is crucial in bringing the soft but savage beast to life. It also acts as a clear testament to Agee's enthusiasm to perform in just about any way he can, and King Shark is a role we hope he takes on again in the future. For now, you can see him in action alongside Peacemaker and company on HBO Max from January 13.