Is Priscilla Lopez Really Leaving B Positive?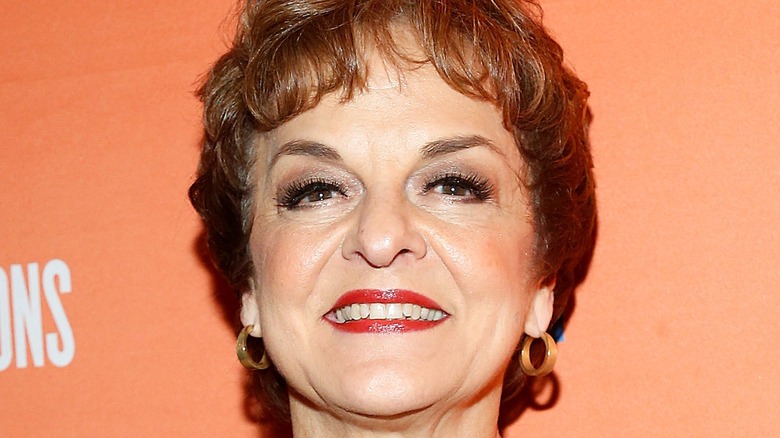 John Lamparski/Getty
CBS' "B Positive" has been in a state of transformation for quite some time now. The show's first season focused on Gina Dabrowski (Annaleigh Ashford), who donated a kidney to Drew (Thomas Middleditch). The characters moved in together during their recovery period and developed a close bond. However, "B Positive"  Season 2 marked the start of what TV Line referred to as a "soft reboot" of the series.
As a result, "B Positive" now revolves around Gina's workplace, the Valley Hills Retirement Home, which she bought when one of the residents there left her an inheritance. The colorful senior citizens who live in the retirement home feature heavily in the show's plots, and while Drew continues to make appearances, "B Positive" is more about Gina and her relationships with her new friends now, as well as her continued attempts at trying to grow up.
Two of the Valley Hills Retirement Home's inhabitants are Priscilla Lopez's Meredith, a terminal cancer patient, and her gruff husband, Harry (Hector Elizondo). Harry has had a hard time dealing with Meredith's looming death and has often been focused on trying to make her as comfortable as possible. Meredith, meanwhile, has tried to prepare him for her passing.
Now, teasers for "B Positive" Season, Episode 9, titled "Heartburn, Woodstock and Ribs," seem to suggest that Meredith's time on the show has come to an end. With that in mind, it's worth asking: Is "B Positive" saying goodbye to Priscilla Lopez?
B Positive is saying goodbye to Meredith
Contains spoilers for Season 2, Episode 9 of "B Positive," titled "Heartburn, Woodstock and Ribs"
Based on the teaser for "Heartburn, Woodstock and Ribs," as well a promotional clip for the episode, it looks like Meredith will, indeed, pass away in the upcoming ninth installment of "B Positive" Season 2. In fact, the episode seems to revolve around both Harry's mourning process and a memorial service Gina holds for Meredith in Valley Hill's dining hall. Even Drew appears to return home early from his road trip in order to help Gina out with Harry.
Interestingly enough, The Futon Critic lists Priscilla Lopez as one of the cast members of "B Positive" Season 2, Episode 10, "S'mores, Elvis and a Cubano." That, of course, suggests that Lopez's Meredith may continue to appear in the series in flashbacks, or possibly as a ghost. Whether or not either of those possibilities turns out to be true, however, remains to be seen. For now, it looks as though "B Positive" fans really should get ready to say their goodbyes to Meredith.