The Best Love Stories On This Is Us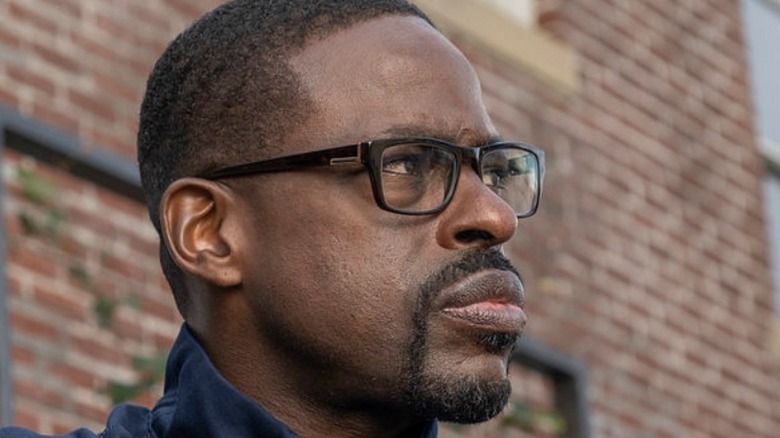 NBC
Created by Dan Fogelman, "This Is Us" follows the lives of the Pearson family members through multiple decades. Beginning with Jack (Milo Ventimiglia) and Rebecca (Mandy Moore) as a young couple expecting triplets, we also get to see their three kids — Kevin (Justin Hartley), Kate (Chrissy Metz), and adopted Randall (Sterling K. Brown) — as adults with their own families. Each episode often jumps back and forth between different timelines, even sometimes peeking into the future years of the Pearsons. Some of the other key players of the story include Susan Kelechi Watson as Randall's wife Beth, Chris Sullivan as Kate's husband Toby, and Jon Huertas as Rebecca's second husband Miguel (following the tragic death of Jack while the kids are teens).
Many of the series' themes revolve around the death of Jack, as the Pearson siblings' lives have been significantly altered his passing. Jack's death is not the only heartbreaking moment in "This Is Us" — from a miscarriage to sibling fights and more, the show is full of them. However, the show is also full of joyous and beautiful moments, often showcased through the show's many love stories.
"This Is Us," after all, is just chock full of satisfying story arcs about relationships, both long-term and short-lived. Here, we break down the best love stories of the series — read on to see which ones made the list.
Jack and Rebecca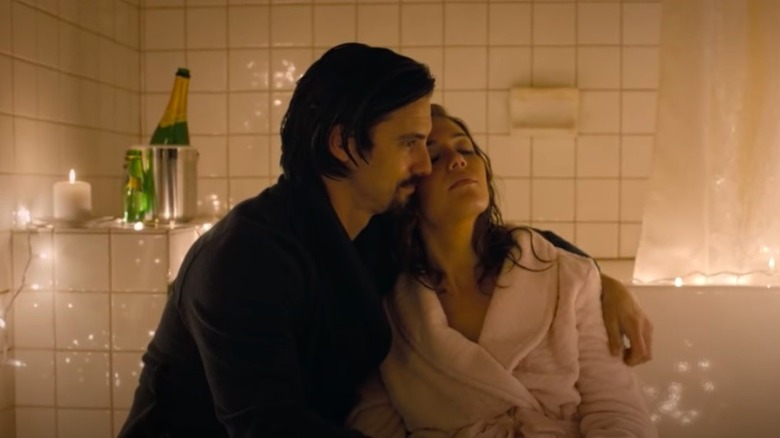 NBC
Of course, Jack and Rebecca's story made it onto a list of the show's best love stories — it's an obvious (and necessary) inclusion. After all, the entire show hinges on their relationship. If they had never fallen in love, there would be no Big Three Pearson siblings. However, regardless of its impact on the greater narrative, Jack and Rebecca's story is truly one for the ages.
After a chance meeting in a bar where Rebecca is performing, the two fall head over heels for each other instantly. After just one real date together, the pair embarks on a cross-country road trip to Los Angeles, where Rebecca is set to meet with a music executive. Throughout the years, after the two are married, we see them raise their children together and stay happily married until Jack's death. Adding to the poignancy of their relationship, their marriage is not a perfect one. At one point, after a major blowout, Jack even moves out temporarily, causing the kids to worry that their parents might get a divorce.
Thankfully, Jack and Rebecca work it out and spend the rest of their time together happily. This, however, only makes it all the more heartbreaking to watch Rebecca find out that her husband has died of a heart complication following the house fire. In the following years though, Rebecca is able to move on from her grief, while still holding on to the decades she spent with Jack.
Kate and Toby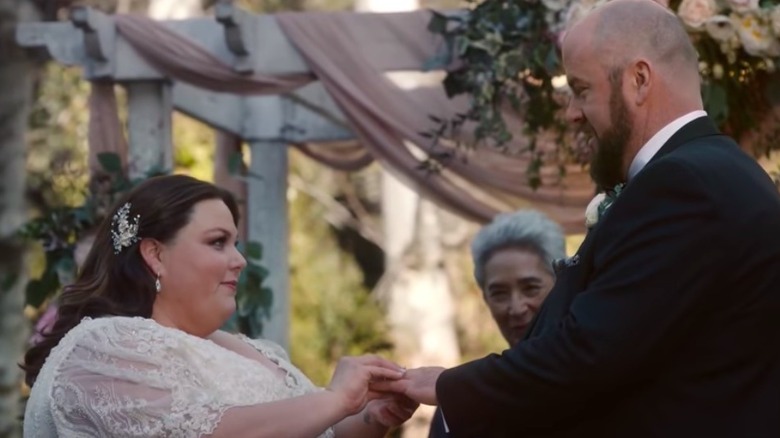 NBC
When Kate and Toby meet in a support group for people trying to lose weight, Kate is reluctant to begin a relationship with him. During their first conversation, Kate implies she can't date him, declaring, "I can't fall for a fat person right now." Toby nods and responds, "I guess I'll lose the weight then."
From there, the two begin dating and it's not long until they plan to get married. Much like Jack and Rebecca, Toby and Kate are unwaveringly supportive of each other through all the ups and downs — from Toby's struggles to connect with their blind child, Jack, to the joy of adopting their second child.
However, through all of their struggles, they still manage to make each other laugh and find joy in their life together. However, when Toby is offered a job that would require him to stay in San Francisco three days a week, away from their home in LA, it causes tension between the couple. After thinking it over, Toby decides not to take the job just as Kate decides they can make it work because it's what Toby really wants. The way in which they both are determined to make sure they're both content in their lives is indicative of their whole relationship. This makes it all the more heartbreaking when, at the end of the Season 5 finale, it's revealed that the two of them ultimately divorce, and Kate eventually remarries.
Kevin and Sophie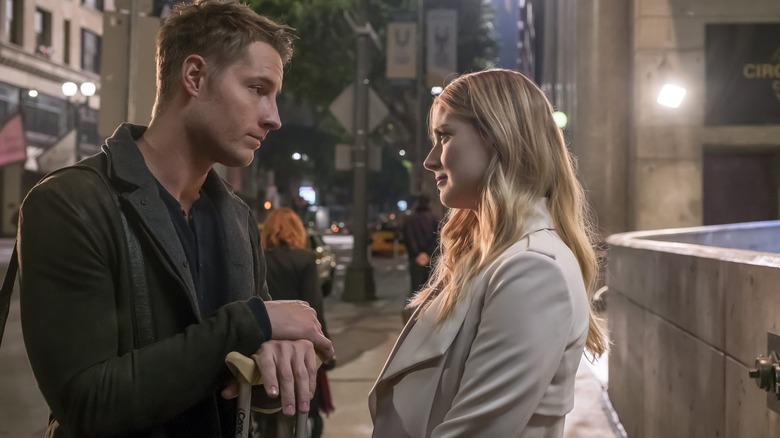 NBC
Kevin and Sophie are childhood sweethearts who have practically dated since they were about 10 years old. They marry when they're barely out of high school, despite having to maintain a long-distance relationship while Sophie is in school on the East Coast and Kevin is trying to make it as an actor in Los Angeles. Ultimately the distance — and Kevin's infidelity — leads to their divorce.
However, 12 years later, Kevin finds himself torn between two women, Sloane (Milana Vayntrub) and Olivia (Janet Montgomery). After lamenting this to Toby, Toby responds by telling Kevin to close his eyes and "picture the love of your life." When Kevin opens his eyes, he knows who he wants to go to — Sophie. He shows up at her door after a decade apart and tells her he feels like he lost a part of himself when they broke up. To make things even more charming, this episode includes flashbacks in which a young Kevin announces to his parents that he loves Sophie. Naturally, Sophie is taken aback, but soon agrees to give their relationship another try.
In the end, the pair doesn't work, this time due to Kevin's addiction to drugs and alcohol. However, they remain on good terms and Kevin is there for Sophie when her mother dies. The two are a testament to how meaningful a relationship can be, even if it doesn't work out in the long run.
William and Laurel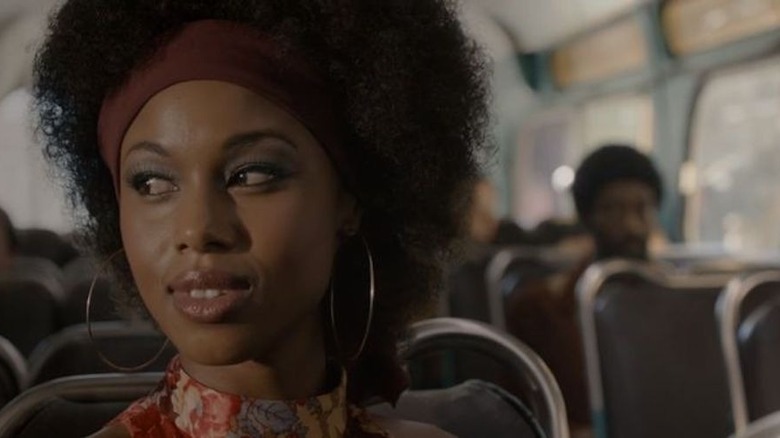 NBC
Randall doesn't find out about his birth parents, William (Ron Cephas Jones) and Laurel (Jennifer C. Holmes), until he seeks out William as an adult. However, when he does, he learns that, much like his adopted parents, his birth parents had their own powerful love story. A young William (Jermel Nakia) meets Laurel on the bus, and the two quickly fall in love. However, they both struggle with drug addiction and, despite getting sober for her pregnancy, Laurel returns to drugs following the pain of childbirth. She then appears to overdose, leaving William heartbroken — and causing him to leave Randall at the fire station, convinced he can't raise him on his own.
William's heartbreak upon seeing Laurel die is evidence enough that the two were deeply in love with one another. This makes it even more tragic when it's revealed that after William leaves his unconscious wife with the paramedics, Laurel doesn't actually die. Instead, after recovering a few days in the hospital, Laurel is arrested for drug possession. Having no way to contact William (they don't own a phone in their apartment), the two never meet again, and William lives out the rest of his life thinking Laurel died after Randall's birth.
Deja and Malik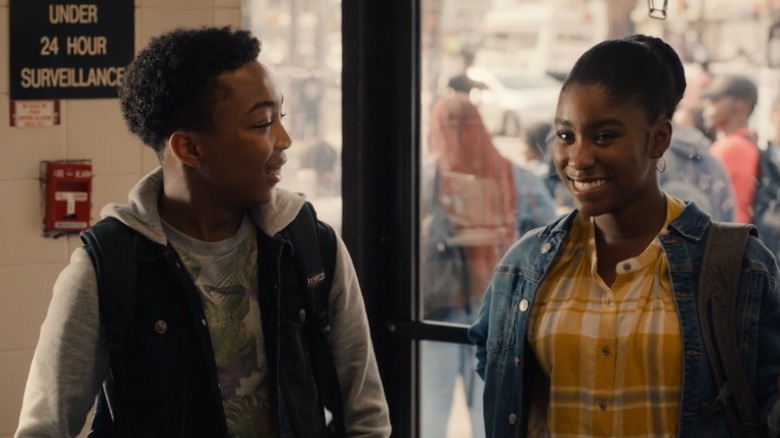 NBC
Besides the flashbacks to Kevin and Sophie's early years, Deja (Lyric Ross) and Malik (Asante Blackk) are the best representation of teen love in "This Is Us." The two meet in Season 4 after Randall moves his family to Philadelphia. Right away, their relationship is complicated by the fact that Malik is a teen father, as he has a young daughter with a former girlfriend. While unexpected, the news doesn't bother Deja — but it does, understandably, worry Randall and Beth.
However, Malik and Deja insist on continuing to date, so Randall and Beth agree, as long as they can get to know Malik and his family. One day, Malik and Deja decide to cut school so that Malik can show Deja around Philadelphia. In one scene, he takes her to a Philly cheesesteak joint where Malik is a regular. When Deja remarks that she's never been a regular anywhere, Deja introduces her to the entire staff so that she can be a regular there too. It's a sweet moment of Malik making sure that Deja is both happy and comfortable, showcasing his caring and genuine ways.
At the end of Season 5, Malik, who is two years older than Deja, tells her that he got accepted into Harvard — instantly making Deja worry about how they're going to survive the distance. While this is a new challenge for the couple, it's clear that their relationship, however long it lasts, is more than just puppy love.
Tess and Alex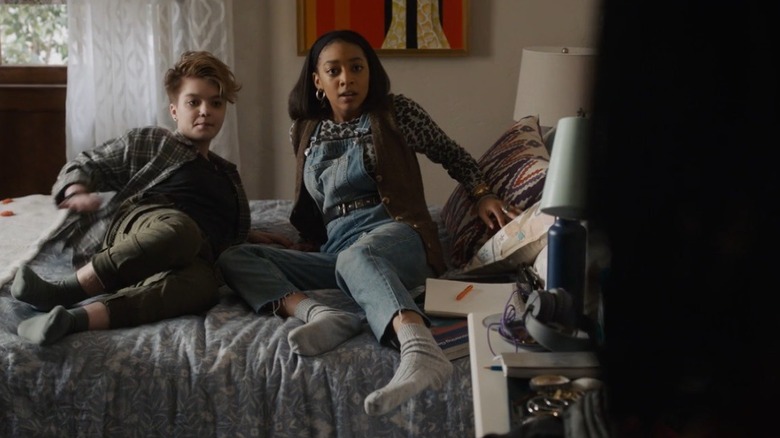 NBC
Deja is not the only one of Randall's daughters who is figuring out her love life. In Season 3, Tess comes out as gay to her family, first to Kate and then her parents. In Season 4, we get to see her start embracing her sexuality, and she begins dating a nonbinary student at her school named Alex, who uses they/them pronouns.
The storyline gives way for Beth and Tess to navigate their own evolving relationship through Tess's maturity and identity. For instance, Beth has trouble remembering Alex's pronouns. However, it otherwise serves as a satisfying next step into Tess' coming of age. After seeing her struggle to come out to her parents, it feels great as a viewer to see her find someone she likes dating and getting her own love story alongside Deja's. Hopefully, future story arcs will offer more insight into Tess' journey of self-discovery.
Rebecca and Miguel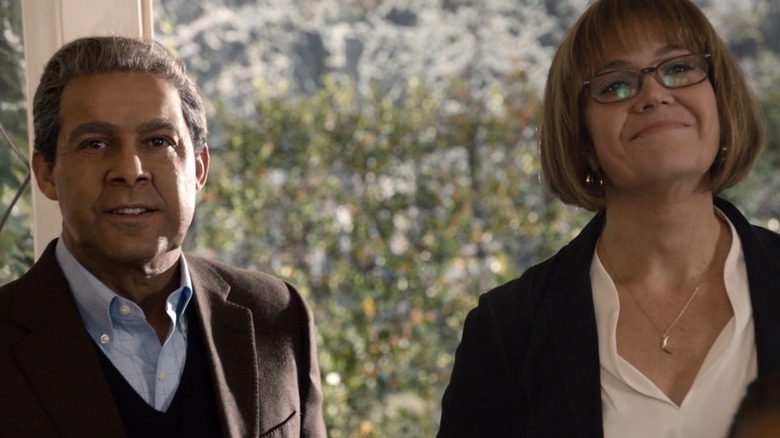 NBC
The first few times we see Rebecca and Miguel (Jon Huertas) together, it's pretty jarring. After all, as previously mentioned, Rebecca and Jack have a powerful — and fan-favorite — love story.
However, when you set aside the collective love for Jack (by fans and characters alike), then it's easier to see the ways in which Rebecca and Miguel's relationship is also heartwarming. Rebecca was only in her 40s when Jack died, so it's natural for her to want to remarry eventually. Since Miguel was Jack's best friend, he had already become a good friend to Rebecca too, which we get to see first hand when he helps her handle everything directly following Jack's death. Marrying your best friend's widow is not something that everybody would agree with, but, for Rebecca and Miguel, it is the best step forward for both of them in their lives.
At Kevin's bachelor party, Miguel describes his relationship with Rebecca, saying, "I remember thinking that's how it was for [Jack and Rebecca], written in the stars. I knew it wasn't like that for me and her ... [As] the years went by and I realized, it's okay. That yes, there are some love stories that are written in the stars. There are other love stories — they're written together. Two people the universe had no plans for writing their story in the stars together. And that pretty fantastic too, isn't it?"
Kevin and Madison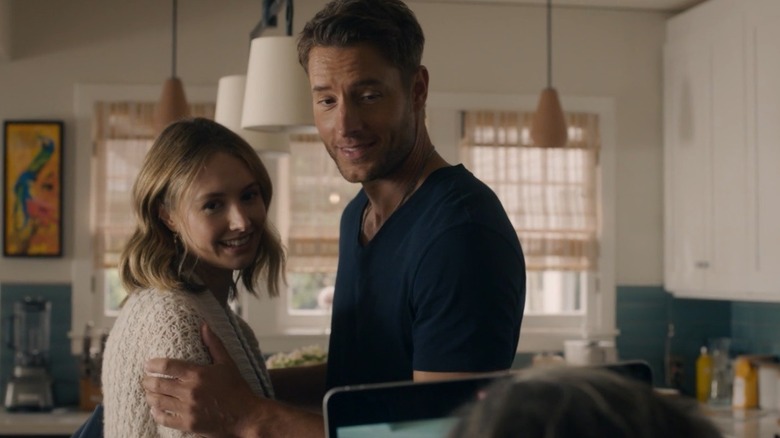 NBC
Kevin and Madison's story is far from traditional. For a while, Madison, as Kate's best friend, is a mere acquaintance to Kevin. Then, a one-night stand between them results in Madison's pregnancy. This leads to them spending a whole lot of time together and, soon enough, their relationship turns romantic. Soon after that, they decide to marry.
Throughout their entire relationship, it's clear that Kevin and Madison have a lot of love and respect for each other, as co-parents and otherwise. However, as they inch closer to their wedding day, it also becomes clear that they both have some lingering doubts. Kevin is wondering whether he's getting married because he feels it's the right thing to do — and it more closely matches his idea of a grand love story. Madison is having doubts because, even though she knows she's in love with Kevin, she can feel that he may not be fully in love with her. On their wedding day, Madison calls it off when Kevin is unable to say that he loves her. It's left unclear if the two plan to continue their romantic relationship, despite not getting married.
However, during the flashback at the end of Season 5, the two seem very comfortable around one another, so maybe they eventually do fall in love. Their relationship is something to root for, even if it wasn't "written in the stars" — but Madison herself calls the pregnancy a miracle, so maybe, in a way, it was.
William and Jessie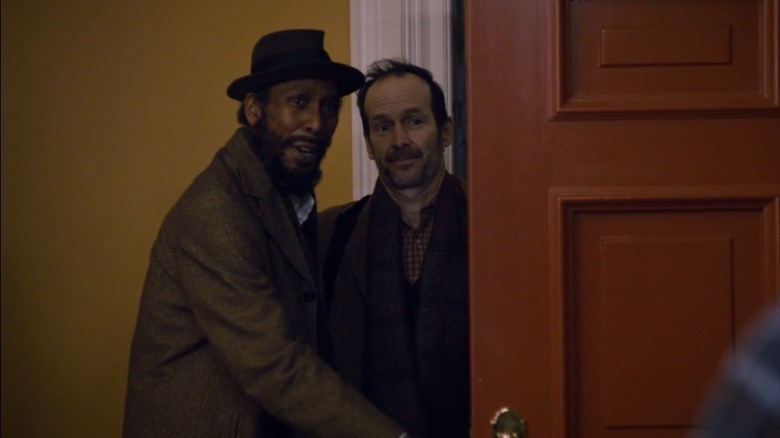 NBC
Soon after William comes into Randall's life, Randall finds out that his biological father is bisexual and has reconnected with a former flame, Jessie (Denis O'Hare). It comes as a shock, and Randall has a hard time adjusting to the reveal for reasons he doesn't completely understand.
However, Randall's surprise aside, William and Jessie's relationship offers a charming and heartwarming story for the viewers, as the one-time lovers reconnect later in life just before William succumbs to his illness. William tries to push back against their reconciliation, even admitting that he ran off because he wanted to spare Jessie from having to witness his devastating cancer. However, Jessie insists, explaining, "William Hill, I loved you and you left. Now, I'd like to spend whatever time you have remaining together."
Most of all, though, it's incredibly satisfying to know that William finds love after all of the heartbreak he had to endure, such as mistakenly believing that he lost his wife, giving up his child, and so on. Despite seeing very little of their romance, we can tell that Jessie, who is always charming and funny, makes a wonderful companion to ever-lovable and genuine William.
Laurel and Hai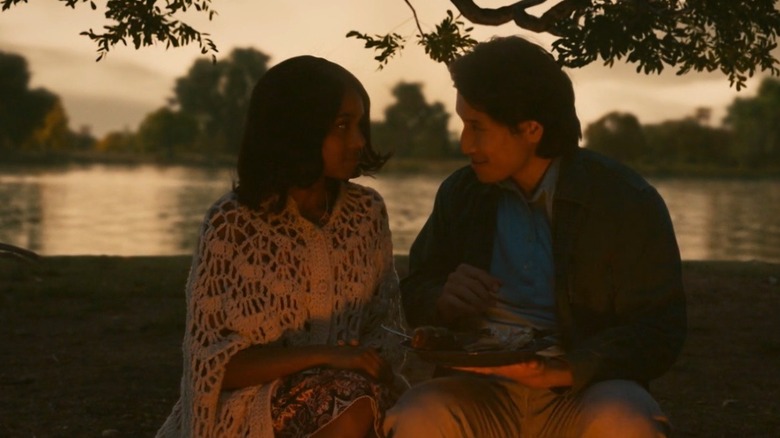 NBC
Before Laurel met William, she had already fallen in love with Hai (Vien Hong), a Vietnamese immigrant she met in her hometown. After Laurel meets Hai, who is played by Kane Lieu in the younger years, they quickly fall in love, despite a language barrier — and the fact that Laurel is being pressured to marry a man from her father's company. Eventually, Laurel decides to run away from the pressures of her family and asks Hai to come with her, but Hai is forced to say no because he is the only one who can take care of his parents.
When Laurel returns after the tragic end of her relationship with William, Hai has married another woman and has kids of his own. Hai decides to keep his distance out of respect to his wife and children, but the two reconnect after Hai's wife dies — and Hai finds out that a now older Laurel, played by Angela Gibbs, has breast cancer.
While it remains ambiguous whether or not the two renew their romantic relationship, Hai tells Randall that they remained close for the final years of Laurel's life. He also explains that he's been waiting for the opportunity to share Laurel's life with Randall. Initially, their story seems like a story about the one who got away, but they both find fulfillment in other places before being lucky enough to return to one another.
Randall and Beth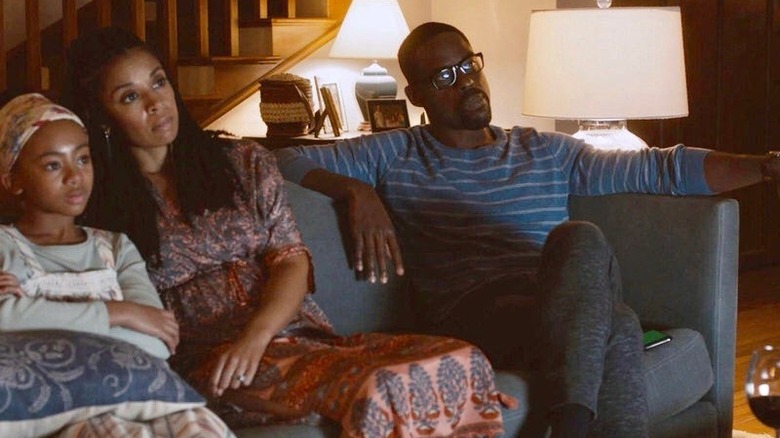 NBC
When the viewers meet Randall and Beth, they're clearly happy and in love. Later, we learn that when they meet in college, Randall is instantly head over heels, and Beth falls for Randall soon after. As college kids, they bond over the deaths of their fathers. Their ability to go through tough times together is a testament to their relationship and something we see time and time again on the show.
Through everything, the two remain an equal team and consistently support and nurture each other while caring for their family together. Beyond that, their attraction to one another remains just as strong as it was when they met, only adding to their already healthy marriage. Beth and Randall are so perfectly matched as a couple — and so lovable to watch — that it's hard to pick just one or two moments to showcase.
Viewers got quite a scare in Season 3 when the pair goes through a bit of a rough patch, which starts when their schedules prove too hectic. Neither Randall nor Beth wants to give up their job, with Beth insisting she is always the one to bend, while Randall denies that and argues his political campaign is going too well to give up. Luckily, the two find a way through it, much to the relief of viewers, and we all get to see them continue to be one of the most supportive and strong couples on "This Is Us."