The Ending Of This Is Us Season 5 Explained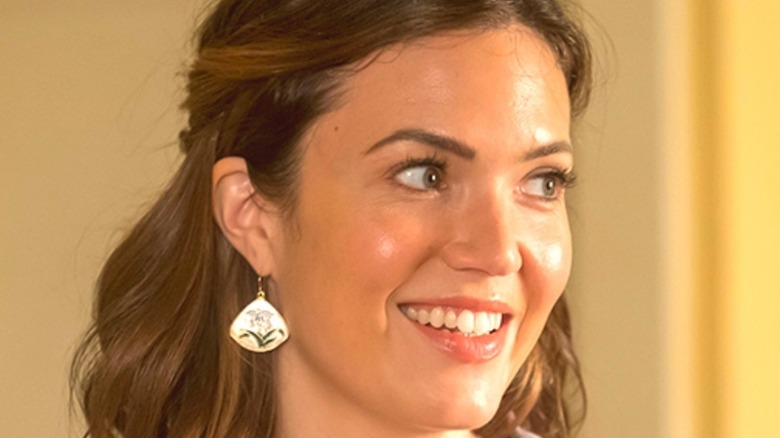 Ron Batzdorff/NBC
"This Is Us" ended its fifth season with a major cliffhanger. The NBC drama, which will end its run with Season 6 next year, already had a ton of plotlines to tie up, but that didn't stop producers from throwing a few more twists into the mix. The wedding of Kevin Pearson (Justin Hartley) and Madison Simons (Caitlin Thompson) was heavily teased ahead of the episode, titled "The Adirondacks," but side storylines also helped fill the finale episode.
In a flashback to the 1980s, Rebecca (Mandy Moore) argued with Jack (Milo Ventimiglia) when he taped over her copy of the big "Dynasty" wedding finale. The couple then staged a vow renewal at home to prove to the Big Three that they still loved one another. Viewers also got the first-ever flashback of a young Madison as her mother walked out on the family.
In the present day, Tess (Eris Baker) did not say yes to the dress. The teen niece of the groom bonded with her mom (Susan Kelechi Watson) as they revamped a way-too-frilly pink bridesmaid dress that she was uncomfortable wearing. Deja (Lyric Ross) found out that her boyfriend Malik (Asante Blackk) was considering Harvard as a college choice after previously applying to top Philadelphia-area schools so they'd stay close. And speaking of long-distance, Toby (Chris Sullivan) accepted a job offer in San Francisco. Not exactly cool, considering his wife Kate (Chrissy Metz) and two young kids live in Los Angeles. But that was just the beginning of the Pearson family drama.
Kevin Pearson's wedding plans changed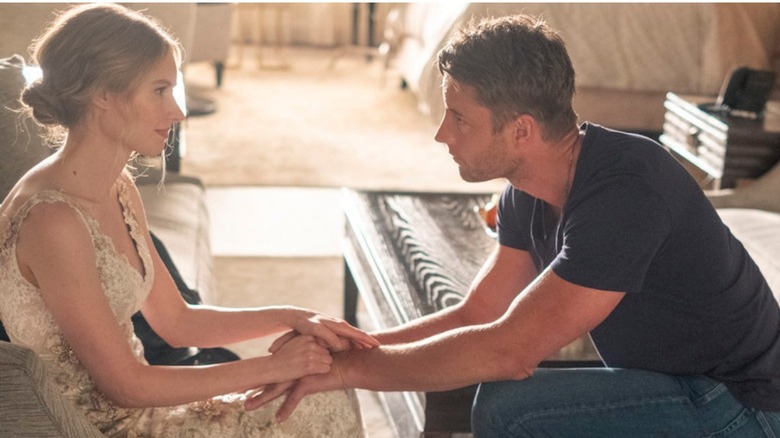 Ron Batzdorff/NBC
There were plenty of signs that Kevin Pearson's wedding to Madison would be far from a fairytale, but it was confirmed at the Season 5 finale's end. After realizing that her movie star fiance was more in love with the idea of their family than with her, Madison broke things off with him.
Showrunner Dan Fogelman told Variety that Kevin's romantic life will be a focus of the final season. "A big thing driving us for next year is who will Kevin end up with?" he said. "Will he wind up with anybody we know? Does he wind up with anybody at all? I think one way or another that question will be answered."
Fogelman also told Entertainment Weekly that it's "fair" to speculate that Kevin could rekindle things with his childhood sweetheart, Sophie (Alexandra Breckenridge). The "This Is Us" boss teased that Sophie is "officially in play" and that it certainly doesn't feel that her storyline with Kevin has been resolved.
As for Madison, her split with Kevin couldn't have been that bad. In addition to the fact that they share twin babies and will have to stay in one another's lives, a flash-forward scene at the end of the episode showed they are on very friendly terms five years from now.
Rebecca asked her son to build the house she will spend her final days in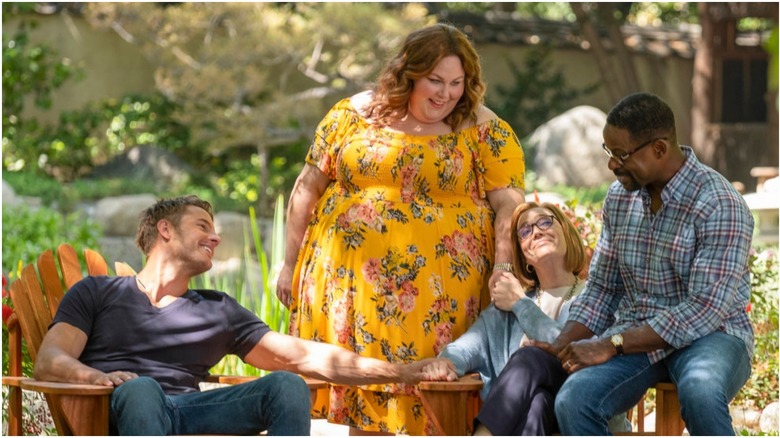 Ron Batzdorff/NBC
The cancelation of Kevin's wedding spawned a feel-good family moment as he retreated outside with his mom Rebecca (Mandy Moore) and siblings Kate (Chrissy Metz) and Randall (Sterling K. Brown). As she bonded with her kids, an aging Rebecca admitted that she didn't know how many good years she has left as she faced her Alzheimer's diagnosis. She then instructed Kevin to build her "that" house on the family's cabin property. Previous episodes showed that when patriarch Jack Pearson was alive, he designed plans to build a house for him and his wife to grow old in together, but he died before his plan could come to fruition.
This new scene was key, as fans of the show know Kevin does eventually build his mother a state-of-the-art abode which appears to serve as her final resting place—the house was shown on the Season 3 finale as the family gathered by an elderly Rebecca's bedside.
In the flash-forward moment at the end of the Season 5 finale, Kevin was also seen holding a card that said "Big Three Homes: A Pearson Family Construction Company," which could mean his mom's home might not be the only thing he builds.
Randall will become a 'rising star' and Uncle Nicky will make a future life change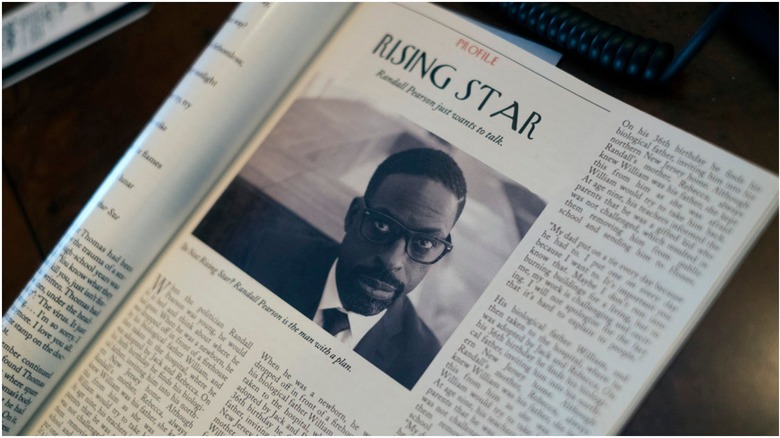 Ron Batzdorff/NBC
Another peek into the future — five years forward — took place with a glimpse at Randall being featured in a magazine story as a "rising star." In 2021, Randall is a Philadelphia city councilman, so the feature could be about a higher-level political career. Fogelman teased as much to Variety, noting that if Randall was being featured in a profile piece in a national magazine, then clearly "something is happening with his career."
Something is also happening with Uncle Nicky (Griffin Dunne), the brother of Jack Pearson. In "The Adirondacks" episode, viewers saw him frantically running down a hotel hallway and saying "the wife" requested a pair of stockings. Up until now, Nicky had never married, but viewers were privy to a story of his one long-lost love in the 1970s before he headed to Vietnam. Her name was Sally Brooks (played by Genevieve Angelson), and in 2021, Nicky Googled her name. So, is she "the wife" in 2026?
"This Is Us" writer Laura Kenar told Entertainment Weekly that it would be " very exciting" to see Nicky reunite with his long-lost love after nearly 50 years. "And I definitely was talking with the actress on set, Genevieve, about who she thinks could be the present-day Sally," Kenar teased. "So hopefully we will see that — my hopes as a fan and as a writer is that we do, because I love Sally, and I want to see more of her."
Kate Pearson headed down the aisle for a second time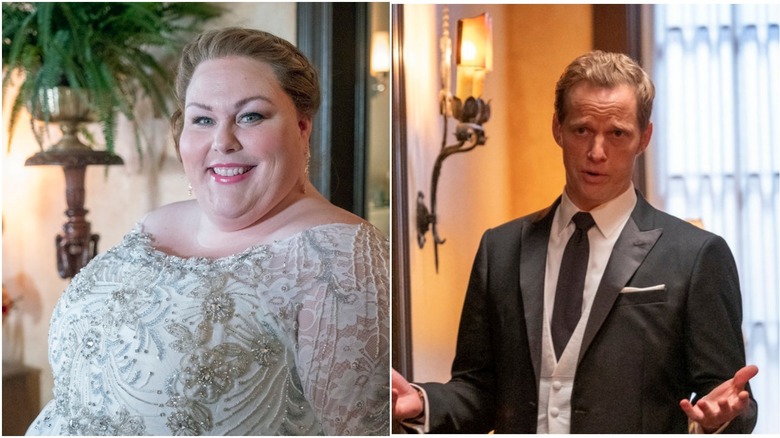 Ron Batzdorff/NBC
The biggest 'This Is Us" shocker came at the end of the Season 5 finale, as viewers saw Kate Pearson (Chrissy Metz) getting ready to head down the aisle for "the last time." Following a confusing sequence of events set five years in the future, Kevin Pearson was seen asking his future brother-in-law if he can make British jokes at the wedding. The camera then panned to the British groom, aka Phillip (Chris Geere), Kate's music teacher boss and a man she previously butted heads with when he admitted he didn't want to hire her.
Showrunner Fogelman told Variety that amid years of hints that Kate and her first husband Toby (Chris Sullivan) don't make it, Kate's second wedding has "been part of our plan all along." He also admitted that he doesn't expect Katoby fans to "love" the new couple right away. "We're trying to capture something we haven't done on the show, which is a lovely married couple maybe not making it all the way," he told Entertainment Weekly. "It was something we always knew we were going to attack it in our final season."