What Are The Songs In Peacemaker Episode 1?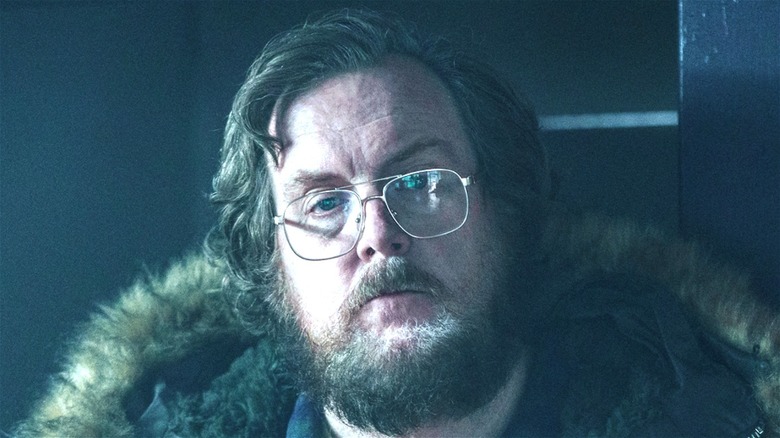 Courtesy of HBO Max
When James Gunn's "Guardians of the Galaxy" was released in 2014, much of the praise for it rightfully centered on the film's enjoyable story and the likable characters at the center of it. Many people also noted that the film's delicious soundtrack of 60s and 70s tunes was also undoubtedly vital to its success (via Daily Titan). Filled with gems like Blue Swede's "Hooked on a Feeling" and Redbone's "Come and Get Your Love," the film not only introduced movie audiences to one of the zanier corners of the Marvel Cinematic Universe, it also introduced millions of people to classic songs many had probably never heard before. Despite the fact that its track listing was limited to songs that had been available for decades prior, "Guardians of the Galaxy: Awesome Mix Vol. 1" proved so popular that it became the second best-selling soundtrack album of the year (via Billboard).
As a result of the success of that project, nearly every James Gunn project is now expected to feature a heavily curated selection of songs. When the first trailer for "Peacemaker" was released in October 2021, many scoured the internet in search of a song by Norwegian band Wig Wam. Now that the first three episodes of the HBO Max series are available to subscribers, Shazam is probably working overtime (no, not that Shazam!). However, if your phone was just too far out of reach to identify that catchy tune you enjoyed so much in the first episode, have no fear. We've got this one (and every episode of "Peacemaker") covered. 
Take a look at this list of all the various songs featured in Episode 1 ("A Whole New Whirled").
The opening credits song is only the beginning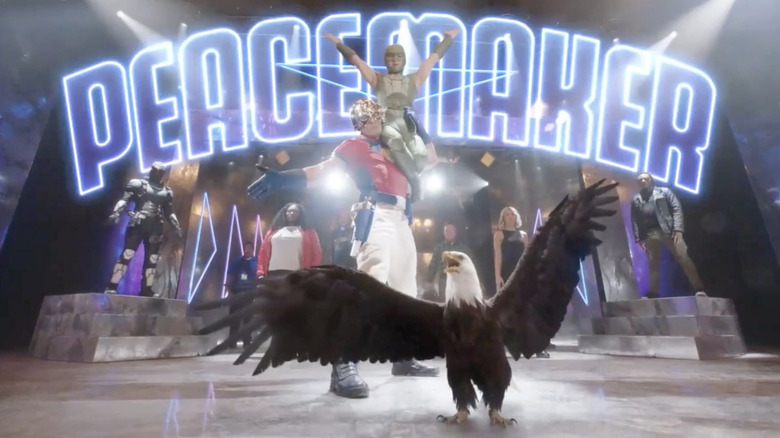 HBO Max
"Dance off, bro" is the way we'd like to think James Gunn pitched John Cena the opening credits of "Peacemaker," a sequence which features all series cast members dancing to Wig Wam's "Do You Wanna Taste It." While this amazing segment could wind up being the most outrageous thing to come out of this whole series, it's far from the only scene in the first episode to feature a great song. 
As Peacemaker apprehensively approaches his father's home, we hear a brief excerpt of the 2011 song "Welcome to the Church of Rock and Roll" by Foxy Shazam (again, not that Shazam!). Later, as Peacemaker drives down the street, he blasts a 2005 song called "Come On Come On" by Nashville Pussy. It's only another short excerpt, but it's enough for the profane tune to get stuck in our heads. Once we enter the bar where Peacemaker follows Harcourt (Jennifer Holland), we hear the sounds of Y&T's 1985 hit single "Summertime Girls." As far as we can tell, this is the first '80s tune in the series. 
During Peacemaker's bathroom rendezvous with Annie Sturphausen (Crystal Mudry), the series returns to the 2000s with an excerpt of 2006's "Night of Passion" by The Poodles. However, the standout song of the episode is 1990's "I Don't Love You Anymore" by The Quireboys, a song which Peacemaker sings into a vibrator while dancing in his underwear. After Peacemaker eliminates Sturphausen with a sonic blast from his helmet, we enter the closing credits with another song from the '80s. Tigertailz's 1989 song "Love Bomb Baby" accompanies the final moments of the episode.
With all these great tunes, it's no surprise Adrian Chase (aka Vigilante) (Freddie Stroma) thinks it necessary to show off his "famous butt dance" at work.