The Cobra Kai Character Fans Agree Would Be Mr. Miyagi's Favorite Student
Much of Netflix's "Cobra Kai," the sequel series to the "Karate Kid" films, takes place in the shadow of Daniel (Ralph Macchio) and Johnny's (William Zabka) mentors: Mr. Miyagi (Pat Morita) and Kreese (Martin Kove), respectively. In "The Karate Kid," where Kreese teaches his students to be brutal and have no mercy, the wise Miyagi teaches Daniel about respect, honor, and self-defense. Daniel regards Miyagi as a great friend and father figure over the course of the films. After he dies, an event which happened before "Cobra Kai," Daniel is often seen in the show visiting his grave.
Much of the drama of the Netflix series comes from Daniel and Johnny trying to teach the principles of their mentors to a new generation of dojo students, and the clashes that result. One character, however, really didn't get too affected by the conflicts of Season 4, and that's the reason why "Cobra Kai" fans think he'd have been Mr. Miyagi's favorite student.
Cobra Kai fans on Reddit think Demetri is a bit like Miyagi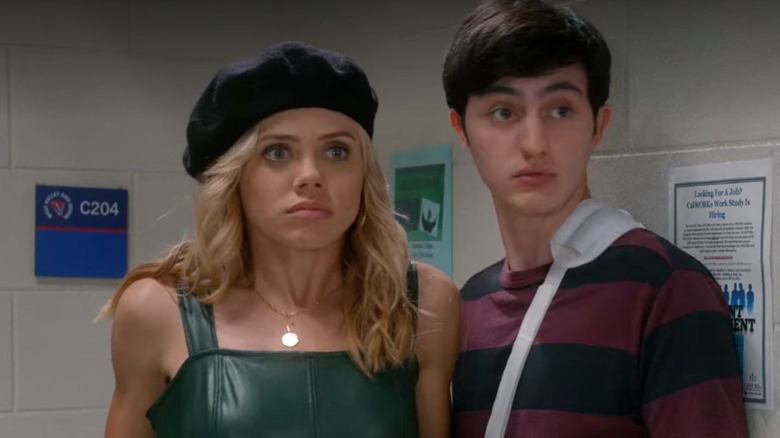 Netflix
Fans of both "The Karate Kid" movies and "Cobra Kai" think that the sarcastic but increasingly confident Demetri (Gianni DeCenzo), a member of Daniel's dojo, would have been a favorite of Mr. Miyagi. This was highlighted in a post on the "Cobra Kai" subreddit, titled "This kid [Demetri] lived outside all the conflicts in Season 4."
Commenter u/VanTheMan03 wrote that "If Mr.Miyagi was still alive Demetri would be his favorite student , he avoids conflict unless given no other option and was quick to forgive a friend who wanted to fight him much like Miyagi in the second movie." This is in reference to Miyagi refusing to truly hurt Kreese and instead playfully honking his nose in "The Karate Kid Part II."
This may be because Demetri has actually found a positive place in life, thanks to Miyagi-Do and his girlfriend Yasmine (Annalisa Cochrane), whereas other characters have struggled. User u/Marowseth observed that "Demetri seems to have escaped the cycle of violence and bullying everyone else is caught up in, he's made peace with his enemies and has grown to be a more confident less cynical person."
You can see more of Demetri's journey by watching all of "Cobra Kai" on Netflix.