Did The Matrix Resurrections Bomb At The Box Office?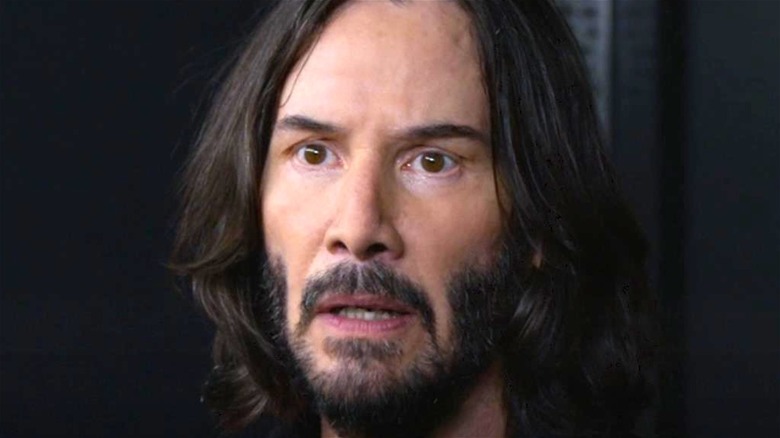 Warner Bros./HBO Max
Nearly two decades after "The Matrix Resolutions" closed out the original "Matrix" trilogy in 2003, Neo and Trinity have returned to the big screen once again. "The Matrix Resurrections" brings back stars Keanu Reeves and Carrie-Ann Moss as they once again try to determine what's real and what isn't. Lana Wachowski, this time without her sister and co-creator Lily, returns at the helm, too, continuing the groundbreaking science-fiction saga that started all those years ago.
However, "Resurrections" hasn't had quite the reception Warner Bros. was hoping for. Critical response was mixed, with fan reactions equally lukewarm — the film holds just a 63% audience approval rating on Rotten Tomatoes. "Resurrections'" box office gross has been disappointing, too, bringing in just over $100 million worldwide as of New Year's Eve weekend. In a time when existing IPs are often cash cows for studios, this performance is certainly well under what Warner Bros. had been seeking.
Why, though, was the film's box office gross so low — and can it truly be considered a bomb?
Resurrections likely hasn't turned a profit yet
"The Matrix Resurrections" cost a whopping $190 million to make. Factoring in the cost of marketing, the film's $100 million box office gross is no where near high enough to classify "Resurrections" as profitable based on box office returns alone. The film was hotly-anticipated, but there are some key factors that may have led to these disappointing figures.
Most obviously, "The Matrix Resurrections" debuted on HBO Max the same day it hit theaters, giving subscribers to the streaming service the option to see the film at no additional cost. Numbers show many audiences did opt to watch the film at home, with 2.8 million smart TVs streaming "Resurrections" during its initial 5-day release window (via Deadline). Streaming ROI can be difficult to calculate; how many new subscribers actually joined HBO Max to watch "The Matrix"? Certainly some, and each one qualifies as an annuity, but only WarnerMedia knows how to bake this performance into the balance sheet. 
Last year, Warner Bros. agreed to a dual streaming-theatrical release strategy for some of its biggest films, including "Resurrections," in response to the COVID-19 pandemic. Now, as COVID-19 cases continue to rapidly rise worldwide due to the new omicron strain (via CNBC), many would-be moviegoers likely opted to watch the film at home to avoid potential transmission. 
COVID-19 has been disastrous for the film industry, though there are some exceptions — and one of those exceptions likely harmed "Resurrections" at the box office, too.
Resurrections was beat out by one of the biggest releases ever
It's no secret that "Spider-Man: No Way Home" was a colossal hit. Earning more than $1 billion worldwide and becoming Sony's biggest domestic release ever, "Spider-Man" proved that audiences are still keen to see their favorite stories on the big screen. 
Unfortunately, the hype around "Spider-Man" likely ate into the potential earnings of "Resurrections." The sci-fi film was released on December 22, just five days after Spidey swung his way into theaters. The film had other factors working against it on this particular release date, as well. Christmastime is often when families trek out to the movies together, and "The Matrix" series is far from kid-friendly. In fact, animated film "Sing 2," which was also released on December 22, beat out "Resurrections" at the opening weekend box office.
That said, "Resurrections" is still in theaters, and it will continue to earn money, though likely nowhere near the levels hoped for. Whether you enjoyed "Resurrections" or not, it seems this might be the end of "The Matrix" franchise.