The Real Reason Richie Was Written Off Of King Of Queens
"The King of Queens" featured a mostly consistent cast of characters during it nine-season run on CBS. The Kevin James and Leah Remini led-sitcom followed the antics of Queens, New York delivery driver Doug Heffernan, his legal secretary wife, Carrie, and Carrie's basement-dwelling dad, Arthur Spooner (Jerry Stiller). But the show also featured tons of scenes with the duo's friend group. Doug's pals included Deacon Palmer (Victor Williams), Spence Olchin (Patton Oswalt), cousin Danny Heffernan (James' real-life brother, Gary Valentine), and, early on, an old high school buddy of Doug's named Richie Iannucci.
Richie, played by Larry Romano, appeared in 43 episodes of the "The King of Queens" from 1998 to 2001, according to IMDb. He frequently referred to Doug as "Moose," and in a flashback episode, it was revealed that Richie and Doug were roommates after high school and that they were hanging out together on the night that the future IPS delivery driver met Carrie for the first time. Richie even hit on Carrie — but she gave him a hard pass. (She almost passed on Doug, too.)
Richie was a womanizing New York firefighter and he was a big enough character to warrant a starring episode, titled "Richie's Song," about the breakup of his marriage. But by Season 3, Richie was rarely seen — save for one appearance mid-season — and then he inexplicably disappeared from the show, never to be seen or spoken of again apart from a montage clip in the series finale. So what happened to Richie?
Larry Romano made a risky career move by leaving the King of Queens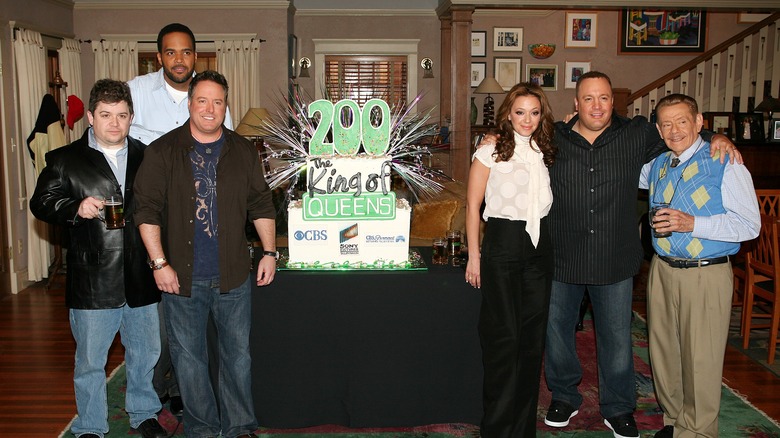 Frederick M. Brown/Getty Images
By Season 3 of "The King of Queens," Doug Heffernan's inner circle was a little smaller with the absence of Richie. The character's departure was never addressed on the show, but fans definitely noticed. A Reddit thread questioned why "they never mentioned why Richie left the show," and some commenters put the character in the same category as Chuck Cunningham, the missing older brother from "Happy Days." "Just disappeared, kinda like Carrie's sister," one Redditor wrote, in reference to Sarah Spooner, another "King of Queens" character who disappeared without mention.
According to Larry Romano's IMDb page, his final "King of Queens" episode was "Paint Misbehavin'" in 2001, one of the most famous episodes of the series' run that saw the gang paintballing and Richie facing the consequences of ghosting Doug's sister Stephanie (Ricki Lake) after a one night stand back in the day. That same year, he filmed 13 episodes of the comedy series "Kristin," playing Aldo Bonnadonna. 
Allegedly, Romano asked "King of Queens" producers to let him out of his contract so he could join the cast of the NBC sitcom that starred Broadway star Kristin Chenoweth (via Showbiz CheatSheet). But "Kristin" was a colossal flop and was canceled after just six episodes in 2001, while "The King of Queens" went on for six more seasons and ended its run still on a high in 2007. The show still airs today in an endless loop on syndication.
More than 20 years after quitting the show, Romano sometimes shares throwbacks from his "King of Queens" days on Instagram. "That show is still one of the best experiences I have ever been a part of!" he once posted.