Emma Watson Reveals The Moment She Fell In Love With Tom Felton On Harry Potter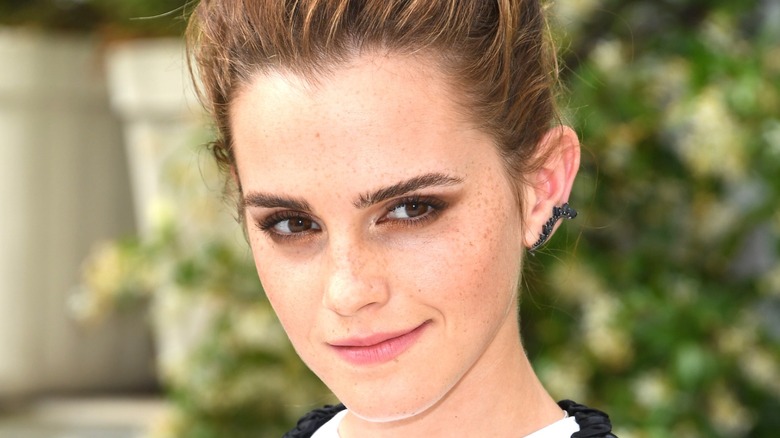 Pascal Le Segretain/Getty
Watching the "Harry Potter 20th Anniversary: Return to Hogwarts" special will transport you back to the Wizarding World with the snap of a finger. The reunion special reunites some of the movie franchises' biggest stars, directors, and producers, who all discussed the films' monumental impact on their lives and careers. At the center of it all were Daniel Radcliffe, Emma Watson, and Rupert Grint, who sat down together and laughed as they recalled their time as Harry Potter, Hermione Granger, and Ron Weasley.
Joining them was Tom Felton, who played Slytherin bad-boy Draco Malfoy in all eight films. Despite portraying such a snake, Felton is a delight in real life, and he formed quite the relationship with Watson. The actor recalled their hilarious first encounter in the reunion special, while Watson dished on how much she loved Felton. You could truly feel the bond between the two "Harry Potter" stars, and they clearly have a friendship that will last a lifetime. While they met during the audition process, Watson admitted she first fell in love with Felton during one of their tutoring sessions after they had been cast.
Emma Watson fell in love with Tom Felton due to one of his drawings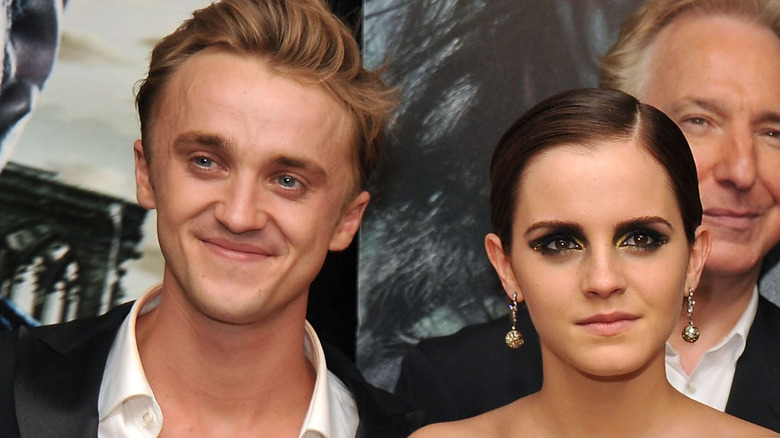 Stephen Lovekin/Getty Images
A brief portion of the "Return to Hogwarts" special was dedicated to the relationship between Tom Felton and Emma Watson. "Emma and I have always loved each other," Felton said, kicking off their gushing session about one another. Watson then jumped in, recalling when she fell for her older co-star during their schooling.
"The assignment that had been given was to draw what you thought God looked like," Watson recalled. "Tom had drawn a girl with a backward cap on a skateboard, and I just don't know how to say it... I just fell in love with him." Felton then noted that he had been told once while sitting in the make-up chair that Watson had a crush on him. Since he was three years older than her, Watson said Felton always looked at her like a little sister.
"I used to come in every day and look for his number on the call sheet. It was number seven, and if his number was on the call sheet, it was an extra exciting day," Watson added. Their love for one another was evident, as Felton said, "I've always had a soft spot for her, and that continues to the day."
So did the two ever make the jump from friendship to romance? "Nothing has ever, ever, ever, ever happened romantically with us. We just love each other. That's all I can say about that," Watson concluded on the matter.
"Harry Potter 20th Anniversary: Return to Hogwarts" is available now on HBO Max.