Tom Felton Dishes On His Hilarious First Encounter With Emma Watson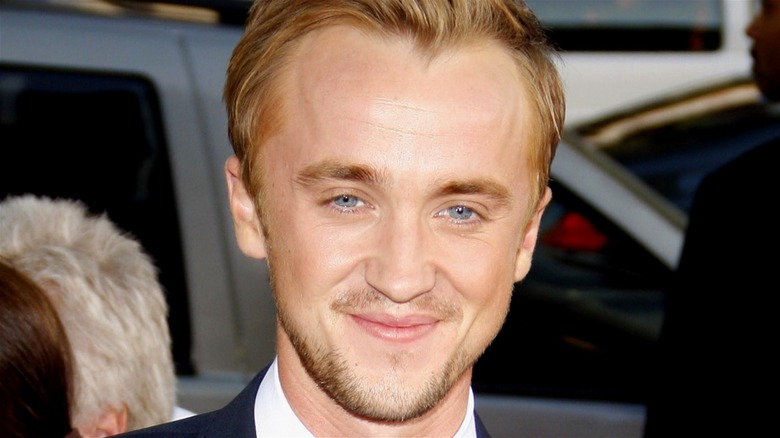 Tinseltown/Shutterstock
The "Harry Potter 20th Anniversary: Return to Hogwarts" special was a behind-the-scenes delight, featuring interviews with the film series' stars, producers, and directors. Along with the famous "Harry Potter" trio (Daniel Radcliffe, Emma Watson, Rupert Grint), a handful of other major players in the movie franchise talked about their experiences in their respective films. This impressive list of returnees included Gary Oldman, Helena Bonham Carter, and Ralph Finnes.
Of course, no "Harry Potter" reunion special would be complete without Draco Malfoy, and Tom Felton was integral to the anniversary celebration. The actor filmed his reunion moments with Watson, Carter, Matthew Lewis, and Alfred Lewis Enoch. Felton discussed his growth and enjoyment throughout his time in the "Harry Potter" universe and gushed a bit about his relationship with Watson. The two still have a very close friendship to this day, which all kicked off with a hilarious moment one day during their audition process.
Tom Felton's first words to Emma Watson were very Draco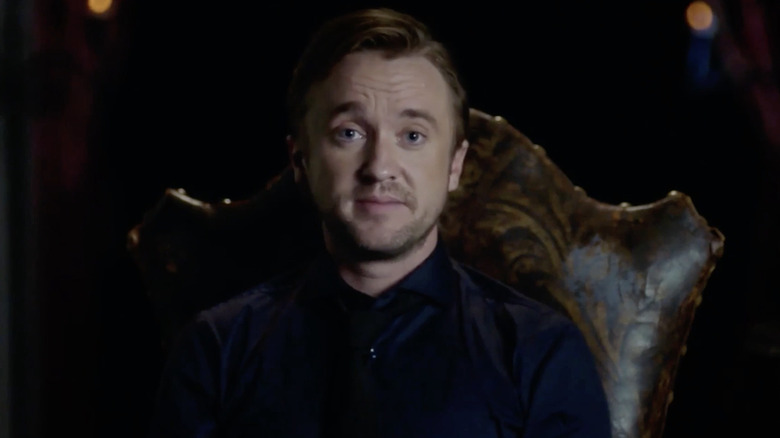 HBO Max
When Tom Felton recalled one of his audition days, he noted how all the children who showed up to try out were left to chat among themselves. However, a boom mic operator stayed close by and kept his equipment hovering over the anxious little actors' heads. One hopeful attendee asked Felton what the man was holding while pointing to the mic.
"This little girl asked me, 'What's that?' I think I even said, 'It's a mic, duh. They're filming us. This is, like, a trick,'" Felton recalled. "I remember it, 'cause it was Emma." His recount of the story was perfect, as his little quip back to Watson was so very Dracoy — it's no wonder he got the part. Felton's snarky response and the way he said "duh" made it seem like he was so above this little girl as he pretended to be some experienced professional.
It might not have been the best first meeting, but it certainly didn't derail a friendship for the two. Later in the reunion special, Watson and Felton discussed their (platonic) love for one another, which was rather refreshing to see as Hermione and Draco could barely stand to be in the same room together.