Marvel Went To Ridiculous Lengths To Keep Kingpin's Return In Hawkeye A Secret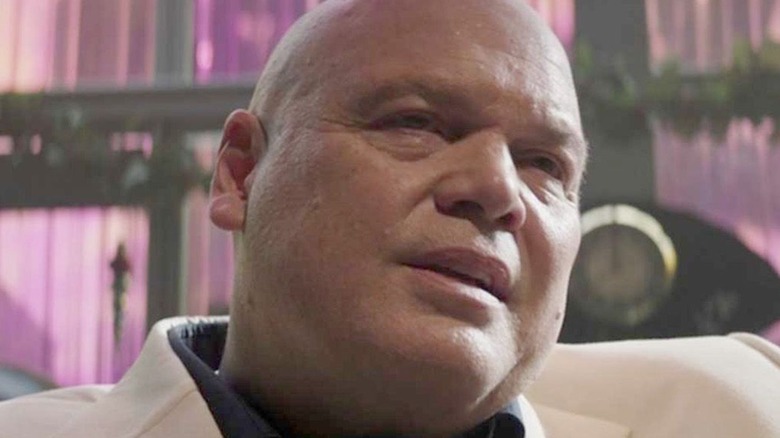 Marvel Studios/Disney+
Marvel Studios had an incredibly successful year in 2021, with the likes of "Black Widow," "Shang-Chi and the Legend of the Ten Rings," "Eternals," and "Spider-Man: No Way Home" dominating the big screen. Meanwhile, on Disney+, audiences were obsessed with "WandaVision," "The Falcon and the Winter Soldier," "Loki," and "Hawkeye." All four live-action shows were a hit with audiences, including "Hawkeye," which ended its 6-episode run shortly before Christmas. The series sees Kate Bishop (Hailee Steinfeld) team up with Clint Barton (Jeremy Renner) to stop the Tracksuit Mafia from causing chaos for Kate's family. It was a huge hit with fans, and it holds a 92% critic rating against a 90% audience rating on Rotten Tomatoes.
The series also revealed a surprising character leading the gangsters: Kingpin (Vincent D'Onofrio). Yes, the same Kingpin from Netflix's "Daredevil." Fans loved seeing D'Onofrio return to the role, even if it was just for a few episodes — but clearly there are bigger plans in place for the iconic Marvel villain.
Obviously, D'Onofrio's return is a pretty big deal, and Marvel went to ridiculous lengths to keep him a secret in "Hawkeye," even hiding his involvement from the crew.
Hawkeye's costume designer didn't know about Kingpin's return until halfway through production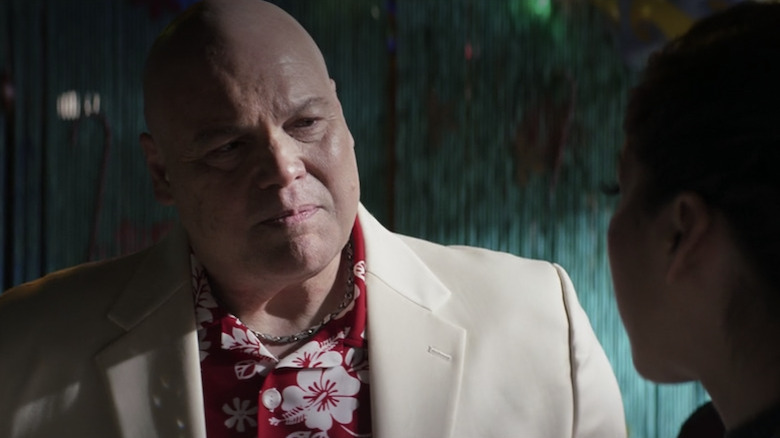 Marvel Studios/Disney+
One would think that a crew member as integral to the series as a costume designer would know all the ins and outs of production well in advance. But as Michael Crow, the costumer for "Hawkeye," revealed to Insider, he was actually kept in the dark about Kingpin's appearance. Crow revealed, "I didn't know until about maybe halfway through filming." He went on to explain that production used a dummy character in the script to hide Kingpin's involvement: "I think in the original script it was scripted as another character. Like something from the [Matt] Fraction comic books, but not Kingpin."
Obviously, he was keen to get started on creating the character's costume, and added, "I started asking questions about what we wanted to do, how do we wanna approach it? And I got an immediate phone call back from Trinh Tran." The Marvel Studios producer revealed that the character was a fake, but didn't say who it was going to be. According to Crow, "She just said: 'We'll talk about that a little bit later ... It's a big secret.'"
Crow then explained that once he learned about Vincent D'Onofrio's return, there wasn't much time to get the work done. When Crow did finally get to work directly with D'Onofrio, though, he had nothing but praise for the star, saying, "I didn't see him until the very last minute and I mean, he is truly a lovely gentleman. A pleasure to work with."
You know it's serious when Marvel hides things from its own crew.